Top wedding venues in Turkey 
There are many exotic wedding venues in Turkey which couples often dream to get married in. Weddings are an essential part of every culture, and feature differences in every country in the world. Turkey is such a melting jar of cultures, civilizations, and histories that it's no surprise that its weddings have turned into something completely unique.
Turkey is a unique blend of European and Asian influence and so the same reflects in the luxury wedding venues in Turkey. It has a diverse landscape of unparalleled beauty. For the adventurous at heart, if you get married in Turkey you need not limit your celebrations to land. You can take a hot air balloon or sail the traditional sailing boat. Whether you choose to have a religious ceremony or simply a blessing,
Blissful Plans, a creative and experienced wedding planner in Turkey offers both you and your guests an exotic, vibrant, and truly stunning backdrop for an unforgettable wedding experience with a vast range of wedding venues in Turkey.
And of course, who can forget the bustling and vibrant city of Istanbul, which is the largest city in the country and one of the most interesting in the world. Its unique vibe and culture make it one of the most fascinating wedding destinations and for couples who want something a little more out of the box!
From colorful bazaars and grand historical palaces to waterfalls and butterfly colonies and sandy oases and the turquoise coast, there is just so much to offer at a wedding party.
Check out the best wedding venues in Turkey:
Ciragan Palace Kempinski, Istanbul 
Ciragan Palace Kempinski Istanbul serves weddings on its fabulous spacious terrace right by the Bosphorus, its splendid ballroom, and the glamorous view of the Bosphorus will not just take the excited couple's breath away but also mesmerize all the guests.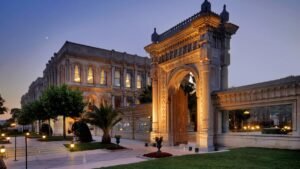 Courtesy: Kempinski.com
Pera Palace Hotel 
Loaded with sunlight, and unique glimpses of Istanbul are combined with the spirit of the Pera Palace Hotel. The hotel's first-class venues have organized many historical events. Backed by a century's worth of glamour and the most modern standards of luxury, Jumeirah Pera Palace has been made for an exquisite wedding day.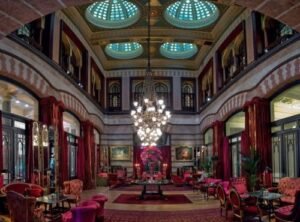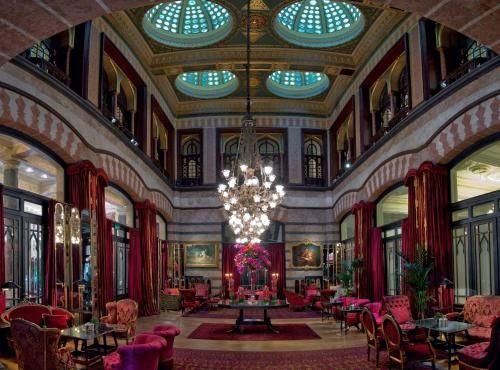 Image Source
A'jia Hotel, Istanbul
A wedding to remember forever is awaiting you at A'jia Hotel, located along the Bosphorus and dazzling with its distinguished architecture. A'jia turns private dinings, weddings with its sense of style and Bosphorus view. Awarded the "Most Perfectly Charming Hotel" in Europe by the 2009 Condé Nast Johansens Excellence Award, it can host 300 pax dinners and 500 pax for cocktails.

Sait Halim Pasha Mansion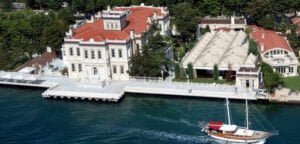 Courtesy: The Venue Report
The Sait Halim Pasha Mansion, together of the foremost unique event venue at Bosphorus, offers all types of receptions, weddings, gala dinners, special events, and cultural experience within the heart of Istanbul. This historical mansion has a maximum capacity of 1200 guests.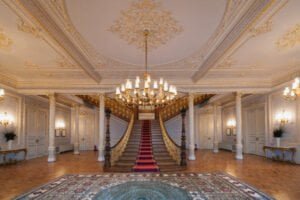 Image Source
Four seasons, Bosphorus
The Four Seasons Istanbul is one of the ideal wedding venues in Turkey on the very banks of this beautiful stretch of water, underneath the iconic Bosphorus Bridge, one of the loveliest bridges in the world, which spans the waterway between Europe and Asia. The scene of the Bosphorus in the backdrop sets the tone for the wedding.
Capacity: 700 people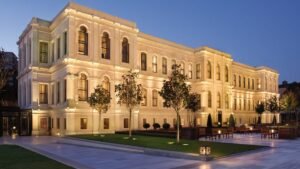 Image Source
Conrad Hotel Istanbul
Located in the gorgeous country of Turkey, Istanbul is one of the cities you shouldn't view just through postcards or in pictures. Conrad Istanbul Turkey happens to be one of the famous destination wedding venues. Got a wedding to celebrate? Conrad Hilton Bosphorus Istanbul beautiful banquet hall to make your wedding even more special. 
This is a great option for a destination wedding in Istanbul and surely it stands out in all the wedding venues in Turkey.
Titanic Mardan Palace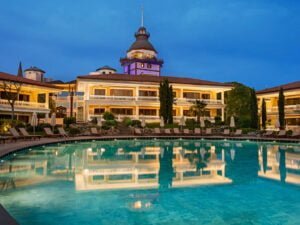 Toast your love in the heart of Antalya, Turkey at Titanic Mardan Palace a picture-perfect location, creased along the illustrious Mediterranean coast. Whether you're organizing an intimate gathering or an impressive gala, their two gracefully designed column-free ballrooms with a capacity up to 1200 guests and beautiful outdoor spaces and private beach offering lavish design of a grand palace, provides the perfect backdrop.
Images: Mardanpalace
Titanic Beach Lara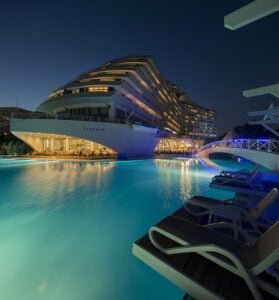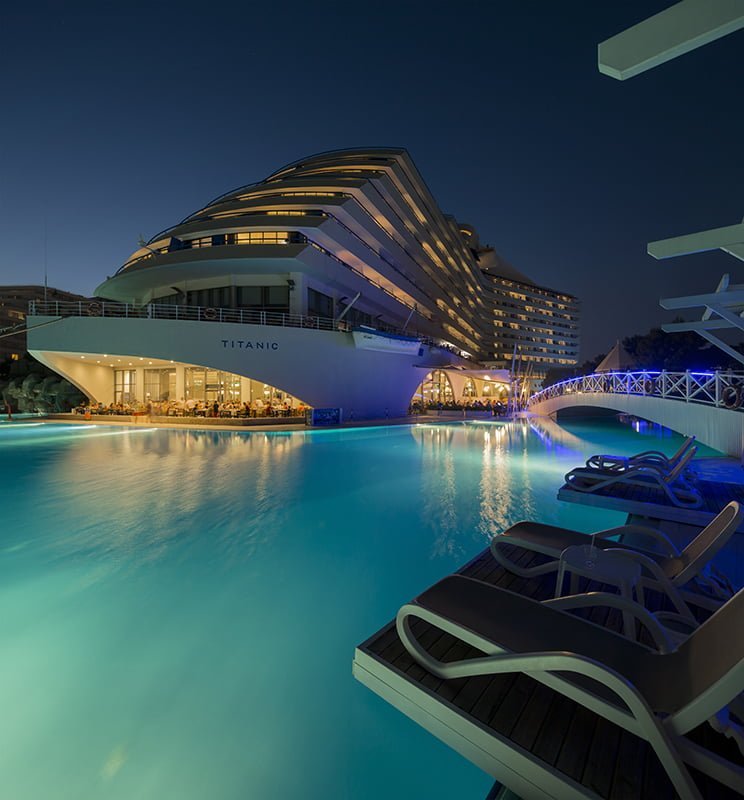 Image Source
Titanic Beach Lara has all the potentials for a perfect wedding with its impressive architecture, indoors – outdoors alternatives suitable for different concepts. Brides who want to enjoy the night wedding decorated with dreamy stars or any wedding concept this place has it all. 
Ela Quality Resort Hotel 
Ela Quality Resort Hotel is going to be beyond your imagination and tops the list of wedding venues in Turkey. At this Ottoman themed hotel, there are elegant decorations for weddings for an unbelievable and breathtaking atmosphere to this magnificent restaurant. Also, there is a Turkish Classical Music musician concerts sometimes the music will take you to ancient times.
Sheraton Cesme
Sheraton Cesme, to make your fantasizing wedding a reality. The Sheraton Cesme Hotel, Resort, and Spa is stretched along the Ilica coast, with an exclusive bungalow-accented pier spanning into the Aegean Sea.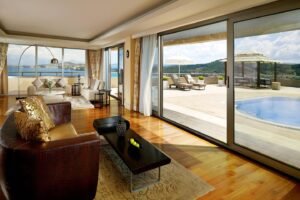 Image Source
Altin Yunus Cesme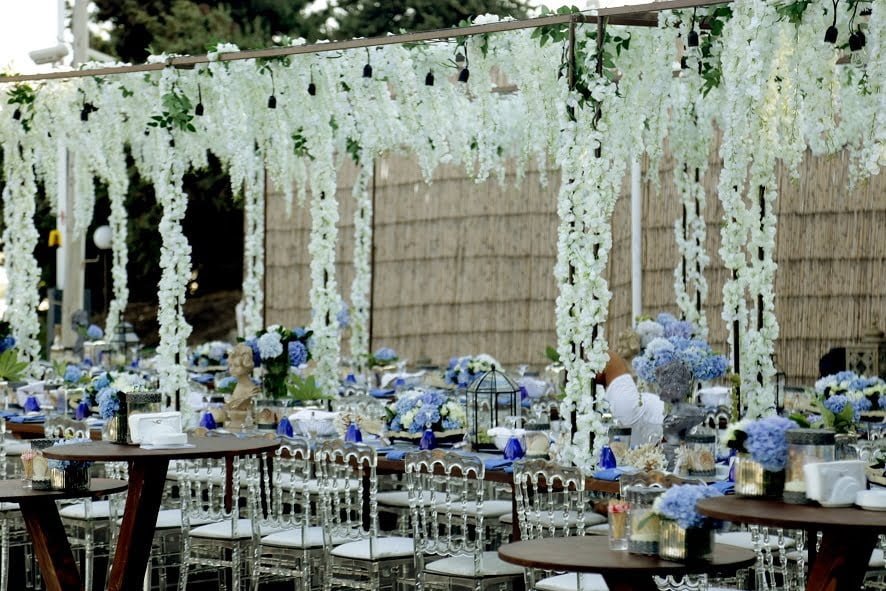 Whether you imagine an outdoor wedding or indoor. Everything will be as you imagine at this Resort. Gardenia Ballroom equipped with art products and elegant decoration offers a comfortable atmosphere that hosts many events. Outdoor Spaces capacities up to 1400 pax. 
Image Source
Ilica Hotel Cesme 
Wanting to enter marriage in passionate love and romance? For all these reasons, make your wedding for you and your friends. Ilica Hotel that has one of the best 10 wedding places in Turkey, actualize perfect wedding organizations from 100 to 1000 person in its indoors and outdoors.
Image Source
Kempinski Hotel Barbaros Bay 
Kempinski Hotel Barbaros Bay is a favorite wedding destination for today's couples looking for a serene wedding, adorned only by their love and the picturesque atmosphere, which means you can select a romantic ceremony on the beach or an elegant walk down the aisle or a photogenic ceremony and a jet-set party poolside.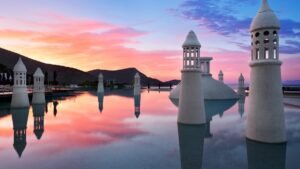 Image Source
Kuum Hotel Bodrum 
Kuum Hotel & Spa is on the private beach. Bodrum Castle and Bodrum Amphitheatre are notable landmarks, and therefore the area's natural beauty will be seen at Bitez Beach. With scuba diving, snorkelling, and water skiing nearby, you'll find plenty of adventures in the water. Wedding area capacity 600 Guest.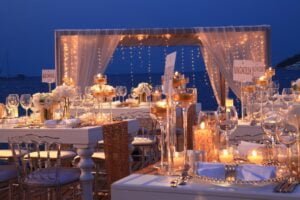 Image Source
The Marmara Bodrum 
Perched on a hilltop overlooking the buzzing city, The Marmara Bodrum is a retreat. Spectacular views across the bay as the sun makes its way across the horizon. As night falls, watch the yachts and the twinkling lights of Bodrum spread across the peninsula. Behind its Mediterranean Sea, the hotel features modern interiors dotted with works of art. 
Avantgarde Yalikavak
What bride doesn't dream of a romantic outdoor summer wedding with all the decorations and hype in elegant, yet natural, rare, and elegant surroundings? Say "Yes!" under the stars and besides the private beach, you will eternalize your happiest moment in the company of 500 guests.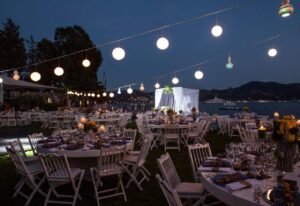 Image Source
Sianji Wellbeing Resort 
Whether you are dreaming of a beach wedding or on assorted lawn weddings imagine saying yes with astonishing scenery in the background during the sunset. Babylonia has a seating capacity for 1500 people. This area allows you to share your exclusive moments with the people you love facing a magnificent view.
Image Source
Mandarin Oriental Bodrum 
From intimate beach weddings to fabulous cocktail parties, Mandarin Oriental, Bodrum offers a wonderful location for weddings and events. With a wealth of facilities, an idyllic setting and an excellent service will be one to remember forever.
Image is taken from the Website: www.pinterest.com
Villa Macakizi Bodrum 
Villa Macakizi Bodrum is a contemporary seaside chic private villa on the Turquoise Turkish Riviera. The decor of the rooms is enriched by the beautiful hand-painted floor tiles made by Italians artisans. The location offers the opportunity for guests to enjoy leisure activities. 
Grand Yazici Bodrum 
The most special signings of love have been signing at Bodrum weddings. The most exclusive and unforgettable weddings have been at Grand Yazıcı Boutique Hotel Bodrum with a perfect Bodrum view on the sea and after the wedding ceremony Afterparty in the pool.
Read More about wedding planning with us
Other venues-
Kalyon Hotel 

The Marmara Esma Sultan 

The Marmara Antalya 

Porto Bello Hotel 

Ontur Hotel Cesme 

Corendon Premier Solto Hotel

Argos In Cappadocia 

Museum Hotel 

Lykia Lodge Cappadocia 

Tourist Hotel
Please follow and like us: