Destination Wedding In Turkey
A destination wedding in Turkey is much in demand by couples all over the world. Turkey is an enticing place for couples planning a destination wedding. Turkey is both modern and contemporary and is emerging as a major wedding destination in the Mediterranean. Additionally, this country has captivating locations with exotic wedding venues & resorts to choose from. Istanbul, Antalya, Bodrum, and Cappadocia are top destinations booked by couples tying the knot.
Furthermore, Turkey has many wedding resorts which are the perfect blend of luxury with a contemporary look. These are good enough to host small Christian catholic weddings to a large gatherings of Indian weddings, Pakistani weddings, Arabic-style weddings, Lebanese weddings, and more. The scenic beauty of Turkey is exceedingly captivating and couples dream to plan their wedding amidst incredibly beautiful beaches, natural scenic beauty, amazingly rich culture, and decadent delicacies.
Plan the wedding of your dreams in Turkey with us. Need more guidance and info? Then check out our destination wedding in Turkey blog here to know more about the top venues in Turkey. 
We at Blissful Plans are luxury Indian wedding planners based in The United States, The United Kingdom, and India, We Organize weddings all over the World and we have years of experience in planning weddings and events. We have the ability to work with you from start to end and get it all done with beauty, style, and class. 
We have handpicked several wedding venues for your grand destination wedding in Turkey. Click here to Contact us.
Location details & connectivity with the world
The country sits between two major continents and acts as a wondrous location for a destination wedding for couples around the world. There are flights available from numerous airports around the world to most Turkish cities, including the capital. Interstate connectivity is great as well.
A winter wedding in Turkey
Your winter destination wedding in Turkey can be a memorable warm and cozy affair.
 Winter weddings in Turkey are usually indoor weddings as winters are really chilly here. One can have as much fun as people have during summer weddings, including beach wedding photoshoots.
Your dreamy winter wedding can be as spectacular as you like, and to make it luxurious we can rope in the right people for the big day.
A summer wedding in Turkey
Though a destination wedding in Turkey in summer feels like a hot and sticky affair, there are many people who opt for it.  You can go to Outdoor weddings as a pool or countryside wedding as well. A beach wedding is a great option for beach lovers too.
And also be aware that summer weddings are usually conducted late in the evening or at night. P.S, Indians feel right at home when planning an Indian wedding in Turkey.
Legal Requirements For A Destination Wedding in Turkey
You'll be expected to keep the following documents handy for getting married in Turkey:
Passport/Identification: Non-residents of Turkey not only require a passport but also a visa translated into Turkish.
Full birth certificate
Health certificate: by a medical examination at the State Medical Institution (Sağlık Ocağı or Devlet Hastanesi) specified by the chosen registry office. Further, Blood tests might be taken if you suffer from contagious diseases. Chest x-rays might be needed in some cases.
Photos: 6 passport-sized photos
Decree Absolute: if divorced
Spouse's death certificate, previous marriage certificate: if widowed
Deed Poll: if the birth name has been officially changed
Adoption certificate: if adopted
Accommodation document: foreign couples to keep a letter of accommodation handy issued by the hotel with details about the stay duration.

Certificate of No Impediment/Certificate of Capacity to Marry/Certificate of Celibacy/Affidavit of Eligibility to Marry
         Info Source: Angloinfo
The procedure is as follows:
The bride and groom must apply at the local registry office and submit a marriage declaration with a certificate of no impediment and all the documents mentioned above.
The registry office then certifies the document. The validity of the document is up to 6 months and one can get married within 48 hours of the license being issued as well.
Wedding Locations in Turkey
Best Wedding Venues in Istanbul
Turkey is a big country and consists of many beautiful cities with breathtaking venues, it is advisable to engage professionals to help you ease the stress of planning your special day. The country not only offers a lot of places on land for you to have your wedding in but also at sea as you sail in the waters of the Mediterranean or the Aegean sea. You can hire hot air balloon services to get married in the sky, quite literally. Wouldn't it be the most memorable and amazing wedding your guests would get to witness?
It doesn't matter what place one selects for a wedding or what kind of wedding one wants to plan. Be it an elegant wedding or a religious ceremony, one can host it in any of the most breathtaking venues the country has to offer. Istanbul is a famous for weddings and if you're looking to host a destination wedding in Turkey, then it is the perfect city for you.
Moreover, Istanbul is very convenient for foreigners and those of different nationalities as it is one of the most astounding cultural cities to visit with many diverse cultures to witness. With its immensely beautiful tourist attractions, Istanbul makes for a spellbinding destination.
Ciragan Palace Kempinski, Istanbul, is a leading luxury property that offers you an ambiance of opulence at its best. Located at the Bosphorous, this Ottoman Imperial palace tops the list of luxury wedding venues in Turkey.
With more than 300 rooms and 31 suites in total, the resort offers classy accommodations for vacations, weddings, parties, or business trips. Further, the hotel boasts of restaurants & bars that offer awesome culinary delights.
They are reputed for being one of the high-profile properties for weddings, social events, meetings, and corporate events. 
If you dream of having your Turkey wedding in a real palace to feel like royalty, then Cirağan Palace Kempinski, Istanbul, is the right place to head to. Cirağan Palace Kempinski's expansive and spacious wedding terrace as well as the Cirağan Ballroom is suitable for large and small gatherings. They can cater to a gathering of 20-1000 guests and orchestrate a gala wedding with the minutest of cuisine and decor arrangements in place.
For a destination wedding in Turkey right out of a postcard, book a free consultation with us- More insight always helps and a perfectly planned wedding can be one to reminisce.
                                                                Cirğan Palace Kempinski
Four Seasons Hotel, Istanbul, is located at the scenic Bosphorus strait that joins the Asian and European Continents. This 19th-century Ottoman Palace is a testament to the rich Turkish culture and ancient architecture of Istanbul.
Blissful plans find this resort really special for its seafront Bosphorus appeal, classy accommodation, and exceptional customer services, which will make your guests happy and give them a comfortable stay. Your destination wedding in Turkey, when organized here, will definitely be an affair to remember. The picturesque location at the Bosphorus makes it apt for varied events like social parties, weddings, receptions, corporate meetings, and congresses. 
This is one of the best wedding venues in Turkey that will help you get a pre-wedding photoshoot that very few resorts can offer.
Four Seasons Hotel offers warm Turkish hospitality and features a staggering 11 different spaces for different functions including 2 grand ballrooms which makes it a perfect venue for destination weddings in Turkey.
                                                                              The Four Seasons
Best Wedding Venues in Antalya
Antalya, the ninth-largest city in Turkey, is a paradise on earth. 'The Pearl City' stands for diversity, quality of living, and one-of-a-kind luxury. The fourth most visited city in the world, Antalya is thronged by more than eleven million foreign tourists annually. A destination wedding in Antalya will be an extravagant affair. 
International guests can reach Antalya quite easily. The international airport is well connected to various cities in the world. If your city is not connected to Antalya through a direct flight, then you will have to board a flight to Istanbul first and then take a taxi, train or bus to Antalya.
If you are our guest for a reception or a destination wedding in Turkey, then you must not worry for we will be able to provide our professional wedding planning services. Our team will receive you at the airport and escort you to the hotel, take care of all check-in formalities, and help you host your dream wedding.
Ela Quality Resort Belek, Antalya
Planning to host a luxurious wedding in Antalya ? Be the privileged one and enjoy a private holiday, wedding, or honeymoon at Ela Quality Resort. Immerse yourself in the expanse of the blue-green surroundings of blue lake houses, or sea view suites here. The family-friendly Mediterranean resort is just right for guests of all ages. Ideal for having a fun-filled vacation, wedding, or reception. It is one of the places to get married in Turkey.
Wedding and Stay in Ela Quality Resort
A beach wedding at this venue can be an affair to remember as this resort boasts of a 270-meter-long beach and 10 different pools in an area spread across 11,000 sq meters. There are more than 200 lake houses waiting for your guests to experience the most comfortable lake resort living.
Apart from lake houses, there are more than 18 -19 kinds of different accommodation options available for the guests to choose from. If your choice from the list of destination wedding venues in Turkey is Ela Quality Resort then you must not fret at all, for they have different meeting and event venues for cocktails, dinners, and special events.
The sea views and ancient architecture act as the perfect backdrop for your outdoor destination wedding in Antalya. For an intimate setting, one can opt for a small boutique hotel and enjoy the old-time charm of the city.
Best Wedding Venues in Belek
For a destination wedding in Belek Antalya, international guests can reach the city easily. Antalya has an International airport, that is well connected to various cities in the world. This makes destination weddings in Belek a popular choice among couples all over the world. On arriving at Antalya one can hire a taxi or board a bus to Belek. 
Granada Luxury Hotels, Belek
Granada Hotels group was founded by Hacı Osman Üçdan and is operated by the Üçdan family. With the best customer service as their principal thumb rule. the resort is the pearl of the Mediterranean. With a huge area of one hundred thousand sq meters, comprising gardens, magnificent pools, many entertainment options/ venues, and a unique architectural style, it is designed for a whole range of luxurious weddings.
The imposing architecture immediately catches your attention and adds positive vibes. The resort can provide both options for weddings- Indoor or outdoor poolside celebrations to choose from. If you prefer Resort Weddings in Turkey this is your go-to place.
Best Wedding Venues in Bodrum
Bodrum is a fun lovers' city on the Bodrum Peninsula, featuring twin bays with amazing views of the Bodrum castle. The town is good for sightseeing and is the site of one of the seven wonders, The Mausoleum at Halicarnassus.  Couples and their guests can enjoy luxury wedding resorts, great nightlife in clubs, sumptuous food, and vibrant music.
Luxury wedding venues in Bodrum, Turkey are apt for intimate weddings to the grandest weddings. These resorts are located mostly on white sandy beaches where you can enjoy the views of Bodrum Bay with great service and sumptuous meals. You and your guests can enjoy the traditional Turkish Hammam too!
For a destination wedding in Bodrum Turkey, Milas–Bodrum Airport is the one to look out for. Well-connected to various cities in the world, you can take a taxi, train, or bus to Bodrum. On arriving, you can hire a taxi to your hotel or avail the hotel's taxi. If you are our guest for a reception or a destination wedding in Turkey, then you must not worry as our team will receive you at the airport and escort you to the wedding venue or hotel. We'll take care of all check-in formalities so you can have the time of your life. 
Kempinski Barbaros Bay, Bodrum Turkey
Kempinski tops the luxury wedding venues in Turkey and has been uniquely designed for guests looking for hosting a destination wedding in Turkey. Couples seeking a super-luxury 5-star wedding experience, look no further. Kempinski has a picture-perfect setting with captivating views over Barbaros Bay, and its serene surroundings make it the best wedding venue for a memorable affair.
Further, we can offer customized wedding plans to suit your taste.  Depending on the size and type of your event, you can choose from one of many beautiful areas, including the gazebo terrace, Barbarossa beach, or the hotel's poolside.
Wedding at Kempinski Hotel Bodrum: Pick the type of celebration you're planning and host a beautiful romantic wedding on the beach, a formal ceremony in the resort, a religious wedding, or a poolside party. Whatever the theme is, the wedding will be as per the client's desires. A two-night stay with bookings for 20 rooms is required for planning a wedding at Kempinski, Bodrum. Kempinski is situated on the pristine bay of Bodrum and is one of the most preferred wedding venues in Turkey.  For couples planning a destination wedding in Turkey, this resort has a serene and picturesque backdrop.
                                                            Kempinski Barbaros Bay
Susona Bodrum LXR Hotels & Resorts​
Susana Bodrum, LXR Hotels & Resorts is located on the southwestern coast of Turkey. It is a distinctive luxury sea-front destination hotel and it is one of the premium wedding venues in Turkey, experience the Luxury here! They have a mesmerizing backdrop of the seafront for grand ceremonies.
It offers 70 suites and villas with stunning panoramic sea views, they also have in-room media hubs with various entertainment options, private pools, patios, and sun decks. It has its own private bay and also Indoor and Outdoor facilities.
Their wedding venues are L Jetty, X Jetty, R Jetty, Talay Lounge, Malva Restaurant, Frankie Beach Club, and Frankie Beach Jetty. Every venue has its own accommodation limit based on Ceremony, Cocktail, and Wedding dinner.
Guests can explore and enjoy the activities at Susona Bodrum such as tennis, they can relax by pools and stretch their bodies in the gym.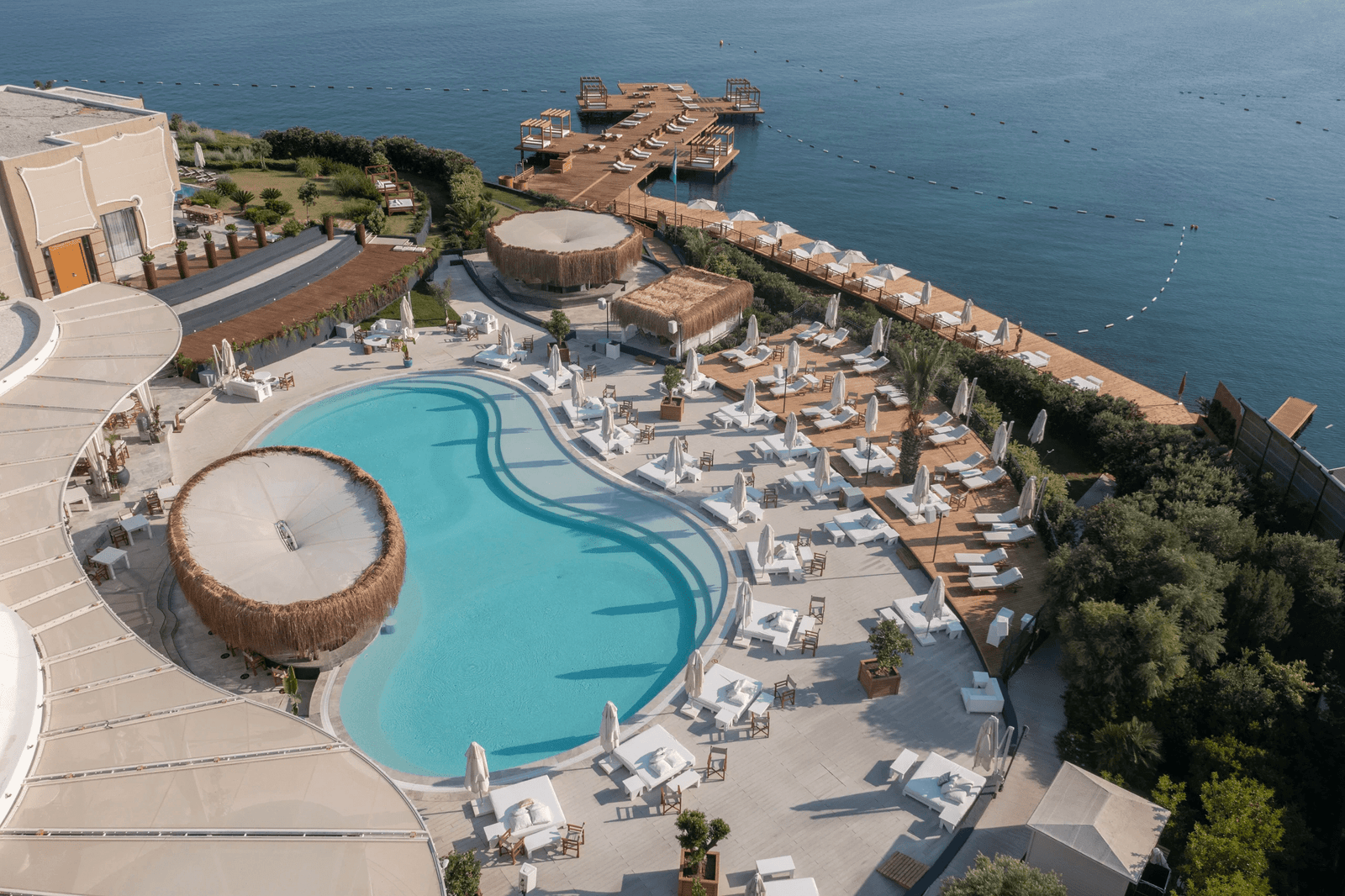 Frankie Beach Club
Are you a Nature lover? Then this wedding venue in Bodrum is for you. A Private Resort Six Senses resort in Bodrum, where we can reconnect our souls with nature.
It offers a total of 141 guest rooms and suites (75 in the main building) plus 66 Ridge Terrace Rooms. Also, they have personal balcony views and suites and Ridge Terrace Rooms have an optional private pool and terrace. They also provide three-bedroom, four-bedroom, and five-bedroom residences that offer kitchens, gardens, and pools.
Entertainment has no limit here for your guests, there are so many to explore such as an indoor heated pool, multiple organic dining options,  private beach children's activities, and many to explore. Host your magical turkey wedding here, what are you waiting for?
                                                                                  Six Senses 
Mandarin Oriental is a pretty incredible wedding venue in Bodrum, it's the epitome of Luxury. From intimate beach weddings to fabulous cocktail parties everything can be done with perfection here. It offers 59 Large Guestrooms,25 Luxurious Suites,35 Lifestyle Apartments, and 12 Villas to choose from . They offer – Stylish and contemporary Bars, Spa & Beauty, Culinary creation, and Ambassador service. Plan and host your wedding in Turkey here for an unforgettable experience.
Guests can enjoy Resort Lifestyle Lounge offering scuba diving, watersports, boat rentals, Gymboree Kids Club, and many more to explore which keeps your guests entertained throughout their stay.
                                                                 Mandarian Oriental in Bodrum
Host a wedding in Bodrum at Flamm Bodrum, which is located on the seafront of Golkoy Bay, one of the unique wedding venues in Bodrum. It has a private beach, an outdoor pool, and 14 rooms besides a lush garden and the sea.
Their suites have bright rooms of Flamm that feature all-white walls and parquet floors. Each room offers views of the garden or the Aegean Sea. 
Flamm Suite, Terrace Suite, Standard & Suite are the various accommodations they offer along which it has direct access to the beach.
                                                                       Flamm Bodrum
A wedding is a celebration of Love and Life. Lujo Hotel is one of the luxurious wedding venues in Bodrum. It Offers Cocktail receptions for up to 900 guests, dinner set-ups for up to 540 persons, and buffets or parties for up to 1500 guests.
Wedding venues of Lujo are Pier Lotus, Arena, Presidential villa, Indigo Beach Club, and Makki Pools and also they provide exclusive services such as VIP Seaplane Tour, Custom wedding cakes, Private yachts, and many more.
                                                                              Lujo Hotels
Looking for wedding hotels in turkey? Radisson Collection Hotel, Bodrum is situated at the southernmost point of the Bodrum peninsula, with views of Aspen Bay.
The hotel has 80 contemporary rooms of which 16 are suites. It offers poolside and beach views of Kos Islands for Weddings &Parties where you can create memorable moments for your Big day! It is one of the top destination wedding locations in Turkey.
They also offer a variety of dining venues with delish cuisines where you get to explore many things at Bodrum. It has many nearby attraction spots where your guests can get entertained.
Best Wedding venues in Izmir
Sheraton Cesme Hotel Resort And Spa
Planning an Izmir wedding? If and Looking for a luxury hotel in Cesme, look no further than Sheraton Cesme Hotel Resort & Spa, it's a beachfront hotel overlooking the Garden. It's a stone's throw from the Aegean Sea and next to Ilica Beach. It is Close to Alacati Pazaryeri Camii (1.6 mi), a popular Cesme landmark, Ilica Sheraton is a great destination.
Cesme is also known for some great ancient ruins, including Cesme Castle and Erythrai Arkeolojik Oren Yeri. The venue has a swimming pool and spa therapy and also features an indoor swimming pool as well as an indoor pool and outdoor swimming pool and fitness studio which can be explored by your guests. Unwind at the end of the day with a drink at the bar/lounge or the poolside bar.
Plan your Luxury Destination wedding in Turkey at Sheraton Cesme Hotel Resort and Spa.
                                                          Sheraton Cesme -Trip Advisor
Cesme Ontur Hotel is one of the top hotel wedding venues in Izmir, Turkey. Host your wedding to be remembered lifelong at the seaside of Grand Hotel Ontur with Chios Island overlooking the sea sparkles and romantic sunset.
They offer spacious indoor halls equipped with state-of-the-art technology with a capacity of 100 to 600 people. They have many halls according to our guest lists such as Prom with – Capacity of 70-80 guests, Atrium with – Capacity of 150-200 guests, and Gallery with 90-100 guests. Also, Rooms with sea views or Garden views are available for accommodation. Plan your Wedding in Izmir, as it is one of the best places to get married in Turkey.
                                                                             Çeşme Ontur Hotel
Altın Yunus Hotel & Spa Çeşme
Imagine an Outdoor Wedding Ceremony or an Indoor wedding ceremony in a Luxurious hotel, It's dreamy right? Altın Yunus Hotel & Spa Çeşme provides everything the couple desires for. This hotel has been hosting wedding ceremonies and events since 1974, it has a historical background. This is one of the top Izmir wedding venues to choose from.
They offer Indoor wedding halls -Gardenya Ballroom,Gardenya Terrace, Okyanus, Terence 1,2, Denizkızı 1, 2, 3, and Gerence 3.
Outdoor wedding ceremonies can be held at Havuzbaşı and Neptün- Capacity of up to 1400 pax., Sunset Çim ve Sunset Teras- Capacity of up to 650 pax., and Palmiye Teras 1,2,3 –  ideal venues for your marriage and cocktail.
Accommodation for guests can be done in the Superior room, Ocean suite, Deluxe room, Comfort room, Marin, Marin Plus, and Accessible rooms.
There are many Activities – paid and free and Palmet Spa to explore.
Best wedding venues in Cappadocia
Museum Hotel - Luxury Cave Hotel Cappadocia
Cappadocia wedding is getting more popular nowadays! Museum Hotel, Luxury Cave Hotel Cappadocia has an impressive perfect boutique wedding place by the Roman pool or on Museum Hotel's terraces with stunning views over Cappadocia. It's gonna be an Enchanting wedding!
Host your Cappadocia wedding at these Unimaginable venues :
Maara Konak can accommodate up to 230 people outside and 140 people inside on the 2 floors. Maara boasts one of the best views in Cappadocia and can host private dining, meetings, boutique weddings, cocktail parties, mini concerts,  and many more.
Love Hill, with hard flooring and an opaque marquee, it can accommodate up to 300 people . The perfect setting for unforgettable weddings and marriage celebrations, gala dinners, parties, and concerts.
 Loggia is an exquisite private area with a private fireplace, elegant detail, and breathtaking views of Cappadocia stretching out before you. Perfect for special marriage proposals, anniversaries, and birthday celebrations, It can accommodate for up to 20 people.
Cavo, A mystical, special space now home to a unique wine collection of the finest wines from Anatolia.Best Suitable for marriage proposals, anniversaries, and sumptuous dining for up to 25 people.
                                                              Museum Hotel Cappadocia
Looking For an intimate, glamorous, memorable, and yet modest

Cappadocia wedding

, Argos in Cappadocia is the Right Place.
They have bagged "Best Wedding", "Most Romantic" and "Best Honeymoon" awards. They provide services from your room to meals, cocktails to private transfer service, everything.
They offer Splendid Suites, Tıraz Jacuzzi Suites, Suites, Deluxe Rooms, and Standard Rooms for accommodation. They have the most special dining experience in Cappadocia, Never miss it!
And last but not least enjoy and explore
touring the underground cities that once were home to Anatolian civilizations, taking fairy chimney tours, valley walks, hot air balloon rides at sunrise, vineyard tours where you can learn about local grapes, birdwatching or photography tours, doing alternative sports and seeing concerts in unexpected venues. It is one of the unique wedding venues in Cappadocia.
                                                                       Argos in Cappadocia
To know more about Wedding venues in Turkey Read our Blogs :
Feel free to contact us! We at Blissful Plans would love to plan your wedding according to your needs, and moreover are you confused about your Wedding Cards? No worries Click here for ideas.
More wedding inspiration & ideas