THE LUXURIOUS WEDDING VENUES IN DUBAI
Dubai weddings give you and your guests a chance to take a holiday and experience another culture. Dubai is indeed a great place for Arabian-themed desert weddings, and luxurious, and beach weddings. The weather around Dubai is usually always sunny, the city offers lots of activities for guests. Also, it is a place of wonders and is the epitome of all types of luxury. Dubai is a hotspot for weddings for its stunning luxury wedding venues, warm-hearted hospitality, and the freedom to host the marriage of your wish. Luxury wedding venues and resorts in Dubai have a glamorous ballroom, a golf course, or a relaxed beach. Likewise, a top luxury wedding hotel in Dubai is also a great option because many times you will be able to book a ceremony and wedding reception at the same venue in Dubai.
From pretty gardens to cute courtyards and from sweeping vistas to intimate beach settings. Dubai has it all in terms of outdoor venues, and it has the perfect weather to match some of our favorite outdoor venues below. Indeed a stunning location it is!
Can you get married on the beach in Dubai?
Dubai, with its stunning coastline, offers the perfect backdrop for a dream beach wedding. Imagine exchanging vows with the soothing sound of waves crashing in the background, the soft golden sand beneath your feet, and a breathtaking sunset painting the sky in vibrant hues. Hosting in the beach wedding venues in Dubai is a truly magical experience that combines natural beauty with modern luxury.
But let's address the burning question – can you actually get married on the beach in Dubai? The answer is a resounding yes! Dubai is renowned for its picturesque beaches and several wedding venues offer the opportunity to say "I do" right on the sand. Whether you envision an intimate ceremony with just your closest friends and family or a grand celebration with hundreds of guests, there are beachfront locations to suit every preference.
One of the most popular beach wedding venues in Dubai is Jumeirah Beach. This iconic stretch of coastline is dotted with stunning resorts and hotels, many of which have designated areas for weddings. Picture exchanging vows under a beautifully decorated gazebo, with the crystal-clear waters of the Arabian Gulf as your backdrop. Afterward, you and your guests can enjoy a lavish reception on the beach, savoring delicious cuisine and dancing the night away.
If you prefer a more private and secluded setting, consider the exclusive Palm Jumeirah. This man-made island boasts some of the most luxurious beachfront properties in Dubai. With their stunning views and impeccable service, these venues provide the perfect setting for an intimate destination wedding. You can indulge in a romantic ceremony on a secluded stretch of beach, surrounded by lush palm trees and breathtaking views of the city's skyline. Host your Wedding reception in beach venues or ballrooms in Dubai.
When planning your beach wedding in Dubai, it's essential to work with our professional wedding planner who specializes in destination weddings. We will assist you in navigating the legal requirements, arranging accommodations for your guests, and coordinating all the intricate details to ensure a stress-free experience.
In conclusion, a beach wedding in Dubai is not just a possibility, but an enchanting reality. The city's idyllic coastline, combined with its world-class hospitality and luxurious venues, sets the stage for a truly unforgettable celebration. So, why wait? Dive into the magic of Dubai and start planning your dream destination wedding on the beach today!
Dubai Polo And Equestrian Club
The posh 5-star luxury wedding resort in Dubai is set up to truly mesmerize your guests with a splendid celebration in Dubai. There are three beautiful outdoor options, all set in lush green surroundings and suitable for up to 400 people, and overlook the venue's polo field. Saha Courtyard, which also has space for 250 guests, features beautiful water fountains and an elegant setting.
Sofitel The Palm
The Sofitel Palm Resort & Spa has a range of outdoor settings with a luxurious Polynesian theme indeed. The Maui Rooftop is the perfect place to celebrate under the stars with views of the Palm, whilst the garden can be transformed to suit your theme and it's a perfect luxury wedding venue for your magical Dubai wedding.
Arabian Ranches Golf Club
Arabian Ranches Golf Club the beautiful outdoor area offers a feeling of space and a magical environment to celebrate your marriage. It can also serve as one of the best Wedding reception venues in Dubai.
Desert Palm
One of the main outdoor venues at Desert Palm is the Olive Garden, which has 300-year-old olive trees. Hence, Olive Garden can accommodate 400 guests for a seated dinner. One of the most exquisite venues and top luxury hotels in Dubai for weddings.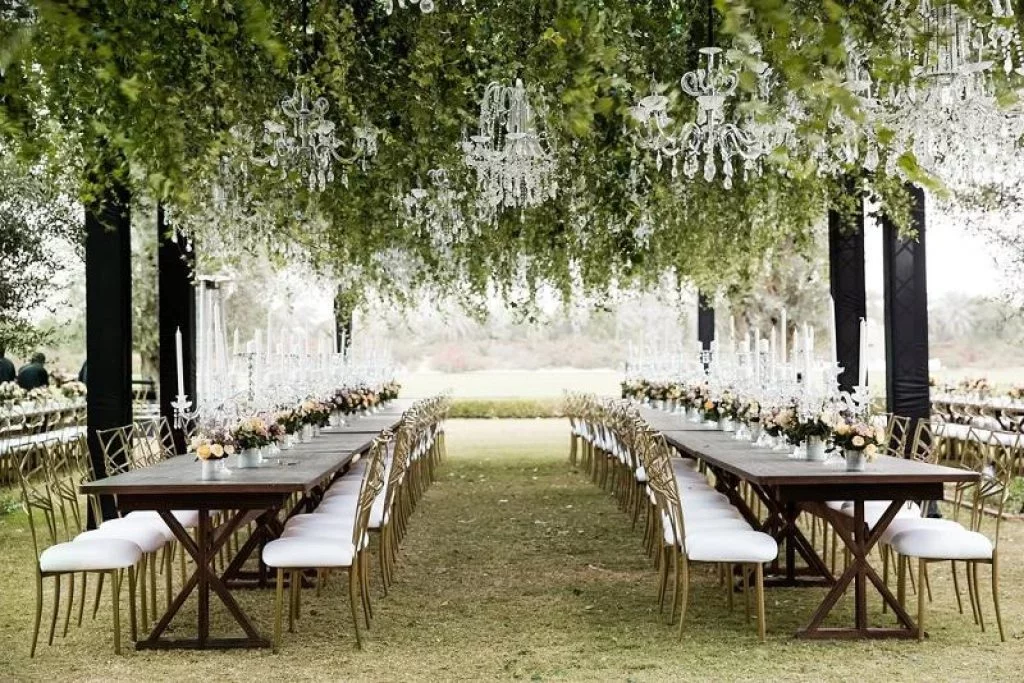 Atlantis The Palm: One Of The Most Sought-After Wedding Venues In Dubai
Of course! Atlantis The Palm is the top luxury wedding hotel in Dubai and is no less than a paradise. Perfect for nature lovers to enjoy a quiet wedding surrounded by the sea. Atlantis The Palm is a feather in Dubai tourism's cap. It's the perfect location for your destination wedding in Dubai.
One&Only Royal Mirage Resort
One&Only Royal Mirage Resort, the luxury hotel resort in Dubai has several venues for small gatherings. The resort has a beachfront, ballrooms, halls, and more, but the small courtyards are perfect for a small, budget ceremony. Therefore, this is one of the best places for those who are looking for outdoor beach wedding venues in Dubai.
JW Marriott Marquis Hotel
JW Marriott Marquis Hotel is one where the city celebrates with you. The rush of the city, the buzzing energy, the exciting music, and the various venues like the pool deck within the hotel, together make a very tempting offer and tie the knot with the Burj Khalifa in the background! Book this one of the best hotels in Dubai for weddings. and make unforgettable memories!
Burj Al Arab Jumeirah
Burj Al Arab Jumeirah is one of the fanciest hotels in Dubai indeed. Experience this opulent wedding resort in Dubai at its best. A grand wedding here will not only be a treasured memory for you and your partner but for your family and all the guests too.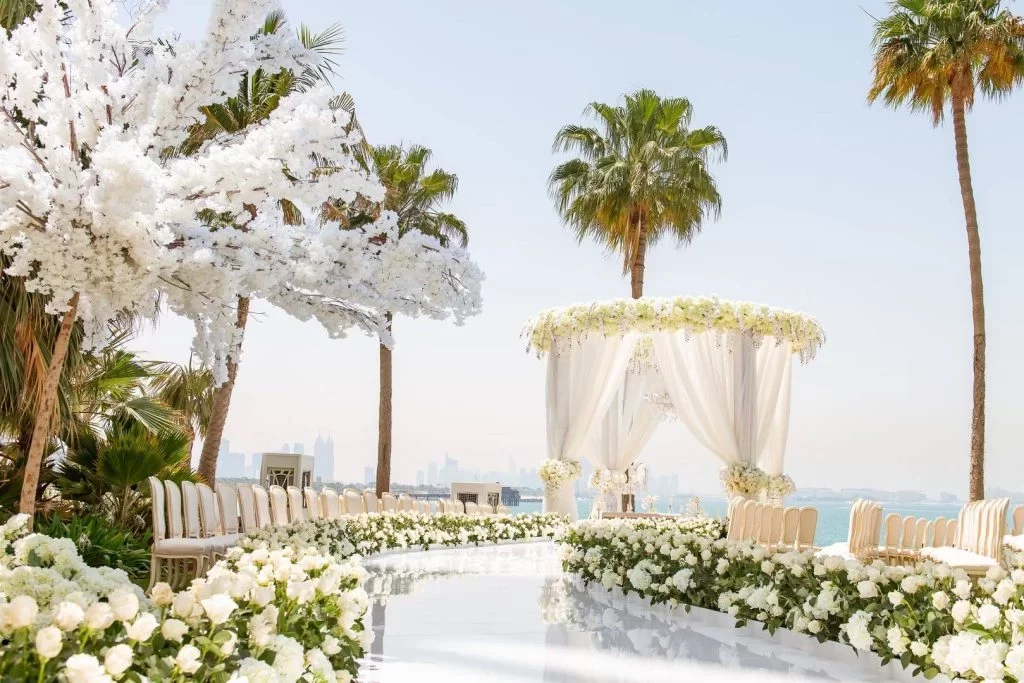 Madinat Jumeirah
Host a Luxurious destination wedding in Dubai in Madinat Jumeirah! The open skies to the sweet sound of waves by the beach, organize a traditional ceremony on an elevated walkway for waterside vistas, or host a reception in the ornate ballroom of the hotel's grand Arena. No two weddings are the same here. Also, it is one of the best wedding reception venues in Dubai.
Armani Hotel
The best choice for your destination wedding in Dubai is choosing between the elegant setting of a ballroom and the landscaped gardens of a pavilion. From world-class culinary options, with a multi-tiered cake crafted by a master pâtissier, to exquisite overnight lodging complete with luxurious spa facilities makes it a unique wedding venue in Dubai.
Palazzo Versace Hotel
Palazzo Versace -The top luxury wedding hotel in Dubai, Reminiscent with high ceilings and landscaped gardens, Here you can host up to 500 guests in the city's most spectacular ballroom. Exquisite Versace tableware, silk furnishings, and glassware will complete your stunning experience.
Habtoor Grand Resort
Habtoor Grand Resort- 5-star resort in Dubai, Dubai. Being well-equipped, it offers the best services and facilities to make a dream gala event. Located in a royal place, it is an ideal and wonderful destination to host lavish weddings
Four Seasons Resort Dubai
Four Seasons Resort Dubai at Jumeirah Beach offers an exclusive wedding that is ideal for welcoming guests. Host up to 360 guests open to a beachfront lawn and terrace, or find the perfect venue for an intimate celebration. It is also a suitable and luxurious wedding reception venue in Dubai.
Dubai Creek Golf
Dubai Creek Golf and Yacht Club host your dream wedding! With a range of unique venues offering stunning views of the famous Dubai Creek, is the ideal location to wow your guests and create lasting memories for the bride and groom.
Dubai Desert Wedding
The UAE has plenty of venue options whether you're looking for a fancy five-star do or a desert wedding. If neither of those you what you can get married next to a stunning desert oasis, surrounded by fire torches and wooden huts.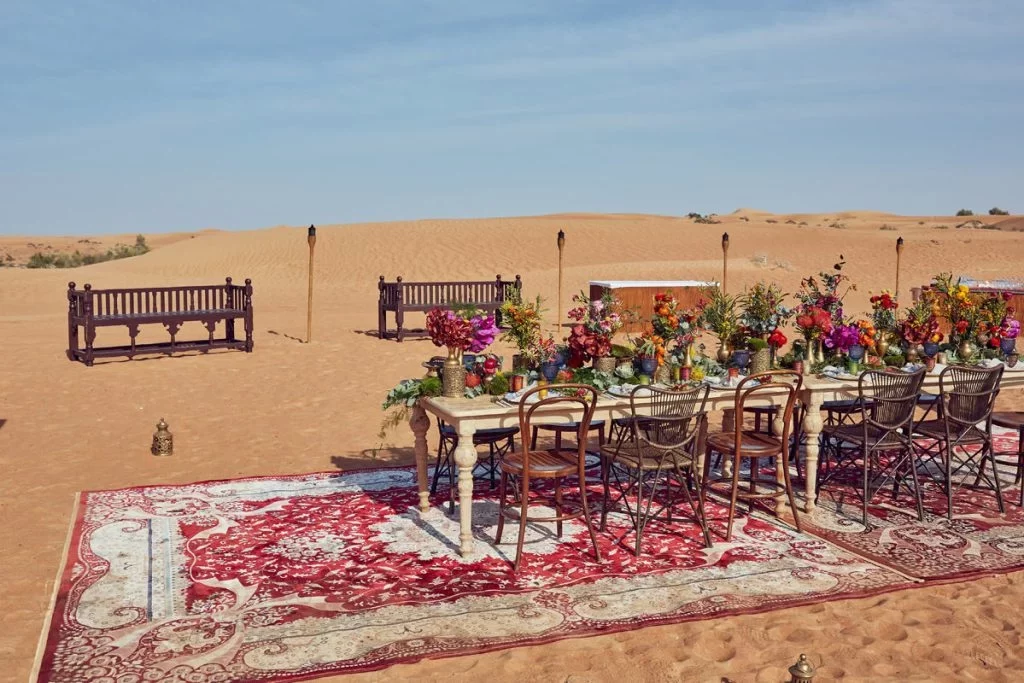 Al Maha Desert Resort
This secluded desert resort inside a conservation reserve offers up a stunning location for a wedding among the dunes. The romantic desert backdrop makes Al Maha a unique place. This 5-star resort in Dubai can make up for one secluded yet gorgeous Dubai Luxury wedding venue.
Bab Al Shams-Luxury Resorts In Dubai
This desert resort and spa is the perfect secluded location for a 5-star resort in Dubai for a desert wedding. Little to no light pollution offers up a great spread of the night sky, turning a typical hotel marriage into a magical one.
Al Sahra
Al Sahra is a unique desert resort set in 37 million square feet of undulating dunes and indigenous flora and fauna. This venue is ideal for one-of-a-kind private events or functions set within a magical desert setting.
Qasr Al Sarab Desert Resort By Anantara-5-Star Resort In Dubai
Looking for a luxury hotel resort in Dubai? Experience Arabian splendor with a personalized wedding at the Mirage Palace, the world's largest endless sand desert views, and traditional touches for a lifetime celebration. Therefore, a wedding here will be similar to the magical aura of a desert.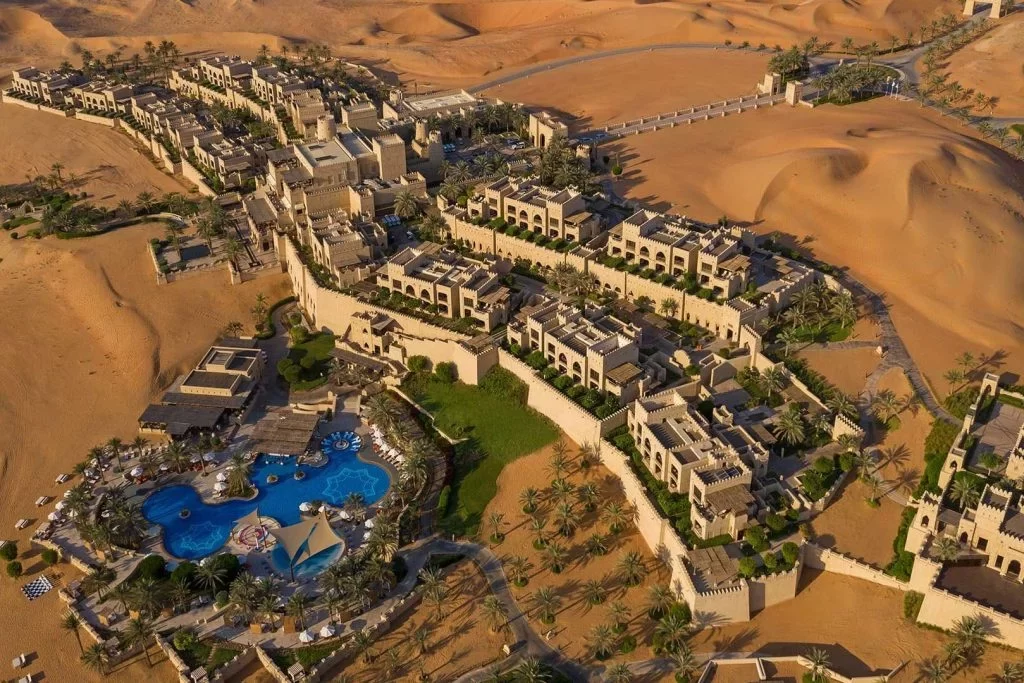 Though the cost in Dubai depends upon your adventure list, experience, and locations Yas Viceroy Abu Dhabi, The Ritz Carlton JBR, Dubai, and Madinat Jumeirah, are relatively cheap wedding venues in Dubai.
To host your dream Destination wedding in Dubai, you will require professionals to make arrangements and execute all the ceremonies perfectly. To host your wedding in a top luxury hotel in Dubai, Contact our team to know how you can turn your dream of organizing a luxury wedding into a reality! Blissful Plans are always one step ahead of your ideas, we make them more splendid and gorgeous. Dubai weddings are the synonym for luxury and elegance and we make them more glorious. Check out if you're thinking about having a unique Bride and groom entry for your dream wedding.
Read more :
-Khushi Maharani