Looking for the best bride and groom entry ideas?
---
Even the shining stars dim at the view of the bride and groom's entry. They are the center of attraction and outshine everyone in the room. Therefore, everything that surrounds them should be perfectly flawless.

Have you ever thought of what the much-awaited moment at a wedding is? It is, of course, the entry of the bride and groom.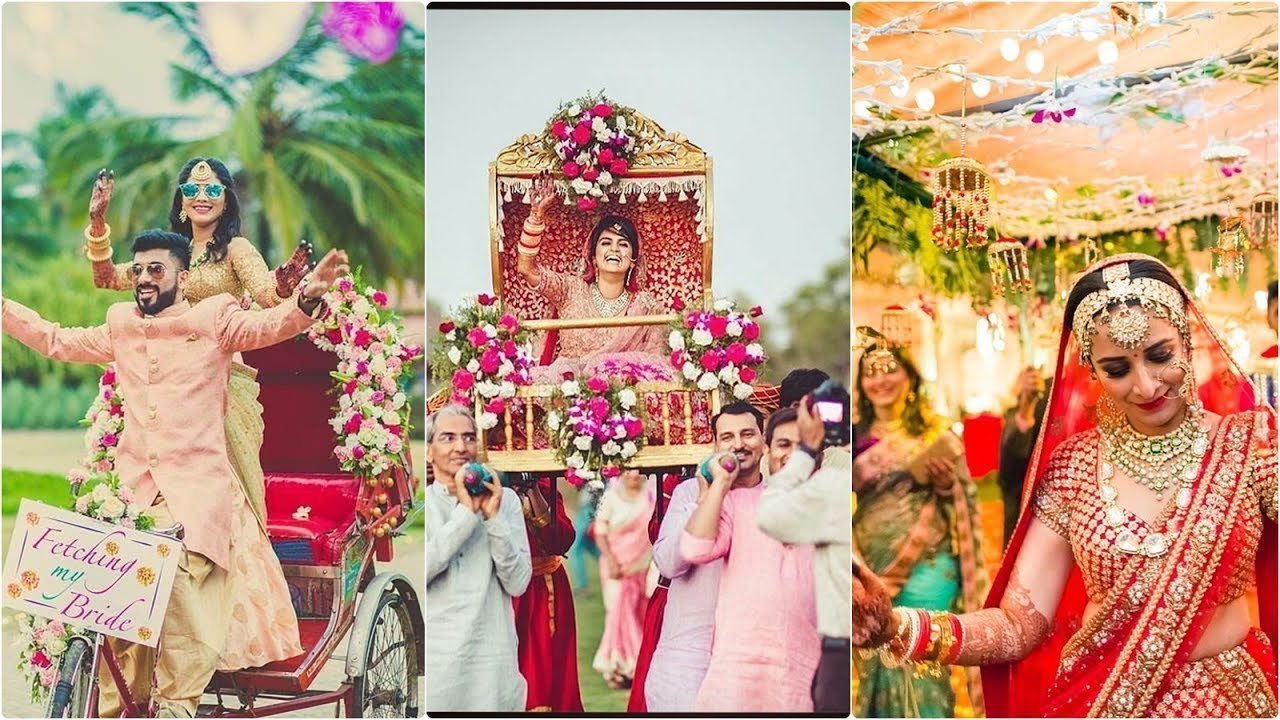 Different vehicles to make the entry special
---
1) A Royal Entry in a Chariot or a Carriage – One of the Best Bride Entry Idea
A royal entry on a chariot or carriage adds more vibrancy to the events. It is overwhelming to see the bride or the groom's entry in these wondrous conveyances. We always remember the enchanting entry of Cinderella to the ball, right? Let our bride feel the same as a princess in a chariot entry. While the groom is of course a royal hunk in a horse-drawn carriage.
2) The Modern Day's Best Bride and Groom Entry Ideas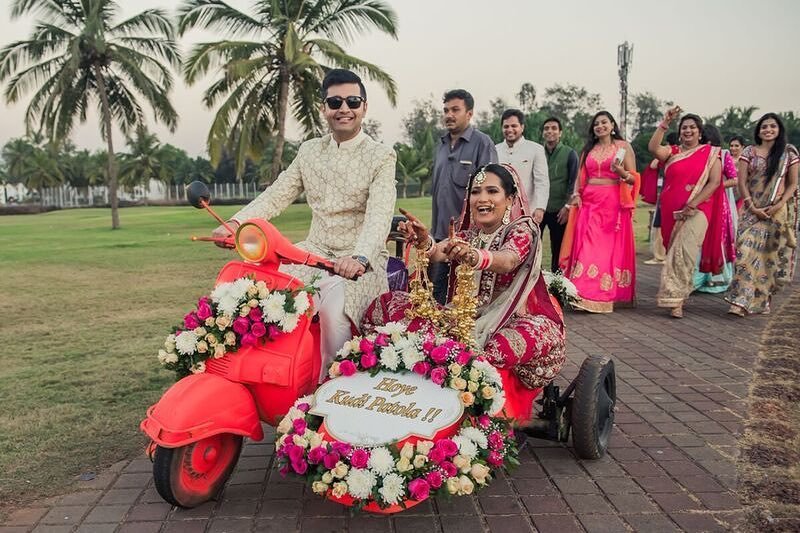 Sunroof Car Entry – The perfect entry can be done in a luxury car. You just have to simply open the sunroof.
Entry in a Vespa – The classic scooter of the era. Entry to the wedding venue in this masterpiece is classic and elegant. Show off your Vespa driving skills to the crowd.
Entry in Auto – Autos are an evergreen mode of transport but quite unexpected at weddings- making them unique entry vehicles for weddings. Decorating it with flowers and bouquets is a plus.
A Limousine Entry – Luxurious weddings need an equally luxurious entry. So the best choice is a limo.
Entry in a rider style – Bike entries are all cool and classy. Hence, a bike-loving groom has no better way of entering than this
A unique entry in a gigantic batmobile or a Jeep will be unexpected and grand.
An ATV entry is also trending nowadays.
3) Entry with fireworks, sparklers, and lightings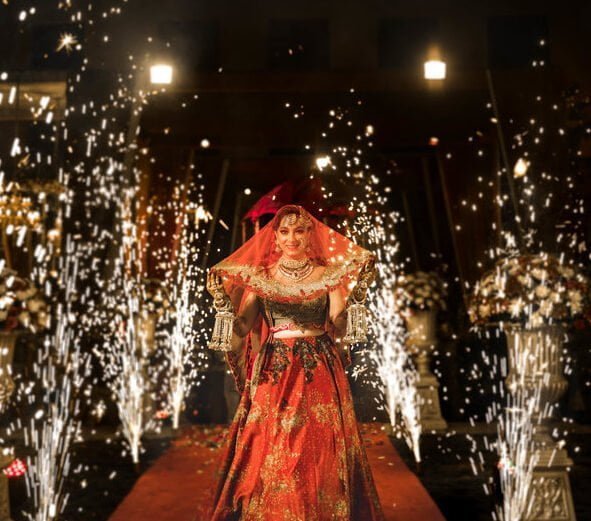 The entry of bride and groom must be memorable for them as well as for those witnessing it. Then why not make it a glittery-shimmery one? Imagine the grand entry of the couple through a walkway in an idyllic backdrop of fireworks and sparklers. This is one of the most splendid bride and groom entry ideas to make the wedding glamorous.
4) A Dance Entry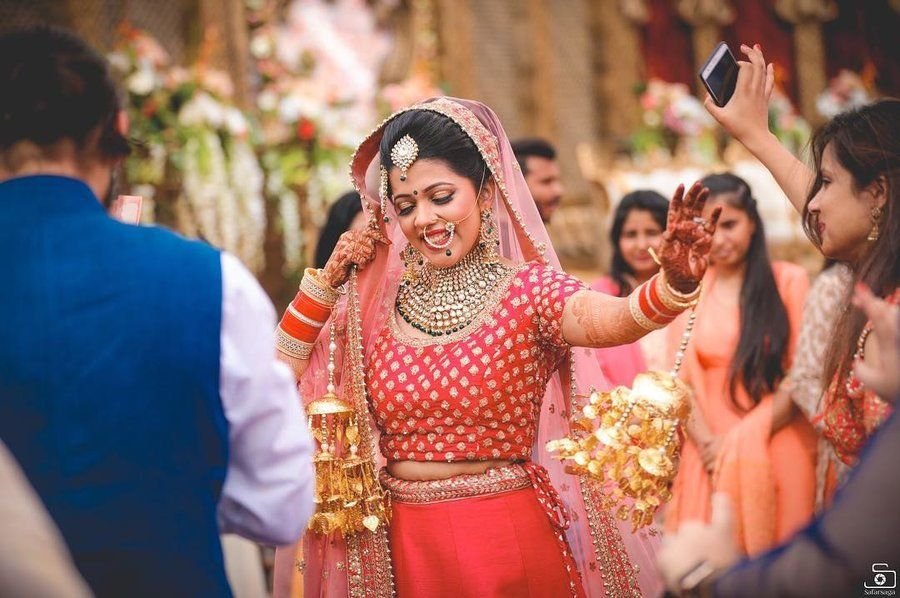 A celebratory event like a wedding should give out positive vibes every second. Ensure you make the entry magical and don't forget to add a celebratory song. The best idea is to have live musical instruments like dhol, trumpets, etc. Everyone will enjoy this entry for sure.
5) Retro themed vintage car entry
Retro themes are evergreen. Entries based on retro themes are often quite elegant. Hire a vintage car for a classy entry or use it as a getaway car at the end of your big day. Entry and exit in the same vintage car are a must for weddings.
6) Flower Shower Entry
The dreamy entry where flowers are showered by friends and families from both sides is just spectacular. Indians are always fond of flower showers and most of them love to add this to their wedding in the most beautiful way. Therefore, isn't it best to have a flower shower entry? The groom and bride will surely love this entry since it's one of the best groom and bride entry ideas. The best choice of flowers would be roses as they symbolize love.
7) Get ready for a boat entry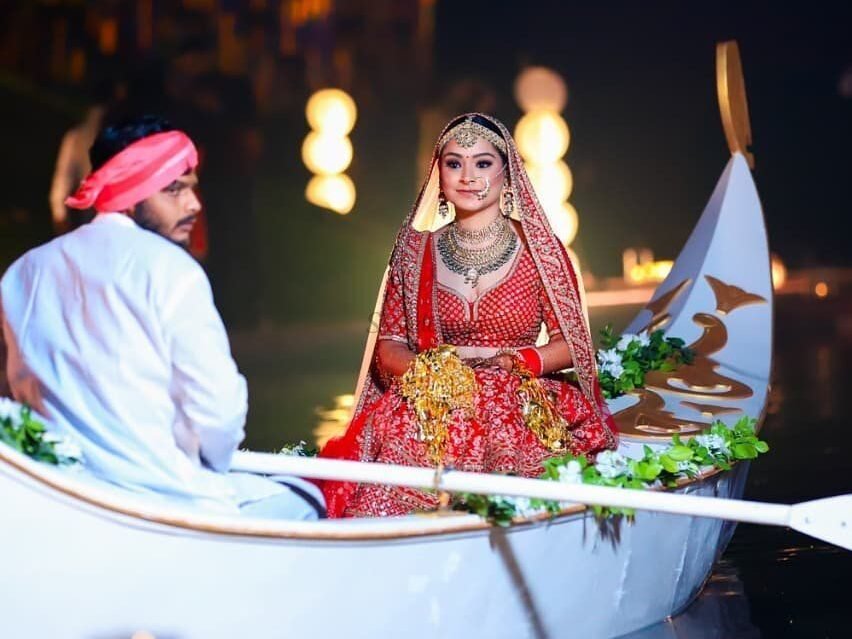 Let's go for a classic and nature-loving entry while planning the golden couple's entry. The idea is to have a picturesque boat entry to the venue. Imagine the bride and groom holding hands and entering by a boat, very romantic indeed.
8) Entry on Phoolon ka Chaadar or a Floral Entry with Bridesmaids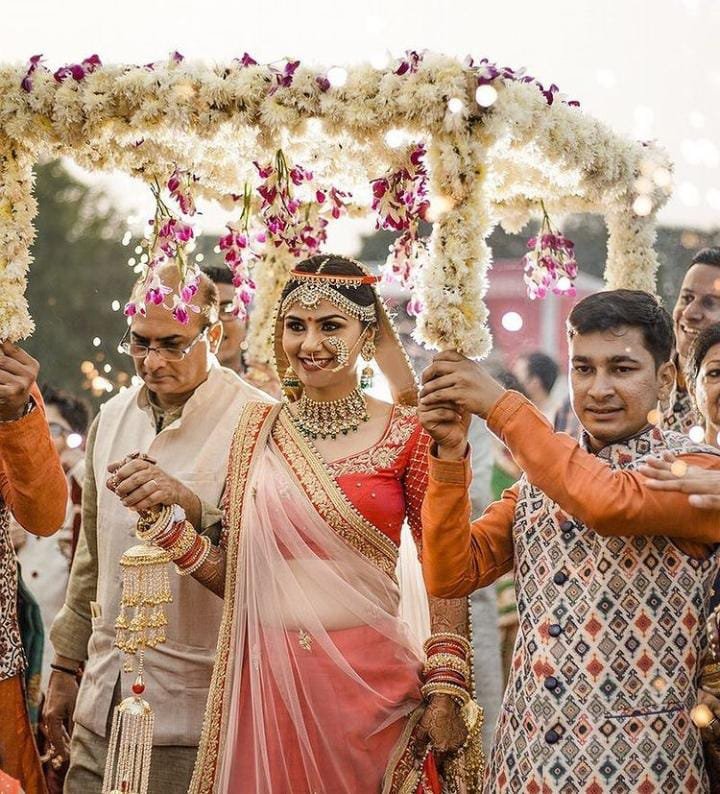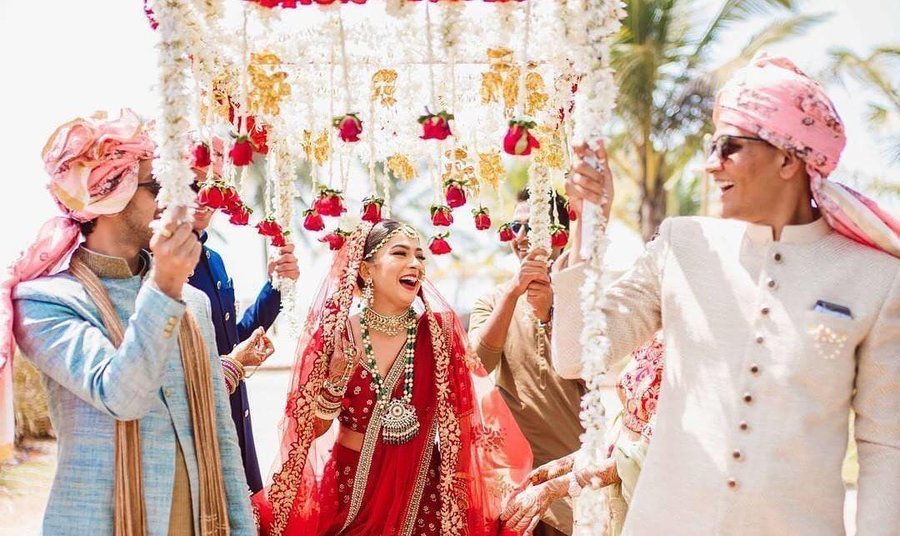 A bride is valiantly welcomed by the guests and groom by this entry. Phoolon ka chadar is actually a bridal entry prop, though it can be used to welcome both. Let the couple enter together with this wonderful setup. This prop symbolizes the love and care given to the daughter by her family. Hence, including the groom makes the entry super adorable, doesn't it? Phoolon ka chadar is so breathtakingly beautiful to look at.
9) Carrying entry – Romantic Bride and Groom Entry Ideas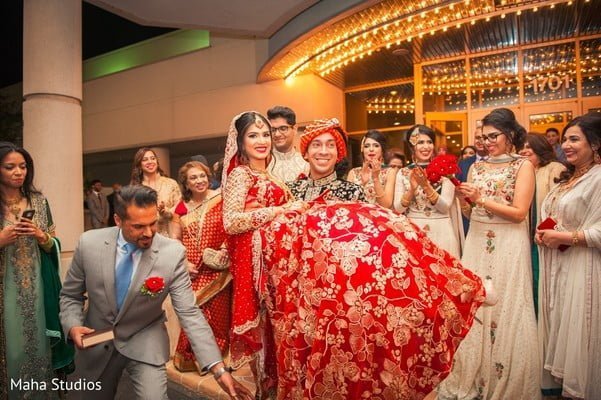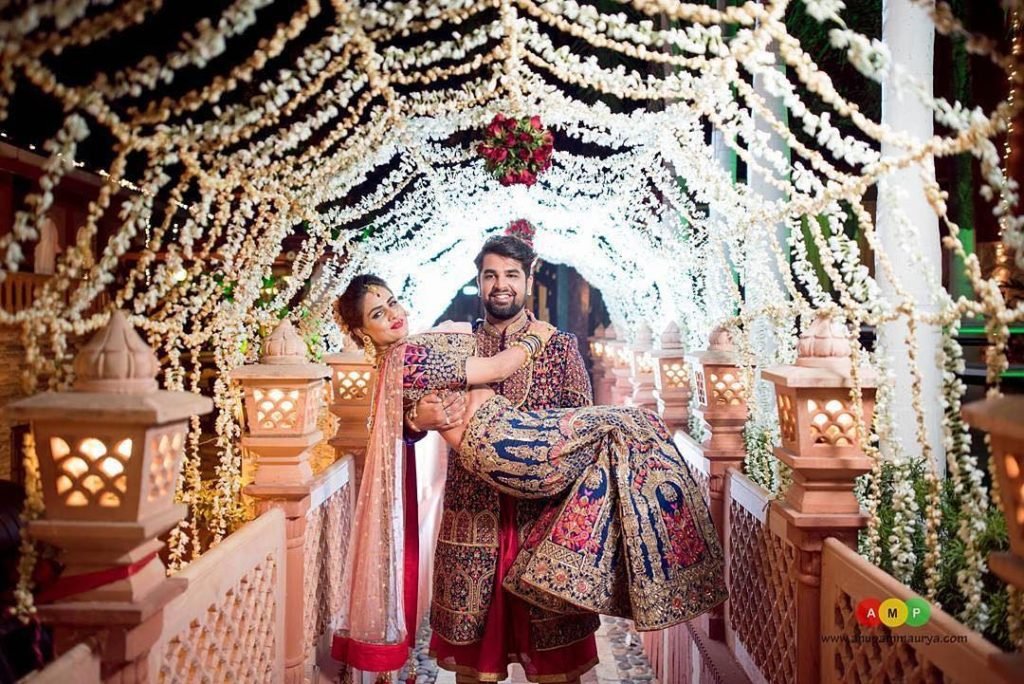 Let the couples be a little romantic and filmy with this swag entry. This entry style is a simple but adorable thing to do at your weddings. The groom may carry the bride through the walkway with romantic music playing in the background with cheers from friends and family. This truly makes for an unforgettable moment.
10) A helicopter Entry – Best for Groom Entries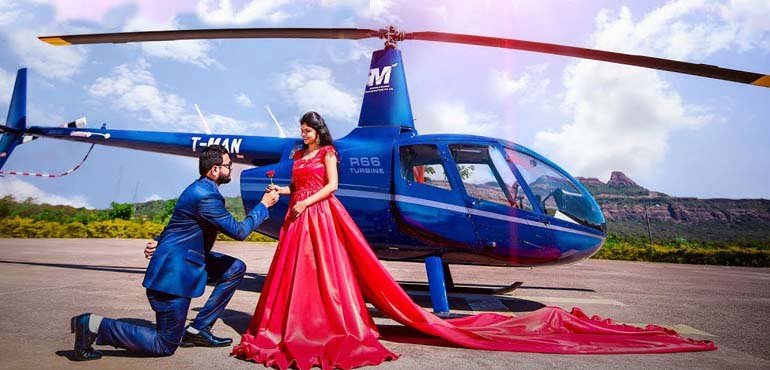 This is one out-of-the-box way of entering. Helicopter entries are the best for couples who need a grand entry for their wedding.