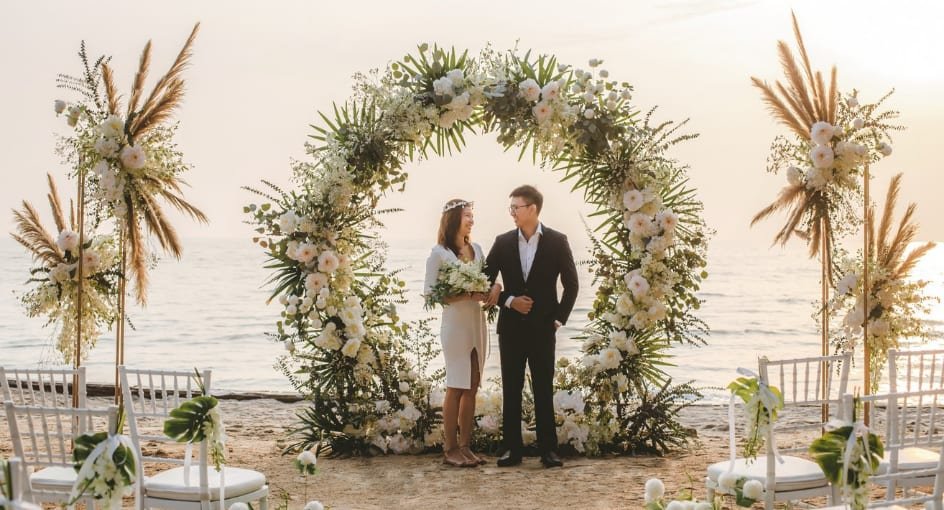 Hosting An Exotic Beach Wedding in Hua Hin
Wedding in Hua Hin!! Dreamy isn't it?
"Destiny brought them together and now love will seal their bond forever".
A wedding is an occasion that a couple plans for the longest time. They want it to be the most special and memorable moment of their lifetime. Destination weddings these days are an ongoing trend which people are most people are really fascinated about. There is obviously a plethora of options to choose from for hosting a destination wedding. The things which play an important role in planning a wedding are the destination and the venue. It is essential to select the perfect and most suitable venue for a beach wedding as it makes or breaks a couple's special day.
Destination Weddings In Hua Hin
Selecting the perfect place is the most difficult task for the couple since there are many options for hosting a wedding in Thailand. The most chosen place by many couples would be a beach or a secluded island for a quiet, peaceful wedding ceremony. For those who love beaches, Hua Hin is a great destination as organizing a splendid wedding ceremony is not an uphill task here. Hua Hin is a popular tourist destination frequented by many; thus, hosting a dreamy beach wedding is a favorable possibility here.
Wedding Venues In Hua Hin Thailand
Hua hin has a lot of venues that would serve a fantastic wedding. It has a lot of hotels to choose from. With private luxury villas, your choice of choosing the perfect wedding venue broadens by a margin. The beauty of the place would add up to the wedding venue making it even more mesmerizing. Choosing the right hotel also would be a factor, there is a vast range of options available when it comes to cuisine, hotels, decorations, and more. Explore more wedding venues in Hua Hin here.
Here Are The Few Luxurious Wedding Venues In Hua Hin:
Sheraton Hua Hin Resort & Spa
It is the most sought-after wedding venue in Hua Hin! Also, it's the hottest destination for Indian weddings.
Sheraton Hua Hin Resort & Spa is the perfect place for couples to celebrate their special day in a luxurious setting. The resort is located in the beautiful coastal town of Hua Hin and offers a range of facilities that are ideal for wedding ceremonies and receptions.
The resort features stunning beachfront views, lush gardens, and spacious rooms with modern amenities. The Sheraton Hua Hin Resort & Spa provides the perfect backdrop for weddings in Hua Hin with its romantic atmosphere and attentive staff. They offer 240 guest rooms and villas for weddings in Hua Hin.
Ceremony locations- Ocean front lawn-400 guests, Island lawn-100 guests, Grand Ballroom-300 guests for wedding ceremonies, and the Chandelier-480 guests for the reception.
Ace of Hua Hin resort is an idyllic retreat for a beautiful and magical wedding in Hua Hin. Also again this is one of the top wedding venues for Indian weddings in Hua Hin.
Be it a medium-sized wedding or an Intimate wedding, they offer versatile spaces to tailor according to your needs. This resort has a gorgeous beachfront area ideal for wedding ceremonies, a Ballroom-200 guests, and an Outdoor courtyard and terrace for -60 guests ideal for intimate weddings and events.
Create the most memorable moment with a Romantic backdrop at The Palayana Hua Hin. It is a 5-star beach resort with a beautiful backdrop for your wedding in Hua Hin.
They offer 45 rooms and 19 villas for guest accommodation. Host your weddings at the beach -70-100 guests, Tropical garden-150 guests, Pool deck-100 guests, Ballroom and Thai wooden house-50-60 guests. This resort is popular for Indian weddings too.
With a secluded beachfront, picturesque garden, and ambiance, Dusit Thani Hua Hin stands out!
They offer an array of wedding venues -The Stable: Get married in Hua Hin in the beautifully landscaped garden, Ban Benjarong: An authentic Thai setup for weddings and holds a capacity of 140 guests, Beachfront- Romantic wedding with sunrise and sunset views of Gulf of Siam and capacity of 100 guests, Lagoon lawn- Say " I do" in a tropical garden with Ocean and Lagoon as the backdrop and a capacity of 1000 guests.
Ever dreamt of Picture perfect weddings? Then Avani is your go-to place for Weddings in Hua Hin. Host an incredible beachside wedding with your near and dear ones!
Weddings can be hosted on the sand, the lawn, poolside, or in a grand ballroom, as you prefer. Indian wedding in Hua Hin arrangements can be specially made according to your needs for mehndi, sangeet, cocktails, etc.
What Is The Best Weather For Hosting A Wedding In Hua Hin?
Hua hin has a tropical climate so weather must be considered well before fixing a date for the big day. If the wedding is outdoors, the weather also plays a major role. March to May has the most humid climate making it hard to host celebratory functions in the sweltering heat.
Usually, November to February is well-suited and the most preferred time for the wedding since the climate will cool down during these months. Further, the cool climate and serenity make a great atmosphere for wedding bells to jingle in Hua Hin.
How To Plan A Wedding In Hua Hin?
The next step is to select a hotel or resort when you have zeroed in on a specific date. Beach wedding destinations have been getting densely populated since this trend has been skyrocketing and will continue to do so for some time. Bookings must be done way prior to D-day since it's a very popular place. It is a good idea for making prior arrangements and bookings about 3-4 months ahead of the wedding.
Engage The Best Wedding Planner In Hua Hin!
Choosing the best wedding planner in Hua Hin plays an important role here. Choosing the right one can make your job much easier. It is understandable that planning a destination wedding in a foreign land is a hectic job and requires a lot of research. After all, executing all your events perfectly is important for organizing the wedding of your dreams. We understand your concerns here and thus we offer to help you in the best way we can. At Blissful Plans, you can talk to experts and gain clarity about organizing your own destination wedding. In fact, you may even arrange for wedding planners in Hua Hin who will make this job effortless and much easier for you.
Wedding planners who can understand your needs and the way you want the wedding to be carried out. So it is important to choose the right one according to your requirements.
Cost Of A Destination Wedding In Hua Hin
Everything is planned according to the budget which the couple is willing to spend. The planners plan the wedding accordingly. How lavish the wedding they are willing to go for is the deciding factor. Further, it is relatively cheap to go for a beach wedding when compared to other destinations, however, this varies from place to place.
Click here to look for other destinations for hosting a beach wedding.
Poolside Party
The soon-to-be-wed couple can have a poolside party and spend their time with their loved ones while playing games and having beverages to constitute the perfect chill time before the wedding. Many villas there do have a pool where grand parties like bachelorettes or Mehendi parties can be hosted, making it a very unique yet cool concept. You may defy the rules of a traditional wedding party by opting for poolside parties and making your wedding much more memorable.
Wedding Themes
A very unique theme can be incorporated if the wedding is taking place at the beachside. Beach-themed weddings with floral decorations are also refreshing ideas for hosting a destination wedding in Hua Hin.
Suppliers
Hua hin is just a couple of hours away from Bangkok so it will not be difficult to find good suppliers there moreover, the wedding planners will have contacts making it easier to hire the most skilled wedding vendors. The DJ, photographer, videographer, makeup artist, food, decorations everything can easily be arranged easily in Hua Hin.
Activities
Many activities are organized in your chosen venue and since it's beachside, certain areas can be easily reserved for hosting fun activities for your family members. There are countless beautiful places which are not that too far. Fantastic theme parks and palaces can also add up to make up the perfect backdrop for your photos. Make sure your wedding in Thailand is one that everyone will remember.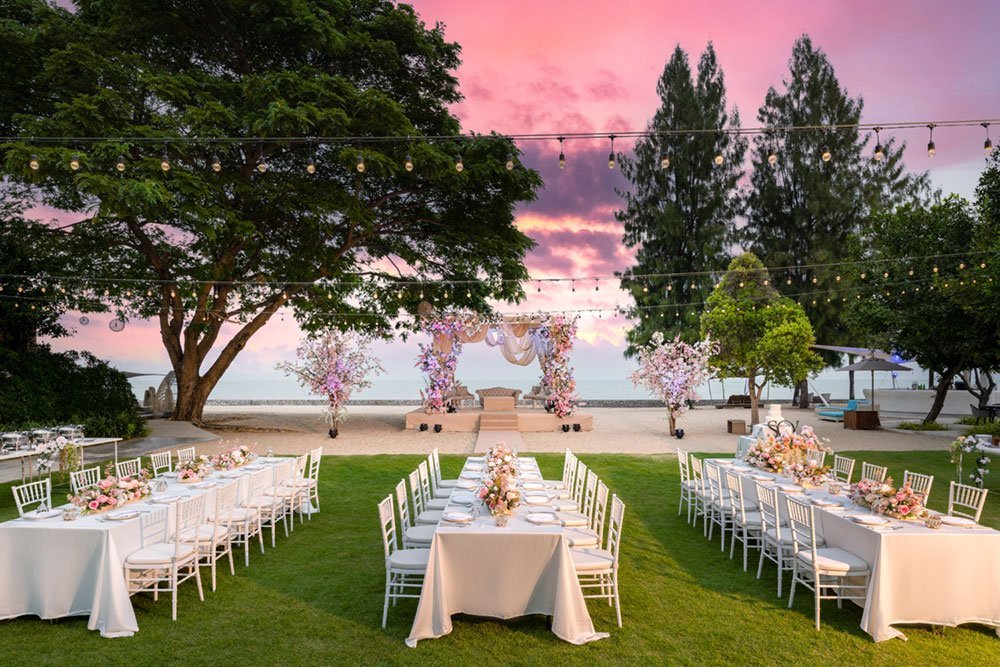 DJ Night /Sangeet Adds A Celebrity Vibe To Your Wedding
DJ could be arranged or sangeet for traditional Indian weddings to make your nights more colorful and fun.
In fact, a place near the beach would add the perfect frolicky vibe to your wedding celebrations.
Games
Games for both, the couple and the guests, could be arranged so that everyone can have a great time. It is a wonderful idea to host certain activities and games for people of all age groups. Thus, planning a wedding in Hua Hin can be the most fun and memorable time of your life, if done properly.
Hua Hin is also the most preferred destination for an Indian wedding. Read more about Indian destination weddings in Thailand.
Thinking about a Legal wedding in Thailand? Click here to know more.
We at Blissful Plans are a wedding planner in Thailand, For more details on wedding packages feel free to contact us!
Read more: