Destination wedding in Jaisalmer
The Golden City, Jaisalmer is a wonderful destination for couples to tie-the-knot. Its aesthetic architectural wonders and rich cultural heritage, is sure to bring elegance to your big day. This city is situated in Rajasthan, which makes it an integral part of incredible India. Hosting a destination wedding in Jaisalmer will set you up for a life filled with romantic bliss.
Majestic Views 
Couples planning to get married with views of the golden desert with yellow sandstone architecture all around, usually opt for Jaisalmer for its royal vibe. This city is also known for its intricate artifacts and handcrafted pieces of jewelry, textiles, and accessories. One can browse through traditional Rajasthani handicraft stores to pick the perfect wedding attire that goes best with the wedding theme.
Which month is best to visit Jaisalmer/ Best Time to get married in Jaisalmer
---
Jaisalmer boasts of an incredible dessert that gets sweltering hot during the summer months. Therefore, the best time to get married is the winter season; this allows you to enjoy the pleasant weather of Jaisalmer (November to February).
Cost of a destination wedding in Jaisalmer 
The average destination wedding in Jaisalmer cost will range from roughly 30-80 Lakhs with about 150 guests. Keep in mind that the expenses may go up or down according to your selection of venues, number of guests, aesthetic preferences, etc.
The Best Theme for a Destination Wedding in Jaisalmer 
---
Every destination exudes its own unique vibes. Hence, a wedding that combines the beauty of your destination will be best suited for weddings with the following themes:
Traditionally Grand
Jaisalmer is known for auspicious weddings with rich rituals and cultural celebrations. Couples and families seeking the perfect traditional wedding ceremony for a grand Indian wedding are most likely to opt for this theme.
The Royal Saga
Most architectural masterpieces and venues give off royal vibes owing to the splendid architectural intricacies and opulent decor. To add an even grander vibe to your wedding, opting for stunning palaces and accommodations is the key.
Stunning Wedding Venues in Jaisalmer 
---
1) Jaisalmer Marriott Resort and Spa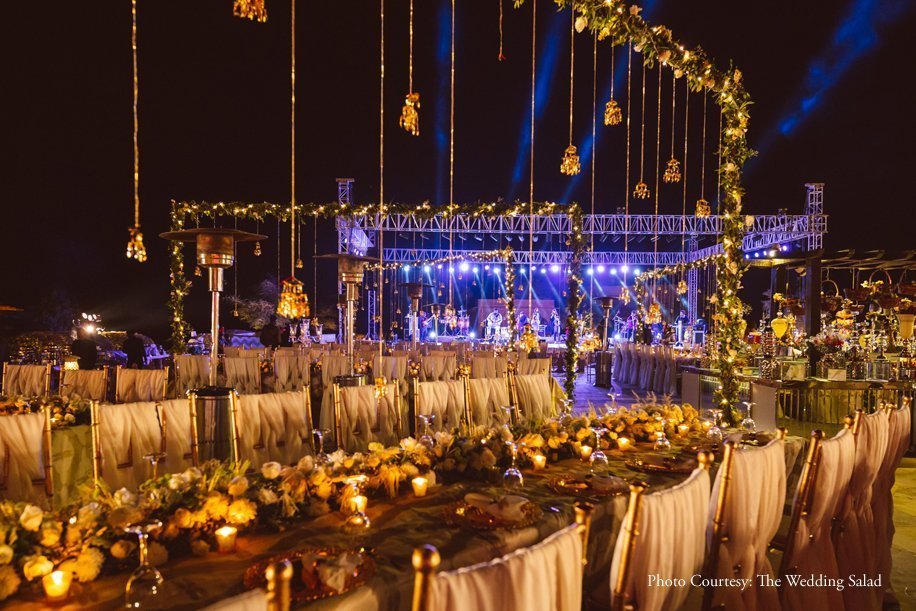 Weddings can reach the epitome of luxury and elegance. You can opt for a traditional, luxury-filled wedding experience at the Jaisalmer Marriott Resort and Spa. A world-class 5-star hotel, with amazing hospitality, Marriott offers exceptional services for guests.  The highly professional staff makes your day unforgettable with their marvelous hospitality.
Their largest and grandest banquet hall boasts stunning royal interiors and posh decor. This hall can accommodate 3000 guests for a single ceremony. The imperial ballroom with a stunning lawn is the best spot to have your wedding reception.
2) Imperial Wedding in Suryagarh Palace Jaisalmer
If you are planning a wedding royal wedding ceremony then Surygarh Palace is the place to pick.
The splendid event area can host up to 350 people. With its irreplaceable hospitality and services, Suryagarh is one of the best venues to host a grand wedding celebration. Its aesthetic lawn, posh banquet hall, valet parking, lovely poolside area, in-house catering, and more, make Suryagarh the place to be. To know more about Suryagarh palace wedding cost, feel free to get in touch with us.
3) Desert Tulip Hotel and Resort
This hotel with stunning architecture will definitely blow your mind. The contemporary architecture with the hotel's historical vibe makes the premises resemble a Rajput palace (with modern amenities and premium hospitality!).
Further, the Desert Tulip's lawn has the capacity to hold 1000+ guests. Your grand wedding ceremony will be exceptional here for the services offered here will blow your mind and make your day even better.
Their skilled panel of chefs also serves a range of delicious cuisine that you mustn't miss.
4) The Desert Palace – One of the best palace hotels in Jaisalmer
A luxurious venue that perfectly fits your stunning destination wedding. A couple of world-class banquet halls and lush lawns are splendid locations here. So if you are planning an indoor royal wedding followed by a starlit outdoor reception or vice versa you are free to choose The Desert Palace.
Dhola Maru banquet hall holds up to a floating capacity of 400 individuals
While the upper lawn accommodates up to 600 guests.
Enjoy the delectable delicacies specially made according to your preferences. It also offers guest accommodation and valet parking.
3) Hotel Rang Mahal
As the name suggests, it is a truly vibrant palace with its stunning architecture and a beautiful aura. A location where you can have a traditional big fat wedding with pre and post-wedding shoots in the picturesque premises of the palace.
Rang Mahal has a team that gives exceptionally premium services and hospitality. You may even choose an outside vendor for big events. This wedding venue in Jaisalmer offers flexibility and allows you to avail of or organize a variety of services.
5) Fort Rajwada
Another splendid location for hosting a destination wedding in Jaisalmer, Fort Rajwada has a blizzard architecture and offers premium facilities and services. Hence, it is one of the most popular wedding venues in Jaisalmer for luxurious weddings. It's also often counted as one of the best Jaisalmer palace hotels for weddings.
Fort Rajwada has two marvelous lawns with great views, a poolside area for cocktail parties, a rooftop area perfect for receptions, and a dining area for your favorite food.
6) Hotel Rawalkot
Hotel Rawalkot is the ideal venue to conduct events with elegance. Right from the engagement ceremony to the wedding reception, you're guaranteed to have the time of your life here.
This wedding venue in Jaisalmer can easily accommodate up to 200 guests at once. Thus, this venue offers an idyllic backdrop for all your special celebrations.
7) Jaisalgarh Palace
Jaisalgarh Palace is a sandstone palace in Jaisalmer. Thanks to its regal appearance and fascinating view of the desert, it has served as a backdrop for hundreds of weddings for many years.
The gardens and lawns offer undeniably the perfect setting for your Indian weddings. We can help you find the perfect wedding decorations and guest accommodations. Enjoy with your guests in one of the most spectacular wedding venues in India.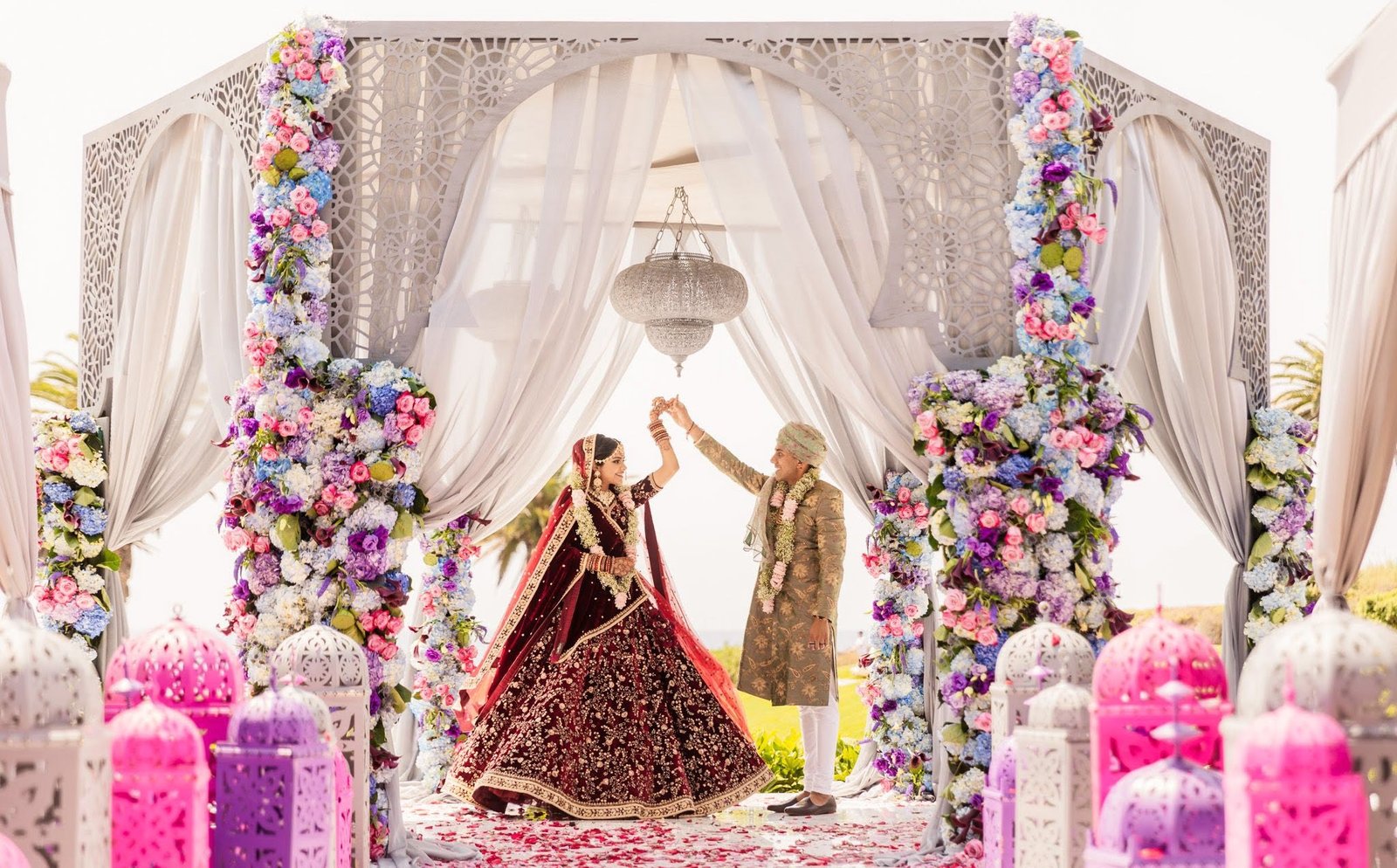 We at Blissful plans are the best wedding planners in Jaisalmer, who can turn your dream fairytale wedding into reality. Contact us for more details.
Read more : 
Please follow and like us: