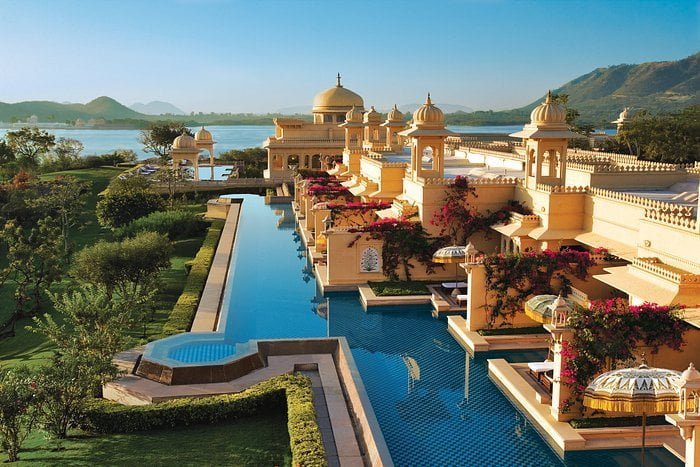 Destination Wedding in Udaivilas ,Udaipur
Are you planning your wedding in Udaipur? Then what can be better than a wedding in Udaivilas, Udaipur!
Rajasthan has numerous destinations which are ideal for a fairytale wedding celebration. This part of India a rich heritage and will add a touch of vibrancy to your wedding. The famous city of Rajasthan is majestic and well renowned for its lakes.
Udaipur offers a wide range of historical sites, palaces and locations for a royal destination wedding. One of the most beautiful and luxurious sites in Udaipur is The Oberoi Udaivilas. This is one of the most luxurious hotels with stunning views of lake Pichola and and the Aravalli mountain range.
This royal hotel is also quite ideal place for a grand wedding. Ranked as the best hotel in Asia, it holds the 5th position in the entire world. It spreads over 50 acres of area and is characterized by domes, walkways and beautiful gardens.
How much does a wedding in Oberoi Udaivilas cost?
A wedding at Udaivilas, Udaipur will range anywhere between ₹1 Crore to ₹1.25 Crore.
Luxury venues for a wedding in Udaivilas, Udaipur
Chandra Mahal
A popular and famous indoor venue, the Chandra mahal is good for small weddings. It can lodge up to 25-50 people.
Front Lawn
It's an outdoor venue that has space for 400-800 people- it's bigger than the indoor venue.
Crescent Garden Of Udaivilas
Another small indoor venue which can accommodate 150-300 people. The beautiful greenery of the garden with stunning decor only adds to the vibe of luxury.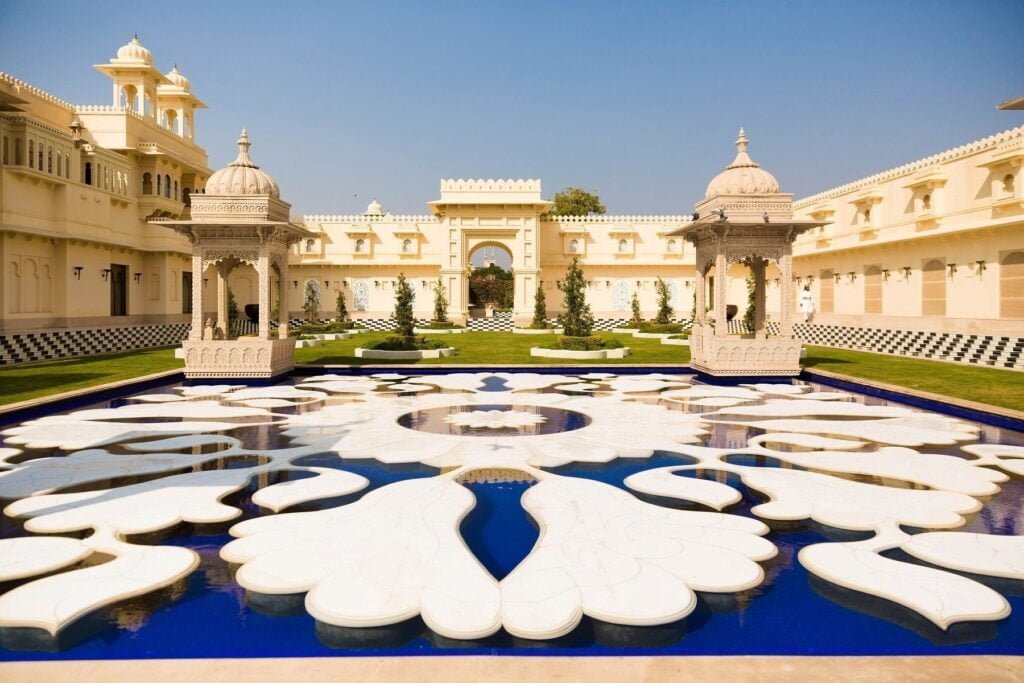 There are various other facilities like-
Wedding Decor
Wedding decoration is one of the most important factors when it comes to a wedding. The palace has stunning decor and intricate carvings adding to the splendour of the city. On the other hand, wedding-themed decor can enhance the beauty and exude royalty even more.
Terms Of Hospitality
When it comes to Rajasthan, the prime thing you can enjoy to the fullest is the hospitality. The guests are welcomed with a kind gesture and open heart. All services are personalised for guests as the staff ensures you enjoy your stay to the fullest.
Cocktail Hall In Udaivilas
The palace also wines and champagnes from all around the world. The palace has several bars and lounges to enjoy celebratory events with friends and family. The drinks served range from mocktails to cocktails as well as fine and top-notch wines.
Entertainment Nights At Udivilas
It is integral to ensure your guests are having fun. Varied entertainment options will make the wedding and other ceremonies like sangeet and haldi even more memorable.
Other Facilities At Udaivilas, Udaipur
The palace is located at a distance from the airport. Transportation facilities are provided. Further, arrangements for cars and cabs are also available. This helps ensure comfortable travel during the wedding to avoid delays during the wedding. Cabs for sightseeing and travel can also be availed at the hotel to visit other cities.
Cuisine
Rajasthan is famous for its exotic and rich flavours which attract tourists from all over the world. The palace serves you delicious traditional cuisine to give you a flavour of Rajasthani cuisine with a variety of international cuisine options to choose from.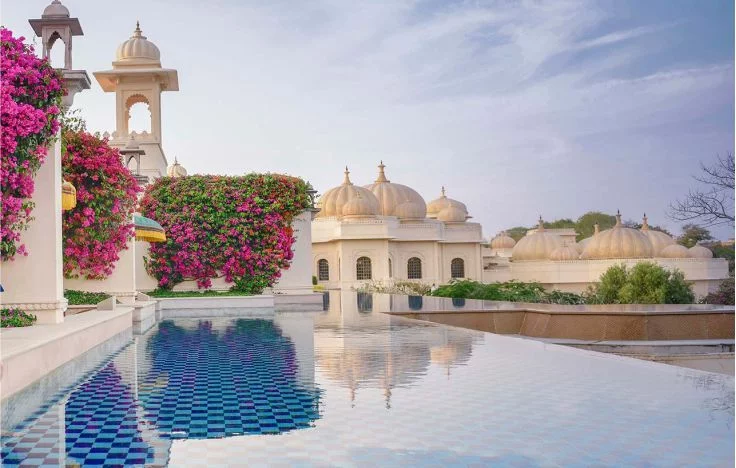 A destination wedding in Udaivilas will ensure that you have a memorable, majestic, and royal wedding. The city, located on the land of lakes, marks its beauty with breathtakingly pleasant views from the rooms.