Why is Goa the best place for beach weddings?
Beach weddings are as beautiful as the garden of paradise. With the extensive sea encircling your wedding ceremony, the backdrop a beach wedding gives you is ethereal. And what can be a better place than Goa in India to hold a beach wedding? This small Indian state is a melting pot of several cultures and is a perfect spot for hosting weddings. Having a suitable climate and tasty cuisines, Goa is nothing short of a wonder. We're a Luxury beach wedding planner, keep reading to know more about the top beach wedding venues and resorts in goa!
Suitable time for beach wedding in Goa
Beach weddings are restricted in Goa from June to September, as determined by the Indian government. It is because a luxury beach wedding in Goa during the Monsoon season is an extremely risky occasion, high tides and waves make going to the beach dangerous during these months.
April and May are ideal months for a destination wedding in Goa (at the beach). Nonetheless, it is best to avoid planning your wedding during these months because the weather is overbearingly hot and humid.
If the fortunate date falls between April and May, a sunset wedding is an option. This is because the temperature drops, making the weather much more tolerable.
How much does beach wedding cost in Goa?
The cost of hosting a beach wedding in Goa can vary significantly based on a multitude of factors. Expenses include venue, catering, decorations, photography, entertainment, and various miscellaneous costs.
The breakup can be roughly estimated to be
Wedding venue & Resorts -From 25K INR & upwards(per person,2 night stay & all the meals)
Decor & design charges- From 15Lac-20 Lac
Video/Photography- 5Lac -12 Lac (for 3 days)
Miscellaneous/other charges- 2 Lacs
*Please note that the accommodation charges differ a lot on certain dates and months. The above estimation is just for reference*
Best Beach wedding venues and Resorts in Goa
Where can I get married in Goa?
There are no lack of venues in Goa. But the best people need the best venues, and therefore, Blissful Plans has handpicked some of the best wedding venues in Goa for your beautiful beach wedding.
The Mercure Goa Devaaya Retreat
The Mercure Goa Devaaya Retreat is a popular destination for wellness excursions, leisure visitors, and well-being seekers worldwide, with many couples planning beach weddings in Goa and small family festivities. With wobbling coconut palms, endless views of the Mandovi River, and waking up to spellbinding sunrise views, your stay at Mercure Goa Devaaya will make you feel comfortable and revitalized, as it is the perfect remote getaway spot for a peaceful holiday or a celebration, in the stunning natural environment.
It's an excellent setting that is free of traffic and pollution, has expert service, and, most importantly, is the best in healing and tranquility. The sprawling lawns and beautifully groomed gardens provide for an ideal beach wedding venue in Goa for your big day. They have 56 guest rooms to host your wedding guests and ensure a smooth event.
This resort, nestled in Mandrem Beach in North Goa, has all you need for a fairy tale wedding party. The mix of natural beauty and superior accommodations makes it a popular wedding site in Goa. The best feature about this resort is that you may organize a private beach party or a cocktail party by the river. The resort combines the benefits of both a river and a beach.
They have a total of 122 rooms for accommodation and the average cost of a wedding (for 100 guests) is Rs 12 lakhs (for two days). Aside from that, the resort offers pick-up and drop-off services to and from the airport and railway station.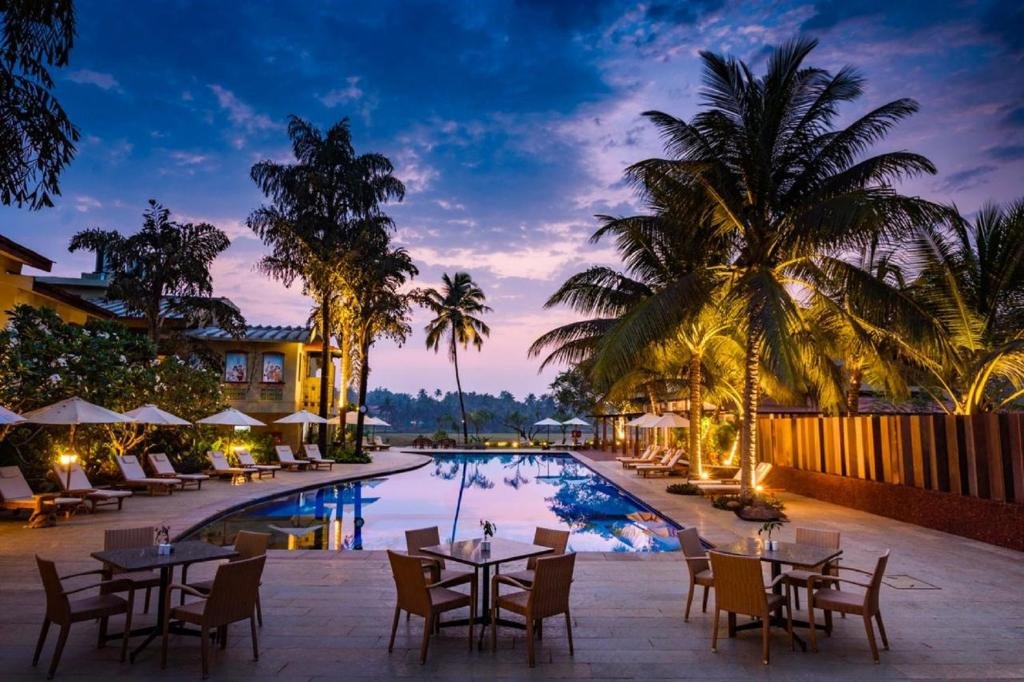 Beleza By The Beach is a beach wedding venue in Goa. You may soak in the splendors of Goa, the dazzling sun, and the beautiful white sandy beaches of Colva in a world of art and heart. You can begin your day with a constant swish of the sea. Relax with a relaxing dip in one of our beautiful pools or visit to their calming spa. Look forward to lifting your spirits in wide, green paddy fields and delighting your taste buds at our absolutely wonderful restaurants, which provide some of the land's finest cuisines.
Beleza By The Beach has indoor and outdoor venues available for pre-wedding, wedding, and post-wedding celebrations. Their banquet hall can easily accommodate a guest list of 90 people at a time, and their outside grounds can accommodate up to 250 people. They offer in-house catering and a vast range of cuisines ranging from scrumptious local delicacies to international options. Their cuisine is complemented by polite and first-rate service. To name a few, their delectable cuisines include North Indian, South Indian, Chinese, and Jain-specific menus.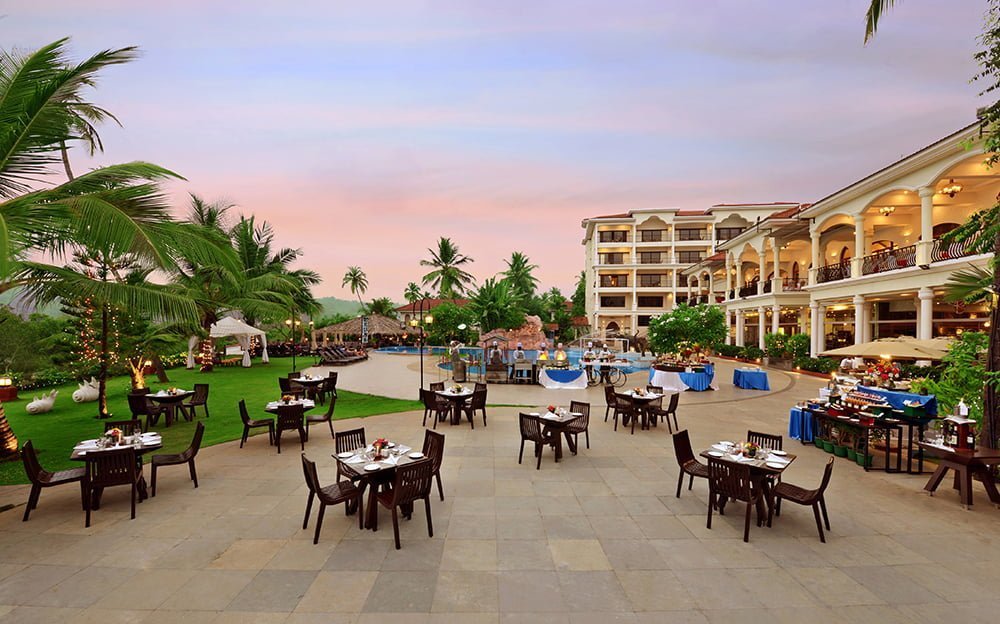 Looking for a gorgeous and magnificent luxury beach wedding resort in Goa where you may organize your wedding functions while also feeling relaxed? Then consider Resort Rio in Goa, a well-known five-star luxury Deluxe Spa & Resort located on the banks of the Baga River. Resort Rio is well-known in the area for its aesthetic beauty and excellent service. Goa's largest banquet resort, featuring several indoor and outdoor venues to accommodate your occasions. This resort, situated in the village of Arpora, includes a royal section inspired by Khajuraho temples. There is also a vegetarian kitchen with chefs specializing in Rajasthani and Gujarati cuisine.
Resort Rio is rated as one of the best five-star hotels in Goa, with a stunning beach view, lovely riverside, and a comfortable appealing location accompanied with great hospitality to facilitate 1200 guests at its venue space, which is well-suited to organize and conduct wedding ceremonies, related rituals and ceremonies, and residential weddings.
Bagmallo Beach Resort is a five-star beach wedding resort in Goa located on Bagmallo Beach's pristine sands. This resort is situated near the beach and is ideal for a beach destination wedding. This beach resort, with its magnificent settings and arrangements, is a great location for weddings, parties, get-togethers, banquets, and cocktail parties.
Bagmallo Beach Resort in Goa is a destination where you can remember your wedding memories while also celebrating with your friends and family. With around 150 rooms, this beach resort can host between 50 and 400 guests, and its wedding pros will individually attend to you while taking good care of the smallest details.
Marriages are formed in Heaven. Bagmallo Beach Resort has wedding banquet halls and lawns that may be decorated to create a wonderful theme and design for your wedding day in more than 5 event areas. They also include amazing floral decorations with lighting for your pre-wedding rituals and wedding day.
Why chose us as your beach wedding planner in Goa?
Couples who want to have a destination wedding in Goa frequently start by looking into the cost of holding a luxury beach wedding , and then they look into various wedding resorts and ways to prepare for their big day. This can be really stressful after all, it is your dream wedding.
If you are one of these couples, your quest ends with Blissful Plans, the most reputable beach wedding planner in Goa, who has compiled the most useful information for you. This information will be especially beneficial because it was gathered from some of the most exotic Goa resorts, which are our partners. Contact us for more details.
Frequently Asked Questions(FAQ's)
Bagnall Beach resorts
Rio Resort
Riva resort
Zuri white sands
W resort
Holiday inn resort
Taj exotica resort
South Goa is the most popular location for beach weddings in Goa.
Yes! Wedding packages in Goa depend on the wedding venue or resort you prefer, the wedding guest list, decor, accommodation, and more. Get in touch with us to customize your Goa beach wedding packages with us.
Both are unique in their way. It's up to the couples which they prefer for their wedding. As wedding planners in Goa ,we organize all types of weddings.