Destination Wedding in Goa
The couples who dream of a destination wedding in Goa often begin their search with the cost of hosting a beach wedding in Goa, then they explore innumerable wedding resorts and ways to plan their big day. This can cause enormous stress, it's your dream wedding after all.
If you're one of those couples, your search ends here with Blissful Plans, the most trusted wedding planner in Goa, combining the most helpful information for you. This information will be useful in particular as the data has been sourced from some of the most exotic Goa resorts, our partners.
Goa has plenty to offer, including Portuguese culture and unparalleled hospitality. Goa has always been a hotspot for tourists due to its scenic beaches, receptive and polite natives, and just the all-around "cool" vibe that the place exudes.
Once regarded as the go-to place for youngsters to relax and unwind, the booming tourism industry took advantage of good word of mouth and started to portray itself as this exotic foreign-like experience in India itself.
Goa is the party capital of India. Hence, it is the best place for party lovers. If you are planning a beach wedding preceded by a stunning part hard bachelorette or bachelor party or followed by a romantic honeymoon, then there is no better option than Goa. Check out our blog on Bachelorette Party destinations and look for must-do activities in Goa.
Here's all you need to know about hosting a destination wedding in Goa:
Location details & connectivity with the world
Dabolim airport is around 26 km from the capital city, Panaji. The main international and domestic airport makes it possible for foreigners as well as domestic tourists to easily reach other parts of the tiny state.
Train services also link to Vasco da Gama and Madgaon regions, so you can travel from other parts of the country. Also, reaching Goa by car is possible if you're coming from nearby states.
Though Goa is the smallest state of India, the northern and southern parts of the state have something unique to offer to everyone. If you're planning a destination wedding in Goa, you and your guests can engage in sightseeing in both parts of the state easily.
North Goa has a great nightlife, shopping markets and malls, caters to tourism and major beaches are frequented by tourists from time to time.
However, South Goa is the opposite. With its tranquil nature and serene beaches, you can get picturesque locations and venues free from tourists.
Depending on your personal preferences and wedding requirements, you can choose between the lively part of the state or the more tranquil side, with pristine beaches.
Climate/Best time for a destination wedding in Goa
Beach weddings in Goa are legally not permitted by the Government of India from the month of June to September. This is because it is the time when Monsoon is at its peak a beach wedding in Goa a highly dangerous affair. Consequently, high tides and waves make the beach an unsafe option during these months.
April and May are comparably better for hosting a destination wedding in Goa (at the beach). Still, it is advisable to avoid organizing your wedding during these months as the weather is sweltering hot with excessive humidity.
One can go for a sunset wedding if the auspicious date falls between April or May. This is because the temperature drops and makes it much more bearable to host weddings and other functions.
Cost of a destination wedding in Goa
Here is an approximate breakdown of the cost of a destination wedding in Goa-
 Stay with meals (per person per night)         INR  10,000 upwards                                  
Food & Drinks                                                                  Depends on hotel/resort services and vendors
Decoration                                                                       INR 7,00,000 upwards
Wedding photographer/videographer             INR 1,00,000 upwards
*Please note that accommodation charges differ a lot on certain dates, these prices are just for reference and by no means warrant that the cost of your destination wedding in Goa is going to align with the above given info.
The cost of a destination wedding in Goa will greatly vary depending on your requirements and preferences. It is necessary to keep in mind that we are providing bare minimum rates for a comfortably decent experience. The more selective and personalized your choices are, the higher will be the rates.
Take a look at the cost breakdown and calculation of expenses you might incur while hosting a Goa wedding:
Design and decor expenses will depend on the theme of your wedding, If you host a destination wedding in a 5-star Goan resort, you will probably end up booking the poolside area, private beach, ballroom or hall area, or the garden area. You may pick and choose between all and some of these wedding venues, but the thing that will remain constant is the stay. For the decor charges, tents, lighting arrangements, stage and DJ setup, flower arrangements, and more, the starting price will be around INR 7,00,000. The more extravagant your wedding, the higher will be the prices.
Additionally, it is worth noting that the decor expenses may vary, however, you will most likely opt for accommodating your guests for at least 2 days at the wedding venue/resort. If you consider the cost of 100 guests at a 5-star Goa resort for 2 nights, the cost may average out to INR 18,00,000.
Although a destination wedding in Goa might be your dream wedding, hiring quality photographers is a must too! Hence, if you look for photography/videography services, they will start from no less than INR 1,00,000.
Furthermore, the most amazing weddings always have the best entertainment. Not only will it keep the guests entertained but will make for a memorable wedding ceremony, along with pre and post-wedding parties and celebrations. Usually, couples opt for DJs and live bands to play popular music or the couple's favorite songs, many prefer to go with their favorite music bands and celebrities. For regular entertainment facilities in Goa, it will usually cost INR 3,00,000 or more. These rates will go up if you decide to opt for your favorite or preferred music artists or entertainers.
Lastly, it is advisable to maintain a miscellaneous funds account to ensure that extra or unforeseen expenses can be met. You may keep around INR 2,00,000+ for the same if you wish to host the luxury wedding of your dreams in Goa.
Check out the wedding calculator attached below for your destination wedding in Goa. Enter your values and rates to get a rough estimate of how much it will cost to host a wedding in Goa.
As mentioned earlier, Goa has established itself as one of the top destination wedding venues in the world, not just India. As a result, there is an influx of foreigners seeking a dreamy experience for their special occasion.
Sure enough, there are legal formalities regarding the Visa process involved. However, these are easy and streamlined enough to pass through.
A tourist visa is issued for 6 months provided the applicant can provide documents that support his financial standing. A Visa application form needs to be filled which can be received from the Indian Embassy in the country in which the person resides. For successful issuing of Visa, a person needs to come up with the following documents:
Original passport (Valid for at least 6 months)

Visa Fee

Two Passport-sized photographs

Supporting Documents, if necessary

Duly Completed Application Form
To find out more about the legal requirements of a destination wedding in Goa, visit the official website.
Best Wedding Venues in Goa
Taj Exotica Resort & Spa
Starting off with the crème-de-la-crème of wedding venues in Goa is the exotic Taj Resort.  
Visit the official Taj website here
This luxury resort is known for its pristine architecture and luxurious celebrations.
It is located on the Benaulim beach and carries with it years of legacy of the brand name "Taj". 
Guests can enjoy the premium services at this resort overlooking the Arabian Sea. It is a Mediterranean-style resort just a 45-minute drive away from the Dabolim International Airport. Team Blissful Plans can be contacted for getting the cost of a destination wedding in Taj, Goa.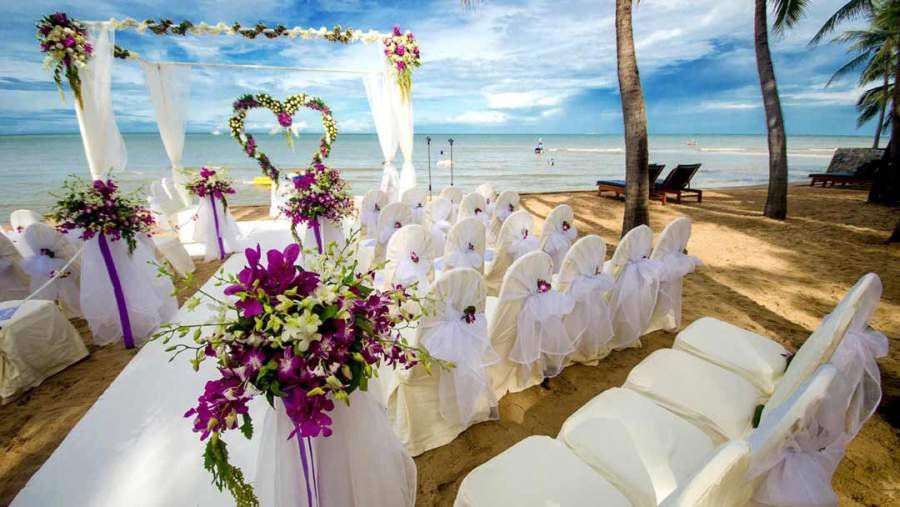 The Lalit, Goa
The Lalit is a hotel chain that barely needs any introduction. This five-star luxury resort is famous for its beautifully constructed lawns and spa.
It rivals The Leela in terms of architectural marvels and has an option of 11 venues, 8 of which are outdoors. It is located at Raj Baga, Palolem, Canacona.
With the private access to the beach, we truly feel that this is ideal for a destination wedding in Goa.
Visit the official website here for more.
Image courtesy: The Lalit official site
One of the more accessible places for a destination wedding in Goa, Holiday Inn is just a 60-minute drive from the Dabolim International Airport.
Located in Cavelossim on Mobor Beach, it is surrounded by gardens, has a spa, pool, and a dedicated fitness center. 
Another luxury resort in South Goa, Caravela is located on the Varca beach. It has beach-view rooms, a 9-hole golf course, pool, bar, and free yoga sessions by the on-site instructor.
Water Sports activities are its biggest selling point and we help our clients in planning a fun beach wedding in Goa at Caravela resort.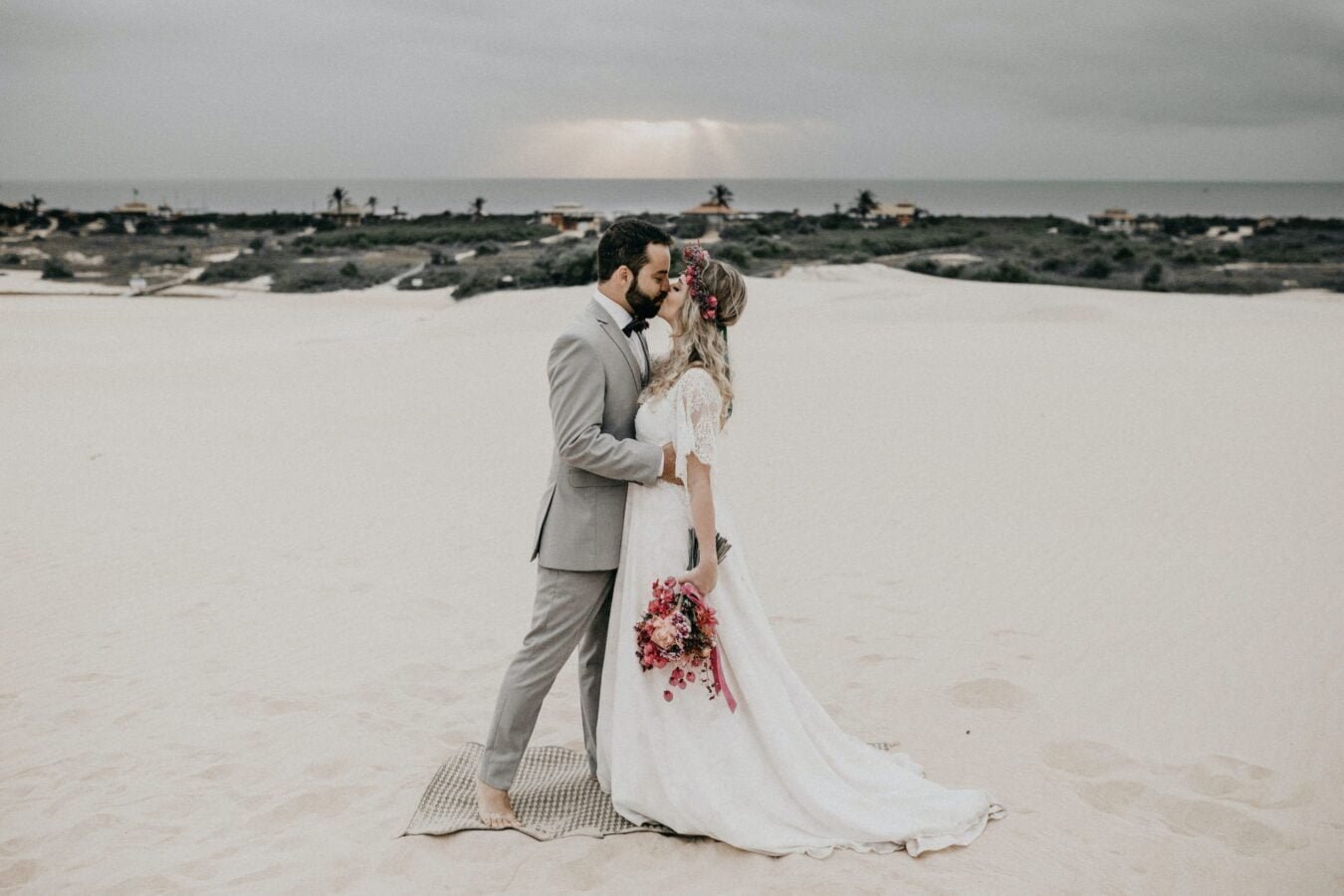 W resort is situated on Vagator beach and offers a spa center and a 24-hour concierge service. Additionally, its indoor playing area is complimented by a spa, fitness center, yoga center and an outdoor swimming pool.
Complimentary high-speed internet along with rental bike rides make this a perfect experience for you and your guests. Besides these, there are a number of other options when it comes to wedding venues in Goa.
Due to high demand, it is always advisable to book a resort 6-8 months in advance. Ideally, to get the best experience, it is best if the resort is booked a year in advance. If you don't mind an indoor wedding, there might be a discount of 25-30% on the rates during the lean season of April to September.
Frequently Asked Questions (FAQs)
When is the best time to plan a wedding in Goa?
The best months to get married in goa are from late October to early March.
During these months, the evenings and nights are pleasant and humidity is under control. June to September is monsoon in Goa and beach weddings are not permitted by the government during this time.
How much does a destination wedding in Goa cost?
Including all the wedding expenses, the total cost would be approx. 40,00,000 INR. Cheaper weddings are possible too, but if you're willing to look for luxury resorts with at least a few hundred guests including their flight tickets, and are hiring a wedding planner then the cost will usually range around INR 40,00,000 or more.
What are the best wedding venues in Goa?
Best venues in Goa include:
-Alila Diwa
-Piranha Beach Resort
-The Zuri White Sands Resort
-Grand Hyatt Resort
-Reis Magos Fort
-Bogmallo Beach Resort
– The Lalit, Goa
– Taj Exotica Resort & Spa
-Holiday Inn Resort
Which are the similar kind of destination in India like Goa?
In terms of party-hard vibe then Bangalore, Delhi, and Mumbai have similar kinds of party spots. While for a beach wedding you may choose Pondicherry, Kovalam, etc. Look out for a similar wedding vibe in Pondicherry, Click here
How can we include the culture of goa in the wedding theme?
Goa is one of the most happening and modern wedding destinations in India. Of course, nothing can beat the chill vibes at a beach wedding, but that's not all that Goa has to offer. You can make Goan culture a part of your celebrations to add a twist to your celebrations.
Go for mouth-watering Goan cuisine and seafood, add local dishes to your menu – Portuguese, Konkan, and Bahamani cuisines to treat your guests to an exotic delight!
How to reach Goa?
Dabolim airport is around 26 km from the capital city, Panaji. The main international and domestic airport makes it possible for foreigners as well as domestic tourists to easily reach other parts of the state.
Should I hire a wedding planner for a destination wedding in Goa?
Now that is entirely up to you and will depend on the amount of time and effort you are willing to expend on planning your wedding.
However, many couples have no idea about conceptualizing and planning a wedding. It requires expertise, industry insight, a hectic research process, data organization, establishing vendor networks, and more. This is where the wedding planner enters.
A planner may usually help you save more by getting you discounted rates for your chosen vendors and venues. Check out the questions you must ask while selecting your planner when going for a destination wedding in Goa.
We hope we answered your questions regarding weddings in Goa. For more professional advice from our team of wedding planners, contact us for a free wedding planning consultation.
More wedding inspiration & ideas