Get the unique 25th Anniversary party ideas.
Are you looking for good unique party ideas for a  25th anniversary party?   If you're approaching the big 25-year milestone in your marriage or planning foryour special ones , your party needs to be as special as your relationship.  Devoting a whole party to celebrating your life together will not only honor your past but your future as well.
Invitations
Once you have the date, location, and dress code established, it's time to make invitations.
This is an activity that can be fun for you and your partner. You can play with colors, photos, and designs until you make an invitation you both love. You can keep things simple and elegant with text only, or you can choose your favorite photo to be the focal point.
Decoration and Party supplies to gel with the party
The traditional color for a 25th wedding anniversary is silver, so you have the perfect theme to start with! When it comes to decorations, you should consider both the season and theme of the party.
No matter which party theme you choose, be sure to include large numbered balloons for the couple's anniversary year. Seasonal greenery or florals, festive centerpieces, silver garlands, and photos of the anniversary couple should also be taken care of throughout your party decor. If you're going for an elegant look, you can set out custom candles with photos of the couple, table runners. You can also sprinkle silver confetti on the tables, hang silver fringe chandeliers, or fans.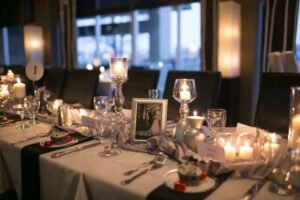 25th Anniversary party ideas – get unique themes to make it a success
If you got married in the winter, you could throw a Christmas sweater party complete with a gift exchange and cookie decorating. Whether it's a black-tie event or a pajama party, be sure to highlight the dress code.
* An 80's themed party
 Celebrate with an anniversary party that recalls your dating heyday or your childhood, back in the 1980s. The light-hearted, retro fun of an 80's-theme party evokes those days when hair was big, fashions garish, and the music incredible. This party is mostly about the music and style so just be sure that your guests are aware of the theme so they can dress appropriately.
* Honeymoon
Re-create the happy couple's honeymoon by centering their theme around the original honeymoon destination. This is a fun idea and provides a nostalgic feeling.
* Favorite Hobby
If the couples are known for staying true to a certain hobby, you can go all out and build a theme around this hobby.
* Breakfast at Tiffany's
Nothing goes better with silver than blue. Host a lovely Breakfast at Tiffany's themed anniversary brunch if you're looking for an elegant way to reminisce on 25 years of marriage.
* Summer BBQ
 If your anniversary party is in summer and you opt for a casual party, you can host in your backyard with family and friends!
* Black and White Cocktail Party
Host an adult-only cocktail party and set a black and white dress code to celebrate your anniversary in style.
* Las Vegas-Style Celebration
What happens in Vegas, stays in Vegas, right? Celebrate your big anniversary with a Las Vegas-style anniversary party. Plan some casino games, put together an eclectic soundtrack, and even give your party a little twist if you choose to add gambling to the event.
* Treat the Couple
Can't fly the guests off for an exotic party? No worries. Turn a rental hall into a tropical oasis with decorations and props.
* An Anniversary Luau
Hawaiian shirts, grass skirts, coconut bras, and fabulous fruity cocktails. Is there anything more fun than a Hawaiian-style luau? Celebrate your anniversary in tropical style.
* Other themes
Black Tie Gala theme, A picnic, A Taste of the World theme, A Costumed Celebration, City park theme, Camping for an adventure theme, Lake Party theme, or National park Theme and many more.
Check the other elements which can give you more of 25th Anniversary party ideas
Cake
Decorate the cake with white frosting and silver accents such as flowers and edible pearl beads.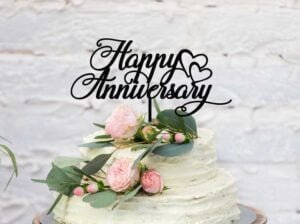 Entertainment
Hire a local DJ or live band for entertainment at the anniversary party. Request symbolic music from the couple's 25 years together. Play the couple's first dance song along with songs and close with a special surprise for the couple. Gather pictures from all their years together and create a slide show for a perfect end to the party!
Venue
Get creative with the venue for the 25th wedding anniversary party. Research memorable moments between the special couple such as their first date or the location of the marriage proposal. Book a function room at the couple's favorite restaurant or hold the anniversary in a backyard tent for a cozy, casual gathering.
Curate a List of Special Songs
An anniversary party is all about celebrating the happy couple, therefore take some time to brainstorm songs that have significant meaning in your relationship. You can include songs from your wedding day, your favorite musicians, concerts you've been to, or any other song that was playing during special moments. 
Make a Collage or Slideshow
Nothing makes people more sentimental than pictures that span many years of someone's life, especially a couple's shared life.
If you're old fashioned, you'd enjoy making a collage by cutting up pictures and arranging them on a poster board. This method gives you the chance to include handwritten captions, stickers, drawings, and more.
Another benefit of creating a slideshow is that you can watch highlights from your wedding day and any other cute moments you caught on tape.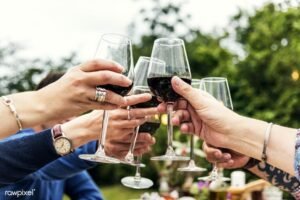 Toasts
Have family, children, and a few close friends give heartfelt speeches and toast the anniversary couple.
Photobooth
Since this will be one of the biggest parties of the year for the couple and their family, add plenty of themed props to make the photobooth more interactive and humorous.
Inspiration Jar
You can designate a table where guests can write down how the couple has inspired them over the years. The honorees will be able to take home the jar and read all of the memorable notes that guests have left.
Plan Fun Party Games
Every party is better with games! You can have a blast with your guests by planning special games related to love, weddings, and more. One idea is to play a twist on pin the tail on the donkey. I
Instead, guests can get blindfolded and try to pin a heart on the couple's lips in a kissing picture. A great picture to use is your first kiss as a married couple after you exchanged vows.
Party Favors
If you do decide to make personalized party decorations, a champagne flute can work as a great double for a party favor. Whenever guests use your glass, they'll be drinking to your happiness and remembering your amazing party.
You could also give gourmet chocolates, single-serving champagne bottles, or even pots with "love" seeds so guests can grow something magical. The opportunities for creating unique party favors are endless.
There are many more things which can make your 25th anniversary special and if you are short of details about the first date, you can try out something else like honeymoon theme, wedding theme, etc. 25th wedding anniversary is just way too special for everyone as it marks 25 silver years, the pair have lived together through all their ups and downs. Make this party worth remembering forever.
Blissful Plans Events & Media Pvt Ltd is the best party planner in India. Contact us for all the social parties like 25th Anniversary, 50th Anniversaries, Birthdays, Engagement Parties, Wedding Planning, Baby Shower, and any other joyous occasion of your life.
Please follow and like us: