The Royal Palace Of Rajasthan – Umaid Bhawan, Jodhpur
A wedding in Umaid Bhawan, the royal palace of Jodhpur, is one of the most sought-after celebratory events. The well-known golden-hued monument – Umaid Bhawan Palace – is one of the most luxurious and grand venues in the world. This palace is a blend of Eastern and Western architectural influences with intricate interiors and elegantly placed artwork.
This palace is one of the best and most exclusive places for your dreamy destination wedding in Jodhpur. The palace is spread over an area of 26 acres including 15 acres of garden area, comprising of a throne chamber, a private meeting hall, a Durbar Hall to accommodate guests luxuriously, a domed banquet hall, private dining halls, a ballroom, a library, an indoor swimming pool and spa, a billiards room, four tennis courts, two marble squash courts, and long passageways.
Planning A Luxury Wedding In Umaid Bhawan Palace
This palace is a grand historical monument offering options for arranging DJs, cocktails, transportation, entertainment, etc.
Rajasthan is a well-known place, rich in culture and full of vibrance.
Venue for a wedding at Umaid Bhawan Palace, Jodhpur
Umaid Bhawan Palace, Jodhpur, is a part of the Taj hotel groups. They have six incredible outdoor and four indoor venues here.
Indoor Venues For Weddings
Marwar Hall
This is a 3850 square foot hall, open to hosting weddings. This comes with a buffet selection that features Rajasthani and Continental cuisine. This hall is well known for its beautiful entrance and multiple doors which allow natural light to enter. It has a capacity of 180 guests in a theatre style or 100 guests if it is a banquet setup.
Rathore Hall
This hall has the same amount of splendor, elegance, and royal charm as its counterpart. This venue also has Italian chandeliers, high arches, and a paneled ceiling to enhance beauty. It can hold up to 100-170 guests depending on its style.
Chamber Of Princes
This is an indoor venue in Umaid Bhawan Palace of 960 square feet and is comparatively smaller.
Outdoor Wedding Venue In Palaces, Jodhpur
Baradari Lawns
This venue is around 17,500 square feet of land, which makes it the largest venue at Umaid Bhawan Palace Jodhpur. Baradari lawns can hold up to 700-750 people at a time.
Other Lawns/Courtyards
This is a 9000 square foot location that can hold up to 350 guests which eventually makes it a smaller outdoor venue.
The Museum Courtyard
This is spread over 3,000 square feet and can hold up to 100 guests.
Fountain Courtyard
This smallest gathering covers an area of approximately 1330 square feet and can accommodate 75 guests, making the courtyard a preferred choice for a small wedding.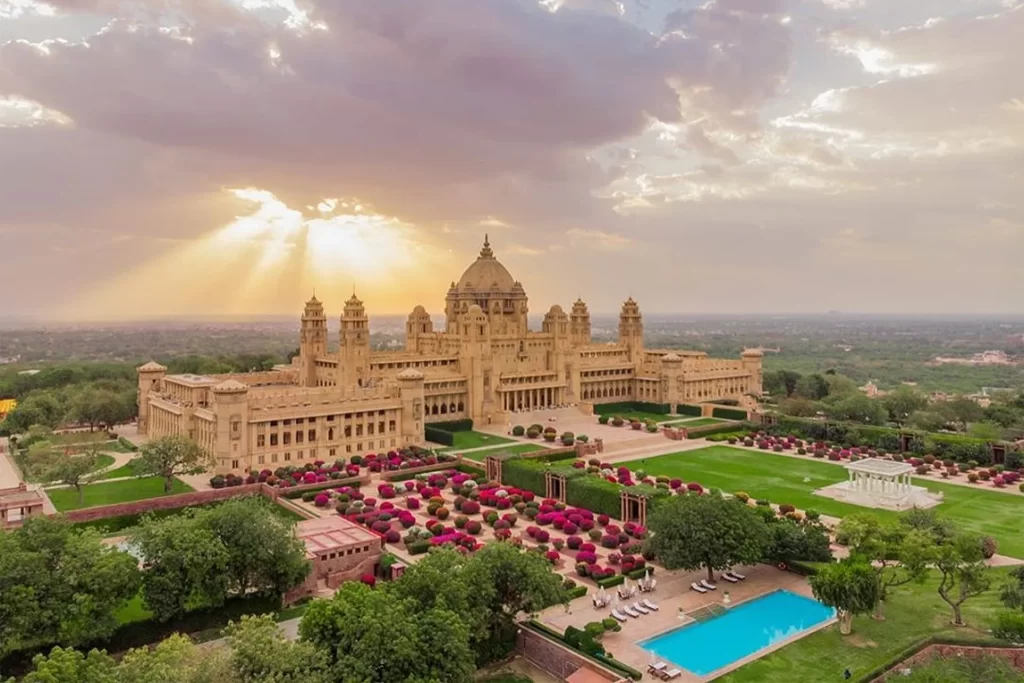 Food and flavors of Rajasthan
This royal palace has an assortment of gastronomical delights to choose from. The food is known for its richness in culture and taste.
Other than Rajasthani food, they also serve flavors from all over the world for a cultural fusion with international cuisines and flavors.
Accommodation in the royal palace
This palace offers you a total of 347 rooms and can accommodate between 60 to 750 people. The price of the rooms starts at ₹50,000 and can go up to ₹77,000. You can choose from the Maharani Suite, Maharaja Suite, Regal Suite, Royal Suite, and Deluxe Rooms.
A wedding at Umaid Bhawan is going to cost you ₹75- 90 lakhs. The expenses may go up if you prefer to have an even more exquisite wedding.
Check out our other pages on hosting a destination wedding in Rajasthan if you're looking for royal wedding venues to tie the knot.