Top Wedding Trends of 2020 ! All you need to know is here !
A new year brings a lot of fresh ideas and themes. Even for your wedding, there are plenty of amazing ideas this year. 2019 was a pretty fun year with people taking pets to their weddings; a trend that will still carry on, I guess. On an occasion of pure joy, all of us look forward to something extraordinary. As you are about to begin a new journey of their life, it's obvious that you would look for something new for your day as well. Let us count down to the best top wedding trends of 2020.
#1: Dark pastel theme, one of the Top Wedding trends of 2020
Ditching the traditional ivory theme of weddings, 2020 bring colors of joy to your special day. Being said that, dark pastels are one of the top wedding trending in 2020. The flowers with rich and exotic colors are selected to be matched with any other light shade for the background. It adds a unique highlight to the bride's sheer white dress and makes her shine even more bright. The bold texture of magenta or blue paired with crème can turn your wedding into a fairytale setting.
Not only to light up the place but beautifying the dishes with edible flowers is also on the list this year. Yes! It's trending. Many decorators have taken up the task of adding edible flowers to not only the setting but also to the desserts and cocktails. The cake is topped with edible flowers to add certain delicacy keeping in mind the theme of weddings.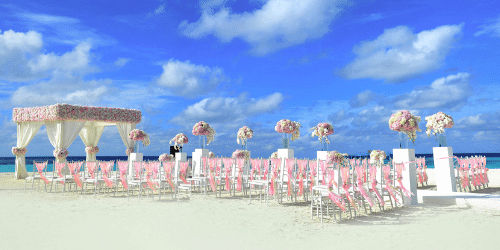 #2: No florals
Flowers have always been the show's topper for every wedding so far. Let's bring a new twist this decade. Switch to elements other than flowers. Pampas grass is one of such elements trending right now. Instead of a color theme, add a monochromatic twist with a muted color palette using the pampas grass. The backdrop can be enhanced by mixing the grass with ivory and beige ornaments. Also, The leafy palm setting will give enchanting look to the natural scenery. Placing the candles in the right positions can also add a wow factor to your wedding. This is one of the best ideas that fits in the top wedding trends of 2020. The dancing flames will give an amazing effect to the surroundings and make your moment even more magical.
The pampas grass can also be made into ornaments. You can design the cloud out of the grass and hang them over the tables. Also, try out a standalone altar or a photo booth. The statement structures can also be made with pampas grass and a wooden frame.
#3: Indoor barn setting
Image source: Pinterest
A fresh theme awaits all of you lovely couples. The exquisite theme of lights takes it to a whole new level. LED lights have been trending in 2019 covering the majority of events even other than weddings. These lights added sparkle to birthdays, proposals, and many more joyous memories. It's time to add more décor to just the tiny fireflies. Furthermore, 2020 brings bulbs that complement the wooden texture of the barn. It gives a rustic feel to the environment.
Adding chandeliers with maroon drapes and candles to a rustic backdrop infuses a sense of the golden era. It can be presented as the old Britain topped with some melodious Hollywood retro. Dance to the lights and classical music. Don't forget to add Vinyl players if you're lucky enough to get your hands on them.
#4: Mini weddings – Top Wedding trends of 2020
Image source: Google
Amid the unexpected events of 2020, all of us are wondering what might come next. But that shouldn't stop us from moving on and living our lives to the fullest. Although we must to proceed forward with safety. Considering this unfortunate situation, try giving a thought to having your wedding with only your 'nearest and dearest'. Host a small wedding with less than 50 people in a small but elegant area. It is suggested to be hosted in the open air for fewer chances of transmission.
In addition, Small banquet halls or gardens are a perfect fit for such weddings. Getting married among nature has to be one of the most subtle ways of getting hitched.
#5: Custom Illustrated wedding cards
Image source: Google
The graphics have taken a new turn for the cards too. The floral cards are officially outdated. Get yourself a custom illustrated card design for your wedding. These cards are ruling the market with all the amazing designs and illustrations. Furthermore, They also have a different illustration on each card depicting one particular event per card. There are various designers on www.fiverr.com or you can get many more ideas from www.etsy.com.
These cards are available in various options. Moreover, you can get your couple's photo-illustrated on the card or you can reveal your venue! Get your venue painted on these lovely pieces of folded paper. Go for a watercolor option or get it with pastels.
So, let's bring something fresh to the table this year!
Are there any other top wedding trends in 2020 that we might have missed? Comment below to let us know!