ITC Grand Bharat is something that you will come across while luxury wedding planning. This is one of the most stunning venues which you will come across in Delhi. Ncr or in Chennai The place is well known and is royal and premier weddings. There you can experience the whole new patter of luxury experience.

A luxury wedding At ITC Grand Bharat
ITC Grand Bharat- A luxury wedding affair as it's India's first place which provides you with the first-suite luxury retreat. It is one of a complete package in Gurgaon, which promises you to provide the exotic blend of historical architecture with the natural glory of ancient Aravalli.
As we all know marriages in India are an overgenerous affair. It is something that requires an equally grand setting. If you're still out on an exploration to find your dream venue, look no further than ITC Grand Bharat in Gurugram or ITC Grand Chola in Chennai. With their own unique characteristics, they add to the beauty and glory of the wedding celebration and help you make extraordinary memories
This luxurious piece of art is widespread and provides an ultimate eye-catching site to its guests. ITC Grand Bharat is a tribute to the splendor beauty of India. This glorious architecture is the retreat is set in a verdant 1.2 square kilometer estate. Which makes it a magnificent and ideal place if you want your wedding to the luxurious and at the same time connected to the beauty of nature.
Why select ITC Grand Bharat for weddings?
Delhi is considered to be the central hotspot for weddings in Northern India. It provides you with all kinds of wedding venues. Ranging from historical, royal, and fun weddings. It has some things that will completely suit your style and accommodate all your big and small details to your wedding day.
It ranges from the rich and beautiful traditional themes that go in with the original and local north Indian traditions to unique themes like western and modern wedding themes with countryside wedding decor, the culturally and traditionally diverse population of Delhi has given rise to a wide range of different wedding themes and decors to inspire your wedding. One of which is ITC Grand Bharat.
The ITC Grand Bharat extends its architecture proudly. It primarily exemplifies the highest ideals of India's supreme heritage. One of its greatest attractions sites is the 27-hole Jack Nicklaus Signature golf course. The quiet oasis far away from the madding crowd, ITC Grand Bharat is the ideal and beautiful venue for a hand-crafted destination wedding.
Venues for the wedding in its Grand Bharat
Indoor venue
ITC Grand Bharat provides a banquet hall that can hold up to 250 persons. This space is adorable and majestic for grand weddings. The place becomes grander by is the decoration of high ceilings with gigantic crystal chandeliers.
What makes it more beautiful is the national inserts and patterns, rich carpet, and comfortable classical chairs with bright blue upholstery. There is no need for additional decor, everything looks perfect. And gradually gives it a royal gesture.
There are other spaces also like-
Prithvi Hall
The indoor Banquet Hall Prithvi, with a seating capacity for 80 guests and space for 400 floating guests.
Agni Hall
The indoor Banquet Hall Agni, with a seating capacity for 32 guests and space for 60 floating guests.
Jal Hall
The indoor Banquet Hall Jal, with a seating capacity for 30 guests and space for 80 floating guests.
Outdoor venue
If you want an outdoor wedding, then you can go for our widespread green landscaped marriage lawn. This can hold up to 200 people. This place is no less a magical indoor venue.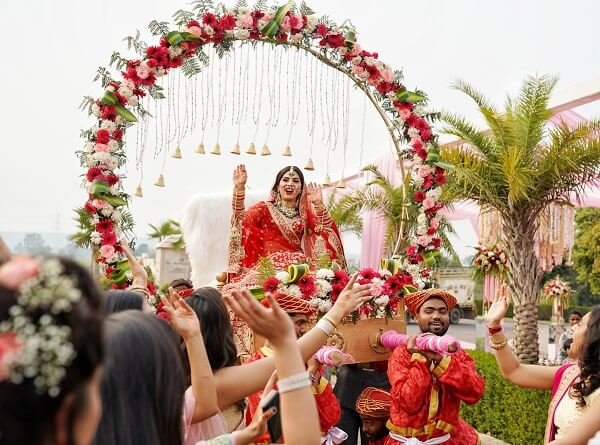 This territory is beautiful, there are magnificent snow-white arbors. It all together makes a beautiful combination which goes with each other. It eventually turns out to be a blue sky and snow-white architecture. The royal and luxurious hotel has a lot of romantic, bright, eye-catching places that will be a wonderful backdrop for wedding photos. And for the guests to enjoy and remember.
Other than these eye-catching sites and venues for fun activities. You also get an option of royal sites like-
game room
sauna
squash
indoor and outdoor courts for different activities
The menu at ITC Grand Bharat
This place offers a wide range of menu where you can select from. Ranging from international to cultural food. The setting of dining can be done accordingly. The food flavors also offer a wide variety of food ranging from veg to non-veg dishes.
You can your guests can enjoy the ethnicity along with the vivid food flavors.
Decor
Every couple dreams of a perfect wedding with the most beautiful decor. Even the smallest thing should be done the most perfect way indeed.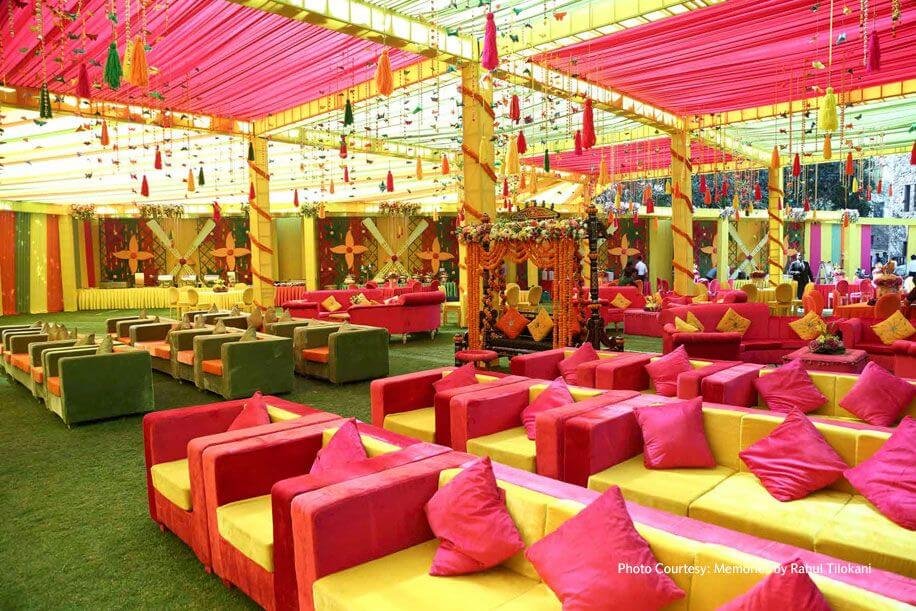 Decorations and event planning in ITC Grand Bharat are done by event companies under the enlisted panel. The blissful plan is here to serve happily our valuable customers.
ITC Grand Bharat is happy to host a wedding of your dreams and assures you assistance in anything you desire. It also allows any sort of decorations is it floral, lighting, or themed wedding.
Budget
ITC Grand Bharat is a world-class 5-star hotel with all amenities needed for your wedding. The costs are often friendly.
For instance, The starting price of catering for a vegetarian menu is around 4000rs per plate.
While the price per plate for non-vegetarian is around 7000rs
Event Planning
When everything mentioned above comes in perfect coordination the idea of a grand wedding comes true. Hence putting everything in the right places is the duty of an event planner.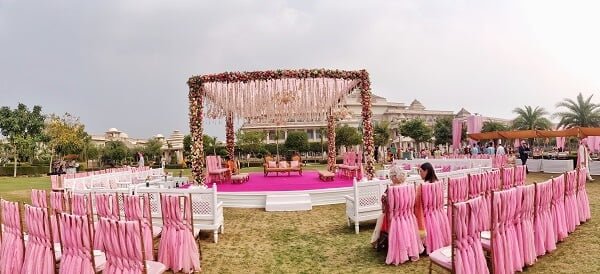 ITC Grand Bharat allows even planners among superior standards to ensure you with a premium experience. Blissful plans are one such organization that provides you with the best services
When one looks at this beautiful artifact, the contemporary architecture adds a traditional and imperial touch to this residency, which is a dream of almost every Indian couple. The fact that nowadays these architectural wonders also attract foreign couples raises the standard of destination weddings and dream weddings.
Accommodation facilities
The ICT Grand Bharat is well known and provides the ideal location for your dream wedding. The place is one of a kind and adds up to modern historic venues. It provides other various facilities as well like accommodation.
The venue provides a wide range of luxurious rooms and villa for your guests to enjoy the events. The place will serve you with world-class facilities and make it remarkable for you and your guests.
If you are planning your wedding at the ICT Grand Bharat. Which is located at a suitable distance and can easily be reached. This makes it easy for the guests to locate and thereby it becomes more fun for them. The site Grand Bharat is one of the renowned sites when it comes to weddings. The fabulous interior and fantastic eye-catching sights make the whole place more majestic.
If you are planning the wedding there then you all also avail the facilities like-
DJs and dance floors
Floral décor
Stage and set decoration
Setting arrangements at the sites
Transportation
Wedding Food & Beverage Catering
Wedding Photographers and Videographers
This venue is the ideal venue for the wedding ceremony as it will add up to your events and make everything suitable for your special day. You can also contact us to plan your wedding. Blissful Plans work on making your events more creative and enjoyable. We love to provide our best service to you by adding up to how you already plan your events. We provide you with the best options to make your wedding more amazing and extraordinary.