Dreaming of an Indian Wedding in Mauritius? Here's What You Need to Know!
An Indian wedding in Mauritius is a unique and beautiful experience that should be celebrated with your loved ones. The tropical climate and welcoming people of this South Asian nation make Mauritius a truly unique place for a celebration.
It also offers the opportunity to create memories at the most beautiful and romantic resort locations. Weddings in Mauritius are considered to be one of the most colorful weddings on earth. Since the country is located in a tropical region, they can be held any time of the year and parties go on until late at night. Indian wedding in Mauritius is getting more and more popular among couples who want to say "I do "with their loved ones in such an amazing location.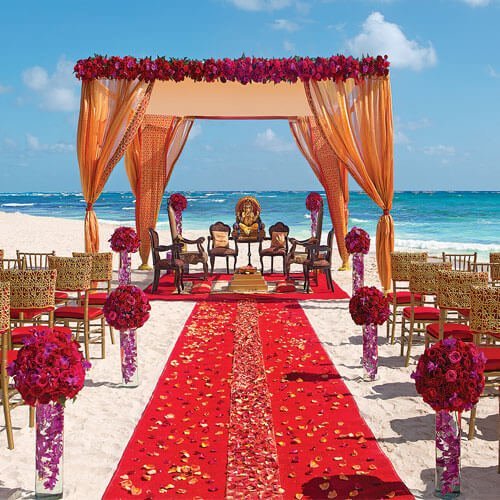 Is Mauritius The Perfect Place for Indian Destination Weddings?
Absolutely Yes! Mauritius is a go-to place when it comes to Indian traditional weddings whether it's a beach or villa wedding, delish Indian cuisine as the couple desires.
Indian weddings and rituals are described as very rich, exquisite, and beautiful. It is always a matter of pride for the brides and grooms when they look back on their lives. Each family has its own traditions, including everything from religious rituals to what types of food to serve.
Weddings are a special time in India, as they are for many people around the world. In India, however, weddings often stretch for days and involve many events. A wedding can include the engagement ceremony, which is called a "sagai." It may also include multiple religious ceremonies and celebrations, including a party or parties to honor the bride and groom's parents.
The wedding bells of many Indians ring out around the year-end when marriage proposals are made. Many of them use the opportunity for revelry with friends, family, and relatives.
Indian rituals start with a beautiful Haldi Ceremony or Mehndi Ceremony which is also accompanied by Traditional songs and dances. While many couples prefer to have separate Mehndi and Sangeet events, the majority choose to mix it up!
Then there comes the time for the Grooms party to dance before the gorgeous bride walks down the aisle to the exquisite Mandap with a beach backdrop or a luxury palace. You can also make your wedding special at Beachside where a special choir sings during the ceremony on special moments. The ceremony of the Beach Wedding is solemnized with a priest performing the wedding customs and blessing the couple. So many beautiful, beach resorts or private venues to choose from for this moment!
The next day the official Dulha and Dulhan are welcomed in lavish décor as anticipated by the couples for their reception.
Every single ritual can be beautifully executed in Mauritius.
Can you get legally married in Mauritius?
Almost all nationalities of the world can have a legal wedding here on the beautiful paradise island of Mauritius.
You will need to provide copies of your birth certificates, copies of passports, death certificate (if widowed), adoption certificate (if adopted)  deed poll notice (if you've changed name), and your decree absolute (if divorced)). These must be sent to the Registrar of Births, Deaths, and Marriages in Port Louis four weeks prior to the wedding. Your birth certificates must be no more than three months old, so either have them re-issued before you leave, or send them as they are and they'll be re-issued and date-stamped in Port Louis. You must then get married within three months of this date.
Which is the best place for an Indian destination wedding in Mauritius?
We have curated the best wedding venues in Mauritius just for you!
Sugar Beach and Long Beach Resorts
The Sugar Beach has regal banquets and 238 sea-facing rooms and suites, Perfect for a luxurious wedding. Long Beach, on the other hand, has stunning backdrops for beautiful dreamy weddings amongst lush tropical gardens. Make your Indian wedding in Mauritius a magical one!
Maritim Resort & Spa Mauritius
Maritim Resort & Spa, one of the top beach Indian wedding venues in Mauritius has over 212 stylish rooms, suites, and villas, the resort is perfect for a destination wedding. It offers two exclusive 'Bridal Suites,' and a "Maritim Tropical Flower Spa' geared to assist brides with the best beauty services before their big day. They also offer beachside spots, enchanting tropical gardens, well-equipped boats, and much more.
Shanti Maurice Resort & Spa
Shanti Maurice Resort & Spa offers 44 suites and 17 villas across 36 acres of land. It has exotic gardens, sandy beaches, and reception rooms. Located in the lush tropical gardens with the sweet scents of breadfruit trees and sugarcane flowing through the air and the calm turquoise sea in the background, it will make your Indian wedding in Mauritius a unique one. The hotel's Shanti Spa where Brides can get pampered before their wedding day! Perfect wedding venue in Mauritius for an Indian wedding.
Lux Belle Mar is one of the amazing wedding resorts with a perfect backdrop, a pristine white sand beach with waves kissing the shoreline. It is a dreamy destination for beach-loving couples. It is the ultimate destination when comes to Luxury. Exchange your vows on the beach and tie the knot for a happy future. Lux Belle Mar is one of the luxurious beach Indian wedding venues in Mauritius.
The Westin Turtle Bay Resort & Spa, Mauritius
Perfect wedding venue for Indian Destination weddings in Mauritius for couples who have a dreamy location in their mind with Exquisite Venue, and delish cuisine. Whether your dream is to have your wedding at the sunset, near the beach with your close ones as an intimate wedding, or a lavish gathering The Westin turtle bay resort and spa provide you with the best. Share your moments of joy with a grand traditional Indian wedding in 1000 sqm of lush lawns over Turtle Bay. We at Blissful Plans can tailor it according to your personal style in your favorite resort.
InterContinental Resort Mauritius
Looking out for a perfect spot for mehndi, cocktail parties, or an intimate wedding? Located on the private Balaclava Bay Beach, the InterContinental Resort Mauritius boasts of Luxurious and elegant banquet hall with direct access to the beach and a perfect place to have fun with your near and dear ones. It provides 210 rooms with traditional and modern amenities blended perfectly for Indian weddings in Mauritius.
Shangri-La's Le Touessrok Resort & Spa
 Breath-taking resort with 6 extensive beaches and can accommodate 300 guests with an idyllic backdrop. It also offers 200 luxurious rooms and 3 private beach villas which give an amazing view of the Indian ocean. This resort has a beautiful Island Ilot Mangénie which is a perfect venue for a private Indian wedding in Mauritius with pristine beaches and stunning views of the lagoon.
Angsana Balaclava Mauritius
It is one of the unique beach Indian wedding venues in Mauritius and is a 5-star luxurious resort, a member of the Banyan Tree Hotel brands collection. It offers 54 suites, a lavish Imperial Jet Pool Villa, exquisite gourmet restaurants, an award-winning Wellness Spa, as well as banqueting facilities. With outdoor and Indoor venues, space can be used for themed pre-wedding events too. Couples looking out for a spectacular lush greenery backdrop with a pool, this is your place.
Our Service as Indian Wedding Planner in Mauritius
You've found the perfect Indian destination wedding venues in Mauritius and are ready to plan. But, where do you start? To make the best decision for you and your loved ones, whether it be a destination wedding or simply a destination event, and all those involved in the planning process, you should be well aware of what is involved.
When you're embarking on your wedding day, do you really want to spend your time worrying about where to order flowers for the centerpieces, who is going to transport the gown, what type of music will be played during the reception and so much more?
We at Blissful Plans are Indian wedding planners in Mauritius who can make all the difference when it comes to pulling together the many details of a wedding event. 
Get in touch with us and you can relax till the end!
Make your dream wedding come true in one of the most beautiful islands in the world.
1. Get a quote on the Cost of an Indian wedding in Mauritius
We will provide you with details on the Cost of a wedding in Mauritius and personalized wedding packages in Mauritius for your Indian Destination wedding in Mauritius. Our team will help you plan the perfect wedding and make sure everything runs smoothly.
2. Hassle-free planning
We will take care of all the planning and ensure that your wedding runs without a hitch. From finding the perfect venues to arranging the best services and suppliers, we have you covered.
3. On-site support
We will be there to provide support throughout your wedding day. Our team is experienced in Indian Destination weddings and will ensure that everything goes according to plan.
Please follow and like us: