How to plan An Indian wedding in Bali?
Bali has a sobriquet of 'Island of Gods', so an Indian wedding in Bali not only makes your fairy tale wedding true but also laces it with the touch of spirituality. Indians love to plan a destination weddings in Bali as there is a backdrop of nature, serenity, spirituality all together.
Bali's enchanting beauty is inexplicable. The island is covered with beautiful lush grasslands, sandy beaches, amicable sun, lavish villas and resorts, and many more. Bali is famous for its unique culture and sacredness.
Planning an Indian destination wedding in Bali is the new trend!
A wedding is a special occasion in one's life and one ought to make it the best and memorable. Every Indian dream of having a wedding is embedded in splendor. Bali with its amazing beaches with the Indian ocean as a backdrop and with the subtle, splendid sunset attracts many Indians to have a destination wedding here.
The majority of the Hindu population in Indonesia is found in Bali as such, though India is secular it is considered as an epitome of Hinduism. This mere coincidence of similarity in religion connects the Indians to choose Bali as a destination for their Indian wedding. Despite ostentatious attractions, Bali is a staunch pillar of religion. Indians who wish to have a destination wedding here are promised to be endowed with divinity without the loss of their traditional customs.
A wedding is a holy institution of love, where two people make a promise of spending the rest of their lives together hence everyone wants it to be perfect and memorable. Indian culture is very rich and the Indian destination wedding is often called a big fat Indian wedding because of its grandeur. Right from setting up 'Mandapa' to the 'Bidai', you don't want to miss out on anything.
Cost of an Indian wedding in Bali-
Approximately the basic cost of an Indian wedding in Bali may range between 35 to 50 lacs for 100 guests. Of course, this might vary with the choices of the venue, location, number of guests, and other intricate details. Check with us about the cost breakup as we are the best Indian wedding planner in Bali.
Here are things that will help you to plan your wedding in Bali.
Finalize your wedding planner, this is very important for a hassle-free wedding event. Look for the best Indian wedding planner in Bali.
Prepare your guest list
Destination weddings require the dedication of time from one's life. If you have a normal Indian wedding in your own country then people can pay a visit and stay for a maximum of a few hours to witness the magic moments, but it's not the case with destination weddings. Your guests have to stay at least 3-4 days and the celebration longs a while longer than usual. So, it is better to make a guest list well in advance so that your dear ones can make out time from their busy lives and also book flight tickets prior
Reaching Bali
Indians can acquire a 30 days Visa with passport validity and proof of return ticket. Bali has an International airport in Denspar which is also the capital of Bali; you can easily get there by taking a flight from India. Usually, you might have a connecting flight from India to Bali via Kaula Lumpur or Singapore. The journey might be 9 hours long albeit, The view of the sea whilst you are in the air is breathtaking.
Although Bali has a friendly climate throughout the year, it is suggested not to choose the monsoon for your wedding. Preferably May and August is the best choice.
Choosing a wedding venue for an Indian wedding in Bali 
The most quintessential part is choosing a wedding venue. Bali offers a wide range of locations with amazing backgrounds and exquisite views. Choose the venue which befits your Haldi to your main wedding day. Most wedding venues are categorized into four types
1.Villa weddings
2.Resort wedding
3.Beachfront
4.Chapel
You can choose rooftops, pool views, sunsets anything you desire, and customize your wedding location as you dreamt.
Decide Location
After you have set up a blueprint of your wedding visuals in your brain and heart now you have to choose the best location. If your priority is beaches then Kuta is one of the best options. If you are looking for resorts and villas Nusa dua has them in galore. Other places include Jimbaran, Uluwatu, Nusa Dua and many more. You can choose based on your budget and interest. For an Indian wedding in Bali, getting the perfect location and venue is very important.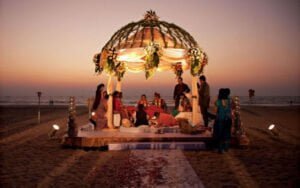 Whatever the location is Bali and Blissful Plans promise you the most spectacular wedding in your life as we have vast experience in a destination wedding in Bali.
Plan on the food
From Gulab Jamun to Lassi, Indians are very particular about their cuisines and food. So deciding your wedding menu is also an important task. Choose the appropriate dishes that make your guest's palettes happy. Since it is Bali, you will face no issues with vegetarian food if you have any vegetarian family members.
Also, alcohol is heavily taxed in Bali so if you want to save money then reconsider this option on your list.
Photographer and Videographer
Everyone wishes to capture these beautiful images and decorate them in life's memory book. Choosing a suitable photographer, who through his photography makes the pictures speak for themselves is significant. Also if you have a priority in choosing the photographer from your country then you should plan to book him in advance. His travel and stay might be an additional expenditure.
Check on the Details
Well, though all the steps are important this plays a major role to make or break your wedding. When you customize your wedding you have to keep in mind all the itsy bitsy details. You have to think about the right decoration, color themes, a Pandit to officiate, Varmalas everything has to be kept in mind. It is a crucial task.
When everything is done, rechecking and revisiting the structure is necessary to cover and recover the missing things.
After party/Reception
This is an option you may or may not include in your list, but if you wish to have it then you have to go through the planning process once again to get the reception formula flawless.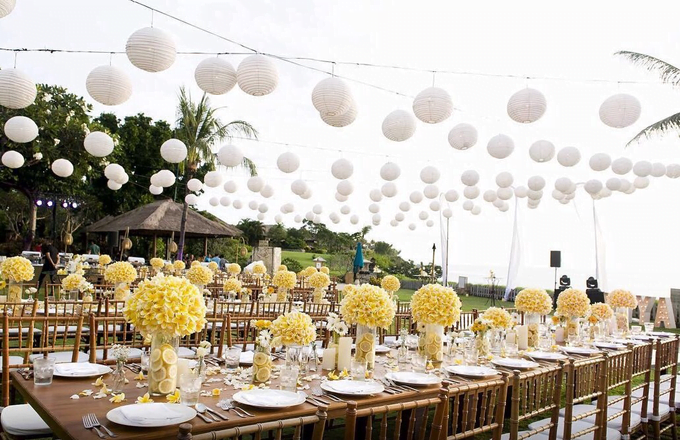 Put your A-game on
Be all geared up because it is finally the D-Day. You have your wedding venue and wedding location. The kith and kin who traveled all the way to witness this elixir. Everything in the ideal place as you have planned. with the love of your life in front of your eyes, you ought to cherish these moments. Perfect place, perfect person, and a perfectly planned wedding what else do you require to make your wedding stand out.
If you have an after-party planned then get prepared for that or you might just as well have a small dinner party.
Honeymoon/Bali Tour
Again it's optional. Though many might not fulfill their dream of a wedding in Bali, it is a widely considered honeymoon choice for many couples. Its picturesque visuals will be etched in your memory forever indeed.
Even if you choose not to spend your honeymoon here, since you are already in Bali it is a good opportunity for your guests to absorb the beauty of Bali through its serenity and adsorb the stress in their lives.
Choosing international locations as a wedding destination is the new cool! instead of going through the entire daunting process, Blissful Plan is a panacea. You describe what you want and we deliver what you wish. While you spend your time happily with your family amidst the beauty of Bali. We will not miss any detail and are sure to make your lives memorable and 'Blissful'.
Please follow and like us: