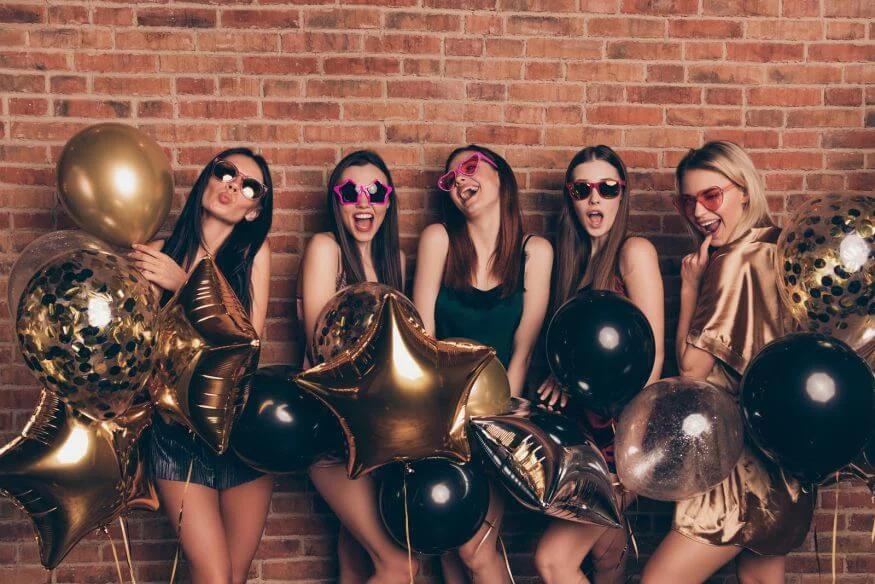 How to Plan A Bachelorette Party
Getting Married within a month? Or more or less? Then a bachelorette party is a must. Parties are all about fun and joy. Stunning locations, relishing drinks, and more than that quality time with your besties. Plan the best bachelorette party.
Thinking of how to plan a bachelorette party? Here we go!
When weddings are luxurious, the bachelorette should be equally amazing and enjoying. Hence, planning a perfect bachelorette is a must! Executing and coordinating parties for ladies is really fun but needs to take care of many big – small things. Be it the dress code or the party hub.
Bachelor's Parties are always regarded as the most celebrating pre-wedding event. Where all stunning ladies are groomed in perfect attires, all so good-looking, dancing to the music, playing fun games, gossiping, and much more. Truly the best event it is!
Therefore, we are gonna help you lessen the burden of planning a grand celebratory bachelorette party. We will be beside you, guiding you with all the ideas and steps for a perfect bachelorette from making the guest list to inviting, from foods to drinks, dresses to accessories, and plenty more! Hence, planning a brilliant bachelorette party is never tiresome when we are there with you. Have a look at these ideas and suggestions to have your bachelorette party as unique as you.
Planning An Exquisite Bachelorette Party!
As weddings have evolved much from the normal hometown wedding, the same goes for parties as well. Bachelorette parties which were celebrated just before the wedding evolved much to weekend destination parties and themed bachelorettes. Hence, planning and executing are also being helped flawlessly.
Step By Step Planning
Step 1 – PREPARING GUEST LISTS
Bachelor parties are so cool and we'll because all you have is your close friends and families. You can be yourself and fully immersed in happiness.
Hence, the first step is to make a list of people who are going to join your fun venture. It is considered to be a women's party. Hence try to invite all the amazing ladies who are close to you. Don't exclude any.
Step 2 – DECIDING ON LOCATION
Plan a destination according to the number of the guest list. Be it a one-day location or a weekend destination bachelorette.
If you are planning on a destination wedding. Then choose one of the splendid locations there. Our suggestions to you are Mauritius, Bali, Rhodes, Goa, Maldives, and so on.
The best place to host your bachelorette is pool-side restaurants, rooftop areas as well as a pub or a club.
Best Bachelorette Party Locations in India.
Step 3 – FIX THE DATE
After you have decided on the location. Go for dates. It would be better to decide on the date before 6 months of the actual party. The cost of lodging will all be low as compared to the last-minute party planning. Cross-check with the bride and decide on a date of her preference. Look on to other factors like the cheapest month for your location, weather, etc.
Step 4 – INVITE YOUR GUESTS
Yeah! The date is fixed. Now inviting the guest is of course the next step. Don't forget that we have already made the guest list. Invite the guests very much before the party because they have to get ready with the packing and shopping.
E- Invitations are the best, most eco-friendly, and most time-saving method to invite. Though handcrafted paper invites are also on the spot.
Hurry! And invite those amazing ladies to the dock.
Step 5 – CHOOSE A PARTY FAVOR
Though Bachelorette is all about having a blast before the wedding picking up a theme will make it extra amazing. Color codes with matching flowers, balloon decorations, and cutleries will add more beauty to your bachelorette party. Most of the party planners prefer matching dresses, swimsuits, or anything relevant to the theme for bridesmaids and the bride.
It enhances your party's look of course!
Step 6 – GET IN CONTACT WITH A PARTY PLANNER.
Party planning seems easy. But the fact is that it is a bit tough, executing everything in proper order at the right time is sometimes tiresome for at least most of them out there.
That's when you need a party planner. The host just has to deliver an idea of what they want to the expertise, they will take care of the rest. Party Planners are sure to execute and coordinate everything in the best possible way. And make your ideas into reality.
We assure you premium service and the best output from our part.
Step 7 – RELISHING FOOD AND DRINKS
Every Party becomes a memorable one when you savor the delicious delicacies. Selecting on the menu, and deciding what to eat, be it a celebratory dinner or a 3-course banquet, must be chosen beforehand. Check on whether the opted venue offers you in-house catering. Or else contact an outside vendor.
Drinks are also an exquisite part of bachelorette parties. Choose whether the party needs alcoholic beverages or not before your party date.
Step 8 – PARTY SHOPPING AND SURPRISE GIFT!
Every party needs shopping, and so is the bachelorette. Hence go for exclusive shopping with stylish girls and have a blast before the party.
Shop for matching dresses, accessories, cutleries, flowers, and most importantly a surprise gift for the gorgeous bride.
It can be a ring or any jewelry, accessories, bags, etc.
Step 9 – HAVE FUN WITH ACTIVITIES – SELECT THE ACTIVITIES.
The party is fun! Select activities that are so much fun and fill happiness. From a singing party to a swimming party, all will cheer up for this joyous day.
Some of the cheering events that bring up the party animal in you are: –
Boating or yacht riding.
Picnics at parks and walking areas.
Spa activities
Exercise and yoga
Playing cards and other small games.
Sharing Stories under Candlelight.
Drinking competition Etc
Taking care of everything and anything at a bachelorette party makes it perfect and enjoyable. Hence, plan a bachelorette party taking into account the above-mentioned steps.
We, blissful plans are here to help. We will guide you through anything and everything and make sure that you host the best party for your stunning bride. For more info, feel free to contact us. We are always waiting to serve our valuable customers!
Have a fun and flamboyant bachelorette party!
A bachelorette party is simply a get-together of the bride's closest friends and family along with her. They enjoy and have a fun time together.
There are different ways to host a perfectly flawless bachelorette party. We have suggested to you how to plan it in the above content. You can seek help from an event planner too.
The best time is a month or a week before marriage. And also the summer bachelorette party is most enjoyable and funny rather than other seasons.
A bachelorette party is hosted by the bride's closest friends group or the closest family friend. Most of the time they make it a surprise for brides. Others ask for her preferences and tastes.
Bachelor's party mainly is extravagant. Hence, it is paid mostly by the best buddies who host the party. Sometimes family member also plays a part or is shared among them equally. Bachelorette parties are indeed a fun extravaganza. Hence it needs to be done perfectly.