Best bridal hairstyle ideas- Half up & Half down bridal hairstyle
Wedding dress, Makeup, and hairstyles these three things enhance the beauty of a bride. For the wedding makeup, we have seen brides experimenting with their looks. Some have tried opting for different and unique wedding dresses too. While talking about the hairstyles for weddings, we have been stick to the same old high bun. Specially on their wedding day girls only go for the same hairstyles which we have been seeing for ages now. And I think it is the right time to ditch the old hairstyles and try something new which could be more beautiful, elegant and comfortable as well.
For a change in the Bridal hairstyles, you can go for the half up and half down hairstyles for your wedding. I know some of you might think that how can this hairstyle look beautiful for a wedding. So, to change this perception of yours, here are a few half up and half down best bridal hairstyles suggestions you can choose for your wedding look. 
Waterfall Braid With Beachy Waves- Best Bridal Hairstyle
Braids are supposed to be the basic Bridal hairstyle. If you are planning to go for a simple wedding and also want to keep your look basic and classy as well. Then you should try the hairstyle which is braided in front and the other hair is left open with some beachy waves. This hairstyle will complement a simple makeup look for your wedding. Just because this hairstyle is basic does not mean that this will not look beautiful. This is perfect for those brides who want comfort as well as an elegant look for the wedding.
Low Messy Ponytail
There are hundreds of rituals in our tradition during the wedding ceremony. To complete those rituals every bride have to go through hours of wait and patience. In some rituals, the bride has to sit near the fire too. So if you are someone who is not very comfortable sitting near the fire with the loose hair then you go for the loose ponytails. In this hairstyle, half of the hair will be tied up and the other half will be tied down in a loose ponytail. This look is perfect for brides who prefer more comfort than any other thing. 
Classy Succulent Hairstyle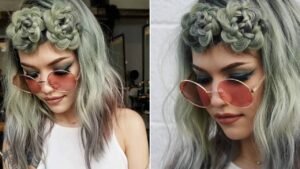 image courtesy: Allure.com
If you want to go for something bold for your wedding look then you should try succulents Bridal hairstyle. This will be perfect for your Mehendi look. For Mehendi functions, brides do not have to wear much makeup. So to make the bride stand out from others, this hairstyle is perfect. In this hairstyle, the hair is slightly dyed. You can add accessorize the hair with some fun headpieces that match the theme of the function. 
Soft Curls Along The Braid Bridal Hairstyle
Braids are supposed to be the basic hairstyle. But you can always add some extra fun to the braids too. Braiding the hair into a different style and giving soft curls to the rest of the hair will be a new a different hairstyle for the haldi look. You can add some flowers and different accessories to make it look more beautiful.
Vintage/Retro Hairstyles
image courtesy: Bollywoodshaadis
We all love the vintage look. These looks can never go out of the trend. These looks have their aura and beauty. And the best part about these looks is that these looks can go with any function. So, to add some vintage vibe in your sangeet night you go for the vintage hair looks. For the Best Bridal hairstyle, you can side part your hair and then adorned it with some beautiful hair clips. You can use hair sprays to set the other side of the hair.
Front Fringe Hairstyles
Fringes are the hairstyle which is loved by everyone. But they are scared to try it out. This hairstyle gives you a more steamy look. And also make you look younger from your age. To add some extra drama in the look, you can add some headbands or head crowns to make your look more classy. This look will be perfect for your engagement or the sangeet look.
Twisted Ponytail Hairstyle
Twisted ponytail hairstyle will be perfect for your haldi look. In the haldi function, you can not do much with the makeup. It is the dress and the hairstyle which can enhance the beauty of your look for this day. you can make a statement look with this hairstyle. And you can add some sparkling hair clips too. 
Loose Curls With A Tiara Or Dainty Accessories- the best bridal hairstyle in fashion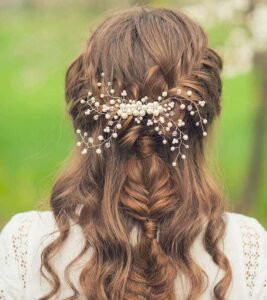 Image courtesy: stylecraze
Every girl at some stage of her life has dreamt of becoming a princess. And what better day could it be to fulfill that dream. If you are not in the mood of trying the old and simple half hairdo and wanted to feel more like a princess. Then you should try the half twisted hair with the curls. And then add a tiara to give the princess vibe. You can choose this hairstyle for your wedding look.  These were a few suggestions from our side to make your wedding hairstyles more different and unique. We hope this blog will be helpful for your wedding hairstyle and you will find the perfect look for your wedding.
If you'd like to get your best bridal hairsyle and makeup done, look no further than blissful plans as we have tied-up with some of the best hair and makeup artists who can give you your dream wedding look!
Comment below your favourite bridal hairstyle!
Please follow and like us: