Which are the best wedding venues in Jim corbett?
Your search for the best wedding venues in Jim Corbett ends here!
We all dreamt of getting married in a beautiful location surrounding the beauty of nature. After all, marriage is a once-in-a-lifetime celebration for anyone indeed. And what be better if you will be able to set the trend for other people? Look for a destination wedding in Jim Corbett as it has an array of beautiful wedding venues. If you are someone who loves and admires the beauty of nature. Then this is a wedding destination that could bring you closer to nature. Check the list of wedding venues in Jim Corbett
Get the cost of the best wedding venues in Jim Corbett!
Destination wedding cost in Jim Corbett depends upon various factors. It may vary depending on the requirements such as resort category, food menu, decorations, ceremony arrangements, etc.
In the case of a wedding with 100-150 guests. The destination wedding cost in Corbett starts from 20 lacs to 35 lacs.
Jim Corbett is mainly famous for its wildlife and other beautiful locations. This place will be the best option for a destination wedding from April to August. After this time there are chances of rainfall. If you are wondering is it safe to get married at this place? Then let me assure you that it is perfectly safe to get married at this place. Here are the top wedding venues at the Jim Corbett to plan a destination wedding.
Top Wedding Venues In Jim Corbett
Taj Corbett Resort And Spa
Taj Corbett Resort And Spa is truly a dream and ideal destination wedding venue in Jim Corbett. It is located close to the very famous Jim Corbett National Park on the banks of the Kosi River. The location offers breathtaking beauty and an unforgettable experience in a natural residence. This spacious venue includes a beautiful banquet hall and a spectacular courtyard. Offering one of the finest hospitality services. Whether it's a grand reception, pre-wedding ceremony, or social gathering. The Taj Corbett Resort And Spa is an all-in-one place for everything.
It can accommodate over a hundred clients. With selected decor and catering facilities, this luxury wedding hotel also offers luxurious accommodations. In addition, offering holistic packages and refined experiences. The Taj Corbett Resort is a heaven of grandeur, ultimate hospitality, and rich memories indeed!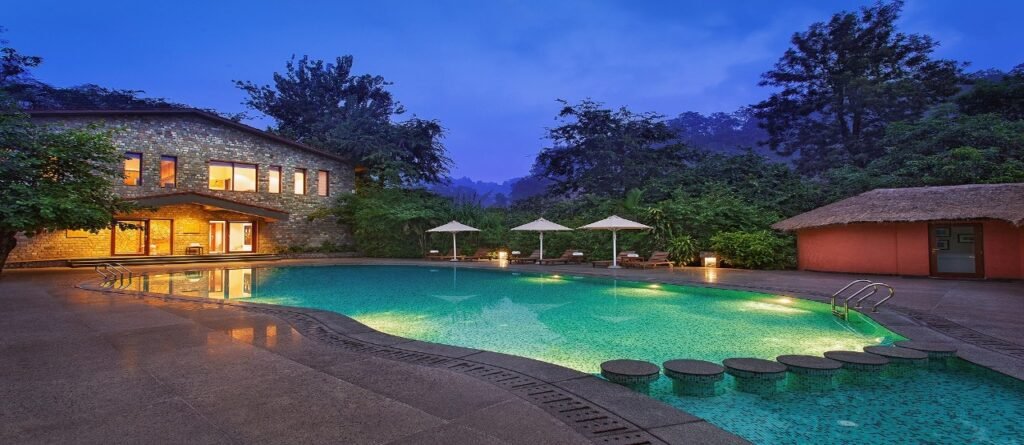 The Blue Orchid Hotel And Resort
Right in the heart of nature with magnificent Litchi and Mango forest backdrop The Blue Orchid Hotel and Resort offers a beautiful setting for a wedding at Jim Corbett National Park.
The Blue Orchid is one of its kind eco-luxury resort in North India. So while you are indulging in all luxuries you can also contribute to the environment. Yes! Eco-friendly parties are much in trend. So, come and plan an eco-friendly wedding in The Blue Orchid, Corbett.
You can host destination weddings, social parties, and corporate events. From a simple ceremony to a grand extravaganza, this Resort is apt for kinds of events.
The Blue Orchid Hotel and Resort will take special care to make an event or wedding the most memorable for the hosts as well as the guests. Also, at the same time, the staff takes care that you leave behind no carbon footprints. Right from the elaborate flower arrangements to the delectable culinary delights, any kind of support required by the clients, the team at The Blue Orchid Hotel and Resort is always ready to provide.
The Blue Orchid is an eco-luxury resort in North India
The Blue Orchid is one of its kind eco-luxury resort in North India. So while you are indulging in all luxuries you can proudly say that you left no carbon footprints behind after the event!
Jim Corbett National park is an amazing wedding destination for nature and forest lovers and The Blue Orchid Resort makes the forest a venue to celebrate.
Namah Resort
Namah is here to meet one's expectations without breaking one's wallet and therefore is the perfect place to be. It can accommodate around 150 people in this place quite comfortably. They have a team of professionally trained service staff to assist one and his guests at all times. The banquet hall provided by them is a large area that is a suitable place to hold pre-nuptial ceremonies such as engagement, sangeet, mehndi, etc. followed by the main wedding and reception as well.
Also, they offer masterful interior decor to decorate the venue in any elegant shade one wants and bring the idea of the perfect venue to life. Their chefs are talented professionals who prepare delicious dishes from a variety of cuisines including a variety of vegetarian and non-vegetarian options that decorate the menu.
Aahana Resort
Surrounded by nature against the backdrop of a forest, Aahana offers one of the best wedding venues in Jim Corbett National Park. These rooms are inspired by culture, nature, and location, and showcase the space and unique spirit of our resort, while local traditions suit pre-wedding rituals, wedding themes, and menus.
Unique spaces around the area can be allocated for specific ceremonies. Local traditions can mix with urban customs. International gourmet dishes can be interspersed with old-fashioned Indian classics. A wild and romantic atmosphere can provide an unforgettable experience. Let the pure airflow into the heart, let the serenity enter one's soul, and let this day be one's fairy tale!
Lebua Corbett
Find the perfect alliance between modernity and tradition at Lebua Corbett. Set in a beautiful harmony of comfort and luxury, Lebua Corbett at Corbett offers unparalleled hospitality with a carefully selected venue for one's special occasion. In addition, they pride themselves on providing such a beautiful place to watch and care for their guests so sincerely that every event that is held has the experience to be enjoyed. Lebua Corbett is one of the top wedding venues in Jim Corbett, which has a room and a lawn that can accommodate 300 people. They are free to work with the caterer at the customer's choice and allow an exterior decorator to spruce up the place for one. Around 42 rooms are available for the bride and groom and guests.
Riverview Retreat Resort
The Riverview Retreat is a magnificent resort with a serene atmosphere and a delightful spirit zone of beauty in and around it. Therefore, this resort has been the destination of choice for many weddings ever since! They have a friendly and enthusiastic team that will help one organize and make the event one is planning there a success! The Riverview Retreat has banquet facilities that can accommodate 250 and 3 lawns that can accommodate approximately 500 people. They serve mouthwatering vegetarian and non-vegetarian dishes for their guests. The River view serves alcohol on site for the enjoyment of their guests. They have 90 rooms to accommodate their guests.
Further, The lawn can accommodate up to 300 visitors in seats and 450 in floating and is ideal for small to medium-sized weddings
Wood Castle Resort
Who does not want a venue at which they can enjoy the beautiful scenery of mountains, forests, and rivers around and could make the memory of their wedding more beautiful? And if you want the same feel at your wedding then you should go to the Wood castle resort. Moreover, Located in the vicinity of the famous Jim Corbett National Park, Dhikuli, Ramnagar, this place offers everything you desire. This resort offers two banquet areas including outdoor and indoor. These banquet areas hold a capacity of 250 per 100 people. If you are planning to have a simple destination wedding with not so many people around then you can think about this place. Not to mention that this resort also offers the option for a jungle safari.
Read More – Destination Wedding in Jim Corbett
We at Blissful Plans are luxury wedding planners, connect with our team and share your wedding requirements to get the estimated Destination wedding cost in Corbett. Hence, If you like this post then please like and do not forget to share which one is your favorite resort.