Celebrity Makeup Tips for Brides. Check Out For More Info!
Celebrity Makeup Tips for Brides : The most photographed day of any girls' life is probably her wedding day. Everyone is watching her and why shouldn't it be so? After all, it's her big day and every girl once in her lifetime has dreamt of this day. Every girl desires to look her best on her wedding day. To make a girl look beautiful, makeup plays a significant role. If the makeup is not good then it might ruin their wedding photographs. So, to help you with your makeup for your big day here are a few celebrity makeup tips for brides .
Hydration is the key – Celebrity Makeup Tips for Brides
To have flawless makeup it is very important to have flawless skin. To achieve that flawless skin glow, it is very important to hydrate and moisture your skin. Sonic Sarwate (Instagram- @sonicmakeup) in an interview with a magazine has said that to make the makeup long-lasting it is very important to hydrate your skin. If you have oily skin and you don't hydrate your skin it will look patchy and if you have dry skin, your makeup will tend to look rather dry. To avoid these conditions, it is extremely important to hydrate and moisturise your skin. This ensures that the makeup can last long enough and you enjoy your day without worrying much about your makeup.
Having the perfect foundation shade
Indian brides usually have a baffling obsession with lighter skin tone foundation which does not often suit the Indian skin tone. Mickey Contractor (Instagram- @mickeycontractor), a well-known makeup artist and costume designer who has recently worked in the movie Angrezi Medium, has said that for bridal makeup it is important to go with a shade that matches the colour of your face. It will look more natural and authentic. Avoid using lighter shades as it does not add to your natural beauty, instead makes it look rather unnatural.
Other than the wedding, there are other functions too. One of those functions includes the Mehandi Function in which the mehndi is applied on the girl's hand. For the famed Mehandi look, makeup artist Shaan Muttathil (Instagram- @shaanmu) has shared some valuable tips. He suggests that Mehandi is a daytime function and if you wear heavy makeup for this function, it might not look great and melt due to the heat and sunlight present in an outdoor setting. He also suggests to include a foundation in your makeup on this special day as it would ensure that you give a more natural look.
Waterproof product is important
For a flawless wedding look, Elena Sabean (Instagram- @elenamiglino) suggests that the bride should wear a waterproof product so that the makeup can last longer and the bride have not to worry about her makeup melting or smudging. In traditional Indian ceremonies, the Agni (fire) is an important aspect and being in this heat can cause one's makeup to melt away significantly. That's why a bride should go for waterproof makeup on her wedding day.
Eyes are as important as the face
During the wedding, we often tend to have the whole focus on the face and forget the most beautiful part of our face- the eyes. Namrata Soni (Instagram- @namrtasoni) suggests that before doing our eye makeup it is essential to use an eye primer and setting powder to set the concealer alongside the eye. By doing this you will get a crease-free eye makeup look that lasts long. if you do not set the concealer before applying the eye shadow, then your eye makeup might end up with a creased look and end up ruining your photographs.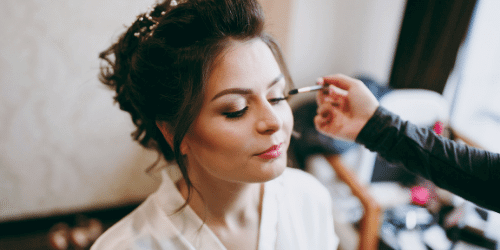 Sonic Sarwate suggests that for the wedding makeup look you should go for the classic look over the trendy look. He further explains the reason for his suggestion by claiming that a trendy look is in vogue for only a limited period, but the classic looks will always stay. His classic wedding look includes winged liner and classic red lips. You can opt for trendy looks for the other functions like Mehandi and Haldi, but for the wedding look, you should choose from traditional, classic looks. He further suggests not to overpower the makeup. If your dress and jewellery are heavy then you should go for a minimal makeup look to match your dress and make you look even more gorgeous.
Be you. Be beautiful.
The most important tip is to feel beautiful from the inside. Do not overwhelm yourself too much. Be happy because it is your special day, enjoy it to the fullest. Once you are happy from the inside, you will radiate true beauty on the outside as well. So try to be you, feel special.
These were some useful tips from the best and most famed celeb makeup artists.
If you are aware of other useful makeup tips, please do not hesitate to share them with us in the comment section.