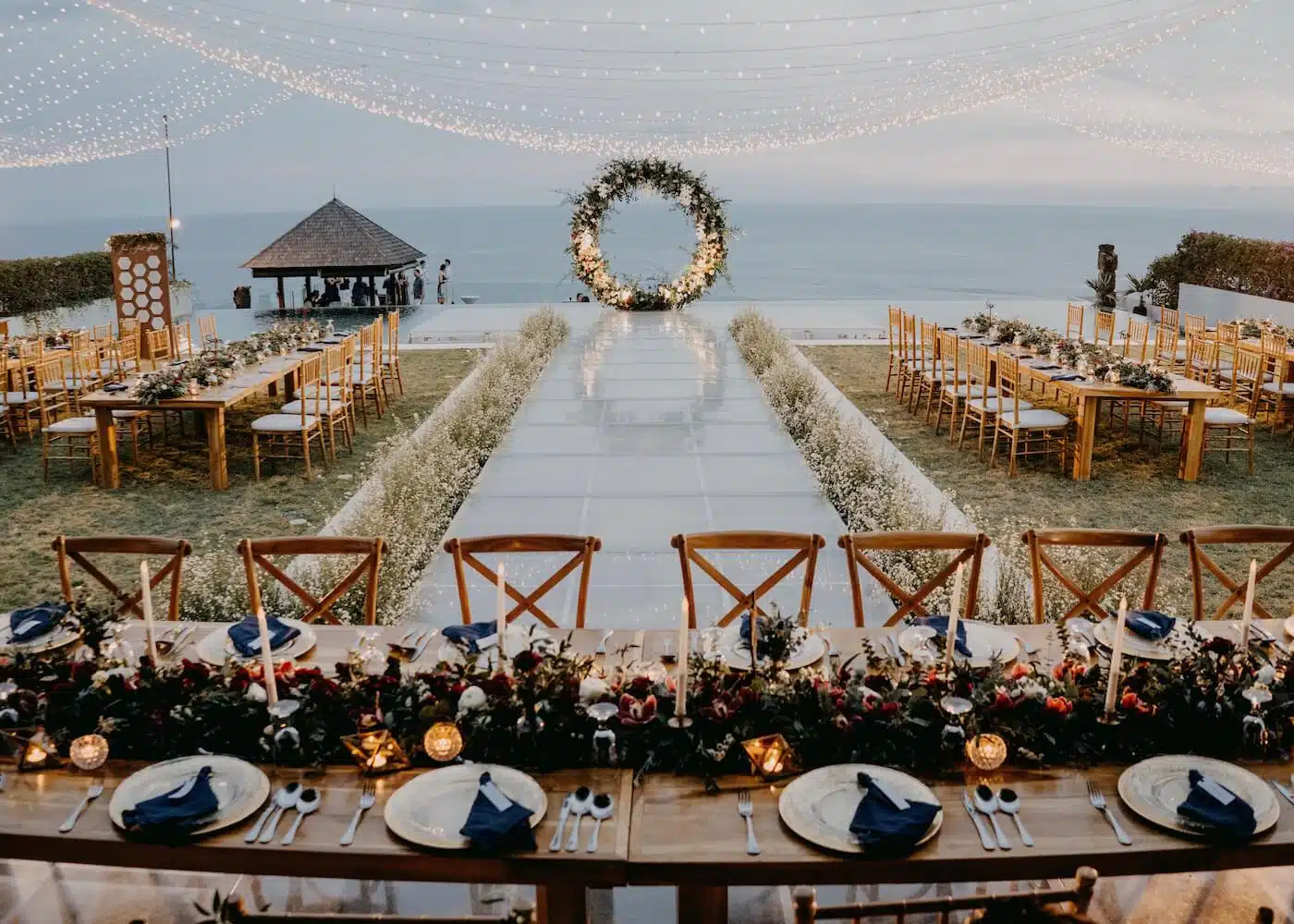 The Ultimate Top 20 Wedding Venues in Bali
If you've always imagined a wedding in the tropics, with a cliff-top view and amazing culinary experiences. The so-called Island of Gods in Indonesia is overwhelmingly beautiful. Also, it contributes certain magic to things with colorful offerings and adorned temples. Let's explore the Best Luxury Wedding Venues and Resorts in Bali! Do you want to say I do it on one of the top white sandy beach wedding venues in Bali at sunset on a private island? What about in the luxuriant jungle? A dramatic cliff with waves booming in the distance?
Chances are if your loved ones haven't yet traveled to Bali, they've wanted to. It's a surfer's heaven, a yogi's dream, and a foodie's paradise with activities like kayaking. You can enjoy river rafting, hiking volcanos, and trekking to waterfalls. Everyone's days will be filled with fun. And, after the ceremony, when you need to relax, there's no better place on earth for a spa day.
I scream you scream, we all scream"BALI!" Say what! Destination wedding in Bali? Here are some of the top wedding venues in Bali to make your wedding the best one.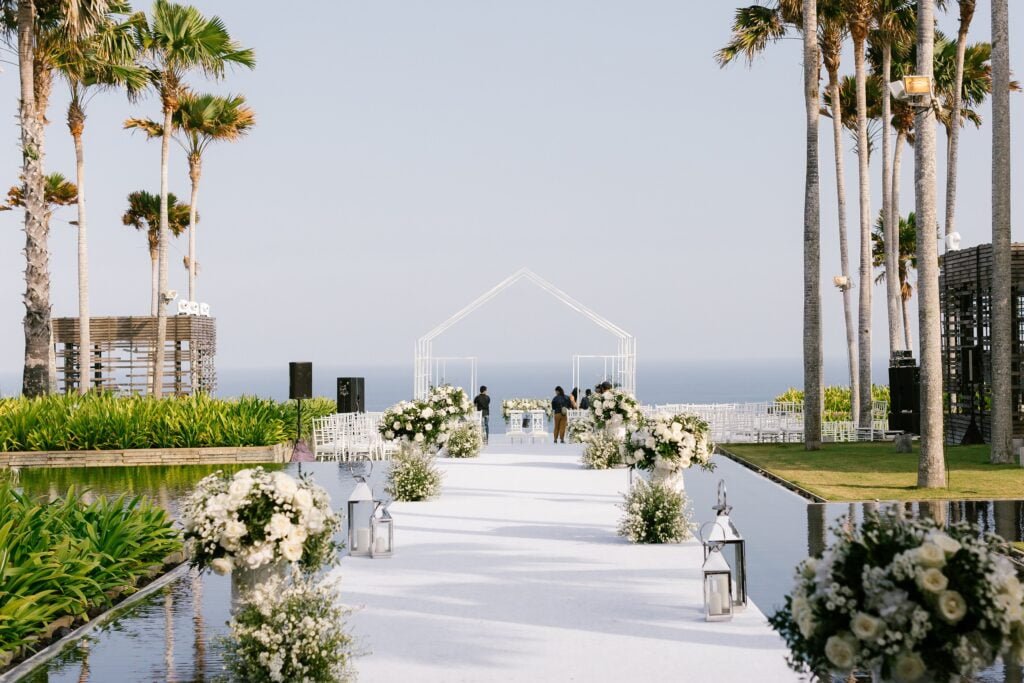 Best Wedding venues in Bali
Bali has everything for everyone. It's very possible to spend as little as $50-$75 a night for a beautiful hotel or villa room and resort properties almost always have pools and include breakfast. In addition, food and transportation are so cheap in Bali that you spend upfront on plane tickets. Did I mention the best massages you'll ever have will cost you just about $15/hour?
We've partnered with the following incredible and top luxury wedding venues in Bali including beachfront villas:
1)The Surga Villa Estate
The Surga is a villa magnificent & luxury wedding venue in Bali on the clifftops of Bali's Bukit Peninsula. There are endless ways to enjoy the high vibes and rich cultural history of Bali, but when it comes to getting married, it's all about location.
From stunning 360-degree sunset views to the edge of our fully surrounded limestone cliff-top gardens. Also, the evening vows at the oceanfront or an aisle where the bride will get to walk on the water of our sparkling blue infinity pool will set the scene for up to 120 people.
2)InterContinental Bali Resort
Situated in lush tropical foliage, with a dreamy stretch of white sand beach separating it from the calm waters of Jimbaran Bay. The expansive resort landscape studded with native flora, exotic palms, and hidden gardens lends itself to creating fairy tale wedding experiences.
The manicured gardens, fragrant blooms, and strong water elements have been elegantly weaved into this beautiful and it bags the best wedding resorts in Bali. Also, it is one of the top beach wedding venues in Bali & in addition, it can accommodate up to 600 guests on the beach, which is a huge number for a lavish wedding in Bali.
3)RIMBA Jimbaran Bali by AYANA
Offering customized weddings and receptions at its collection of stunning venues. It is backed by world-class catering and personalized wedding services, RIMBA Jimbaran BALI by AYANA is one of Bali's leading luxury wedding destinations. Indulge in the ultimate pre-wedding beauty regime at Thermes Marins spa or one of the rooftop spa treatment rooms at RIMBA. Afterward, head to your celebration or reception at one of the select venues.
The Ballroom and Jati Room at RIMBA are ideal for a lavish banquet, while for a more intimate affair choose Orchid, a modern glass greenhouse with a touch of old-world elegance.
In addition, if you love nature, then RIMBA Lawn's tropical gardens and spacious courtyards are mesmerizing day and night. It is the best wedding venue in Jimbaran, Bali.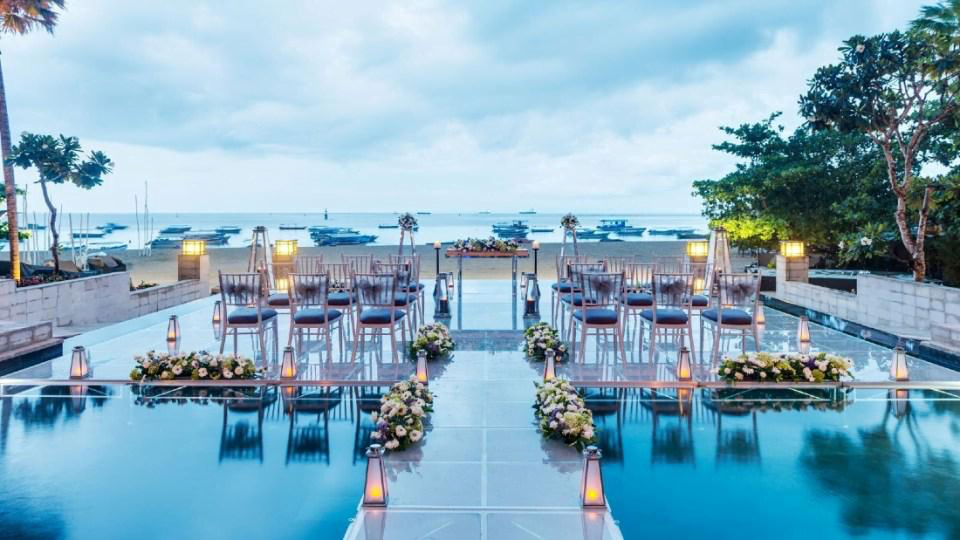 4)The Villas at AYANA Resort, BALI
From intimate family celebrations to grand ballroom galas, sets a captivating stage for Bali destination weddings. Exchange vows in the vibrant Champa Garden amongst a grand canopy of 2,000 white frangipani trees or finds a secluded ocean-view gazebo for a private ceremony for two.
Complete with a cliff-edge wedding gazebo, this is Bali's most sought-after and luxury wedding venue in Bali. Combining all the magic of a tropical marriage celebration with the style and comfort of our secluded villa property, SKY is meant to accommodate intimate occasions. Guests enjoy 180-degree ocean views and a magical sunset in complete privacy, as well as large events of up to 500 guests seated or 1000 cocktail-style which is perfect for destination weddings in Bali. This Best Wedding resort in bali is the most sought after by couples.
5) Kayumanis Jimbaran Private Estate & Spa
Are you looking for the perfect place to host your wedding ceremony or reception in Bali? Then you are at the right place. It has 3 locations coconut garden, a private estate, tapis restaurant which can accommodate up to 150 guests.
6) Mövenpick Resort & Spa Jimbaran Bali
What better setting to mention "I love you than the paradise island of Bali, romance blossom, and plan an unforgettable wedding at the five stars Movenpick Resort and Spa Jimbaran Hotel. The Akasa Ballroom provides a powerful space for a bigger wedding and may accommodate up to 210 guests for a seated meal. It also has a dance floor area and can be divided into three smaller rooms. We have all covered, Couples with their near and dear ones can enjoy the wedding in Bali without any hassle.
7)Wonderland Uluwatu
The Wonderland Uluwatu Estate sits on the southern coastal tip of the Bukit Peninsula's south-facing cliff frontage and overlooks the pristine, untouched beaches of Nunggalan and Nyang-Nyang.
In the three uniquely designed spaces, each area offers a different atmosphere and feel, while jungle garden paths that connect them invite guests to discover these spaces as if stepping into new worlds. Wonderland Uluwatu offers a capacity to accommodate up to 300 guests seated to as many as 1,200 guests standing.
Undoubtedly, this tops the list of top wedding venues in Bali for a large gathering.
8)Villa Tamarama at The Ungasan Clifftop Resort
Observe privacy, luxury, and 5-star service, ensuring your wedding is a memorable experience from beginning to end.
Each of the seven architectural villas provides sweeping views of the Indian Ocean. The white sand and aqua blue waters of Finn's Beach Club and therefore the cliff-edge views of Selatan Lawn. Experience luxury and comfort at this Luxury wedding venue in Bali.
Uluwatu is located on the island southern and is the most popular wedding destination in Bali. Remote locations, impressive cliffs, and blue waters make it the perfect backdrop for memorable wedding photos. Maximum capacity- up to 200 guests.
9)Beachfront at W Bali – Seminyak
For vows that really wow, direct your wedding day to the spotless beachfront of W Bali – Seminyak from dreamy proposals to honeymoon and of course, the most magical wedding in Bali. It is one of the best pristine beach wedding venues in Bali & as part of a beachfront wedding here, one-of-a-kind 'Wed Your Way' wedding experience to a spectacular firework. From beautiful backdrops to stylish intimate spaces, with 250 guests it's gonna be a magical wedding.
10)The Penthouse at Alila Seminyak
Planning weddings in Bali in One of the luxury beach wedding venues in Bali? Whether you are looking for an ultra-glamorous celebration of a dream wedding or a relaxed, casual beach setting in which to exchange your vows, Alila Bathed in natural light, our banquet dining and function rooms can accommodate up to 200 guests for seated banquets as well as beachfront catering for up to 350 guests.
11)Imperial Villa at Four Seasons Resort Bali at Jimbaran Bay
Fascinate in authentic Balinese culture at Four Seasons Jimbaran Bay: an all-villa beach retreat alive with tradition and innovation. Soak up in a Balinese home and be richly decorated with artwork, textiles, and hand-crafted furniture. Dive into the Bay with exclusive water activities, ride the waves with TropicSurf, and hook up with the colorful pulse of Bali's historic fishing community.
Discover the island's cultural heritage and take a tour of the resort's historic temple with High Priest Ajik Ngurah. Inspired by traditional Balinese architecture, Each villa offers spacious indoor and outdoor living areas, lush gardens, and a private pool. Imperial Villa is also the ultimate location for a wedding, reception, and honeymoon in one idyllic venue.
The resort's latest is Water Weddings: Couples can opt for elevated 180-degree sunset views as they exchange vows or a beach wedding venue at Sundara.
This is indeed one of the best wedding resorts in Bali.
12)Affinity Wedding at Banyan Tree Ungasan
Banyan Tree Ungasan, Bali's dedicated team of attentive staff will ensure your wedding is a very unforgettable experience.
Maximum capacity: 40 pax
This is one of the finest choices and best wedding venues in Bali for a small gathering.
13)Mano Beach House
Mano Beach House in Seminyak on Petitenget Beach is a beautiful option for a destination wedding.⁠ Featuring bohemian and tribal styling, it's one of the gorgeous beach wedding venues for up to 250 guests.
14)The Ungasan Clifftop Resort
This is one of the most beautiful & luxury wedding resorts in Bali, perched high on limestone cliffs, neighboring Uluwatu, and overlooking the endless blue of the Indian Ocean. The Ungasan also offers an exclusive menu, using seasonal produce from local farmers and growers.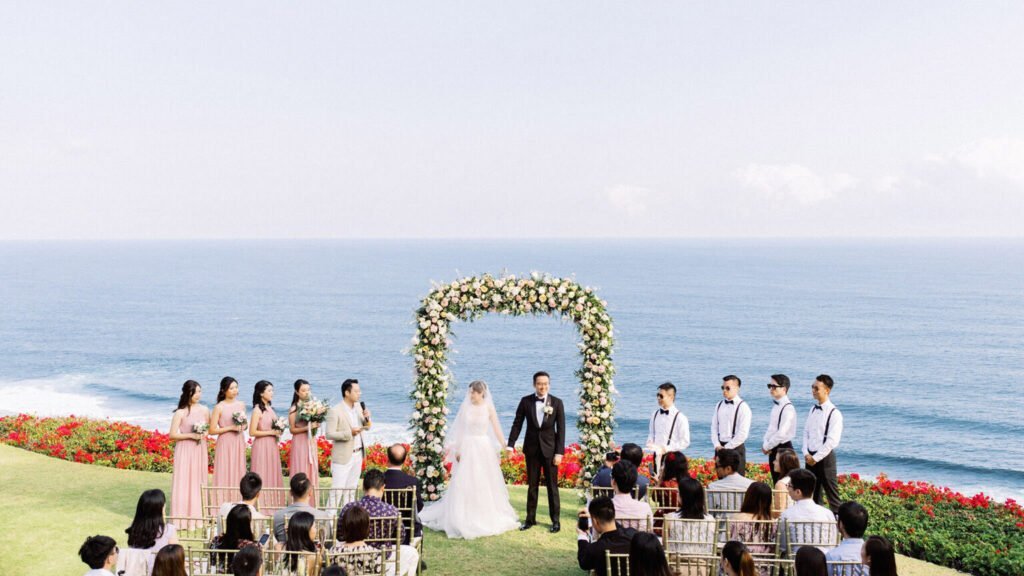 15)Bulgari Resort Bali
Setting itself apart from the crowd as the gold standard of luxury, this is one of the most sought-after wedding resorts in Bali, it seamlessly blends the exotic jungle with contemporary design. Tie the knot on a real-life floating carpet. With villas, mansions, and restaurants galore, all you need to decide is whether you're headed to the private beach or the infinity pool.
16)Alila Villas Uluwatu
Alila Villas Uluwatu brings articulateness and flair to exotic weddings, set in a tropical landscape amid sprawling lawns and therefore the romance of the ocean – a mesmerizing backdrop for couples looking for a very fresh and galvanizing island setting to mark their marriage, to renew their commitment or vows. If you are looking for luxury wedding venues in Bali, this is it.
17)Puri Bhagwan
Puri Bhagwan is set on private clifftop land and it's your private paradise. It is nestled among the forest as you drive down the busy streets of Jimbaran and Puri Bhagwan is right between Four seasons and Ayana, which can be used for guest accommodation too. It paints an ocean backdrop for your magical wedding. Explore their exquisite fresh coconut and cocktails and dance the night away.
This wedding venue in Bali can accommodate up to 1500 guests. You can get exclusive private access – Get total privacy so you won't be disturbed by onlookers and a private Bridal villa -It is a luxury private villa for Bridal preparations.
18)Taman Bhagwan
Taman Bhagwan located in Nusa Dua is a beachfront private wedding venue in Bali. If you have ever dreamt of a hosting ceremony in one of the best beach wedding venues in Bali, then Taman Bhagwan is all yours. It is nestled among lush tropical gardens and set right on the white sands of a Nusa Dua beach. At Taman Bhagwan, you get total privacy, unlike resorts. There are nearby places for guest accommodation, which you don't have to worry about.
Exchange vows under a hand-carved teak joglo or the beach as the backdrop. Host your wedding reception at the pool, manicured lawn, or right next to the beach. Taman Bhagwan can accommodate up to 1500 guests.
19)Bali Beach Glamping
Bali Beach Glamping is a specialized venue for weddings and other events. Moreover, it's one of the Beach front wedding resorts in Bali. It is located at Tabanan and just 25 minutes north of Canggu. The wedding venue can accommodate up to 300 guests on the wedding lawn. Enjoy the romantic sunset from the infinity pool which overlooks the Indian ocean.
Explore their beach club, restaurant, and spa. They have air-conditioned 40 luxury tents that can accommodate up to 90 guests. According to your needs, you can book the entire resort or just the wedding venue.
20)Colony Villa
Colony villa is the hottest destination right now in Bali, it is the most sought-after wedding venue in Canggu by couples. It hosts 14 weddings per year to maintain the immaculate condition of the grounds and the lawns.
It has a Lawn area for weddings along with food and beverages with a picturesque waterfall as a backdrop. They offer guest accommodation in 30 rooms, for more accommodation there are many nearby places. The wedding venue can accommodate up to 80 guests. It is one of the growing popular wedding venues in Bali.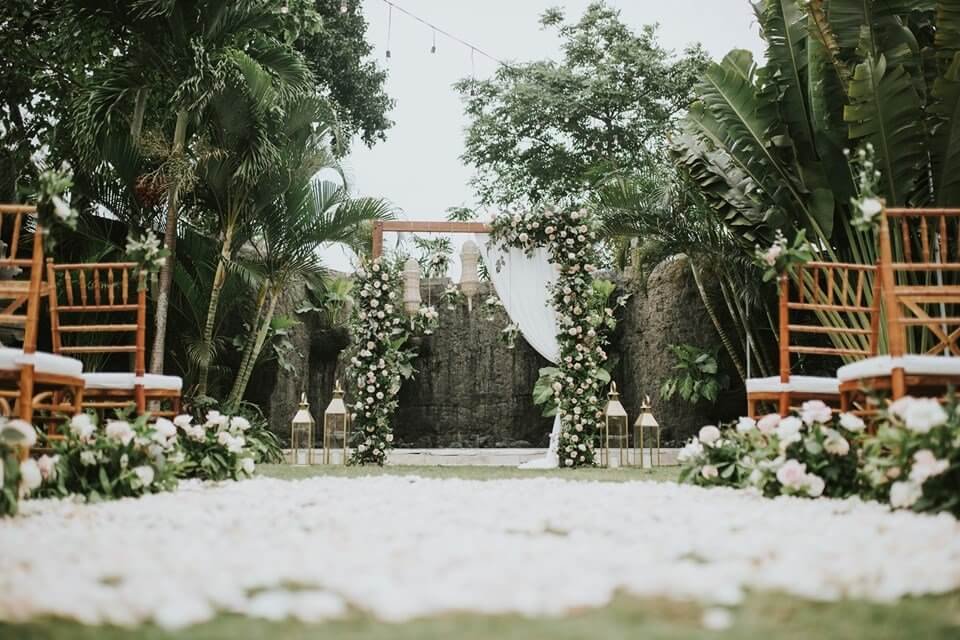 Bali is set amongst rice terraces and volcanic sand beaches. There's an incredible structure that floats just above the cliffs and there are plenty of outdoor options for couples too.
Blissful Plans, the best wedding planner in Bali, can help you book your most desirable wedding venues in Bali at a discounted price. Get to know the Cost & Budget for a Wedding in Bali.
Click here if you want to know more about the International Destination wedding all over the world. Feel free to Contact us!