The 10 Most Creative Ways To Thank Guests At Your Wedding: Wedding Favours
The joys of a wedding are unforgettable for all of us. One day that is all yours. Yet it will feel incomplete without your friends and family adding craziness and laughter on your special day. One of the sweetest ways to tell how much you appreciate your loved ones joining your celebration is by treating them with the most creative and modern style of gift-giving by these amazing wedding Favours. We bring to you, the trending ideas in the world of gifting.
#1: Personalized Shot Jars
Take a shot for the couple climbing the next step of their lives! Fill these cute jars with Pink Gin and hand them out to your lovely guests. You can attach a tiny thank you card by tying a pretty ribbon around the jar. Empty mini shot jars are easily available on amazon and make for gorgeous wedding favors. But if you are tight with your schedule and don't have time to fill and decorate each of the jars, don't worry! You can get these cute little jars all decorated and ready to go online (www.etsy.com). These jars start ranging from $4 which is also a pretty affordable price.
#2: Scented Candles
Gift some creative candles as Wedding Favours to the guests and intoxicate their surroundings. Not just any candles, go creative with the various floral and themed scents. Instagram has some amazing and unique online candle sellers. @blissmehomeofficial (picture to the left) has some of the most elegant candle collection on Instagram. Check them out and pick your favorite! To add a little twist, we also have @fromthepage (picture to the right). They sell some fantastic book scents. Go and search for your favorite books or series. They offer various book-related scents to add some thought and creativity to mere candles.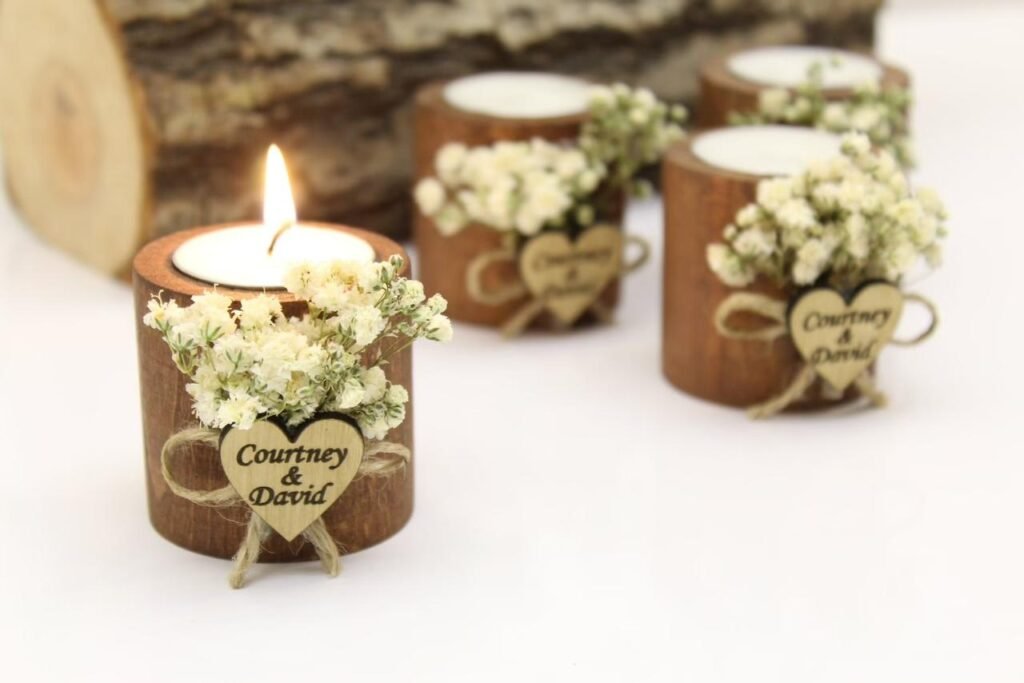 Good music is a great way to deal with on bad days, rainy winters, and on various other occasions. Music keeps all of us going. Make a CD full of the bride and groom's most beloved songs and create a soothing playlist for your guests to always remember you by. You can your disk or simply let young, creative minds on www.fiverr.com or freelancers do it for you.
#4: Personalized Shot Glasses
Simple yet quirky, these personalized glasses make one of the top choices for wedding favors. These are easily available on amazon. You can also look for some more creative choices on etsy.com. Check out @tscalligraphy on Instagram for her amazing and perfect to the core work. @bombaylettering on Instagram is also another talented artist.
#5: Handmade Chocolates
Everybody loves chocolate. Especially, the handmade chocolates have a unique taste. Give away a small box of handmade chocolates to all your well-wishers. These chocolates are made by various bakers and can easily be found in every city. Lookup for them on justdial.com or simply search for them online. You can also get amazing mini chocolate boxes as Wedding Favours on www.notonthehighstreet.com.
#6: Mints
Give your guests some refreshing Wedding Favours . Give away mints in tiny wrappings. Be creative with your message on the wrap. This is one of the creative gifts you can give under $5. What more can you ask for? Something as readily available and fancier than a simple thank you card. There are also pretty boxing options for mints.
#7: Name Badges
hese little cuties will win all the hearts. The pastel color gives a soothing visual to the badges. All these can also be personalized if you have enough time for their making. These badges cost less than $2. They are also easily available at www.notonthehighstreet.com.
#8: Puzzle Pieces
A small puzzle piece for everyone present at the wedding can be a thoughtful and creative souvenir. A simple quote on a wooden piece of the puzzle is an elegant way to end your beautiful day. Also, it is not merely a piece of wood but a very well thought gift. It signifies how every guest is an important part of your life and how they complete you. Get your hands on them from www.etsy.com. You can choose from various shapes and designs by the seller on Etsy.
#9: Bracelets
For all the gorgeous female guests at your wedding, thank them with these beautiful minimalist bracelets from www.etsy.com (pretty creative website, isn't it?). get these for less than $2. You can also add personalized name cards with these bracelets as shown in the image. You can look for various designs by the same or any other sellers on the website. Make sure to check out the watercolor cards option along with these bracelets.
#10: Plant Seeds
I guess now we can officially declare www.etsy.com as the most creative website. Greenery is something that everyone would want to live around. So, here is the last wedding favor idea for the day. Give away seeds that are ready to be planted at home. These seed cards are available for less than$2 again. Isn't it a great and affordable idea to thank your guests and nature? Choose a pretty plant and Go Green!
Do You Have Any Useful Wedding Favor Ideas? Let Us Know In The Comments Below!