Taj Jai Mahal Palace
---
A stunning piece of Rajasthan's tradition. The Jai Mahal Palace is a grand example of Indo-Saracen structural design set amidst 18 acres of landscaped Mughal gardens. Taj Jai Mahal Palace is bordered by Nahargarh hills and is identified for its primitive structural design. This palace was also famous for Royal duck shooting parties. A wedding in Jai Mahal Palace Jaipur will surely bring forth majestic and elegant vibe in your wedding with a touch of modernity.
What attracts  Jaipur as a destination wedding site is truly its cultural heritages, architectural wonders, and sculpture views of deserts. It truly is an amazing place to tie the knot in a traditionally grand way. Jai Mahal Palace is one of the most famous and luxurious event spaces in the heart of Jaipur. Hence, couples planning for a destination wedding in Jaipur must surely come across this extravaganza
Big Fat Wedding in Jai Mahal Palace Jaipur
---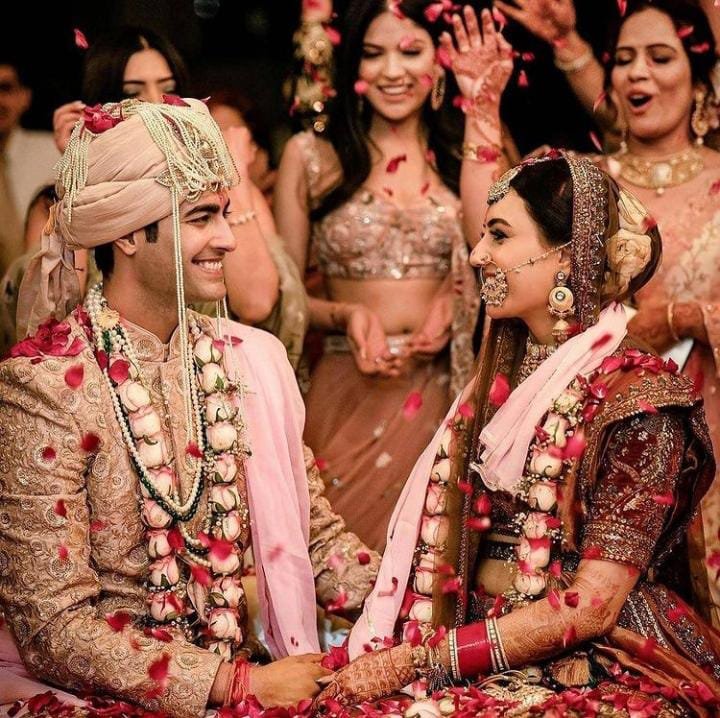 If you are looking for some sophisticated destination weddings in the location Jaipur, then Jai Mahal Palace would be the best option for the bride and groom to choose for.  Jai Mahal Palace is set in with high spirits of crowned heads and lavishness. This extravagant wedding venue offers matchless hospitality with an attentively outstanding venue for your special occasion. They happily take delight in providing a venue so stunning to embellish you and your guests. Its enchanting vibe will surely bring about an out-of-the-box wedding experience.
Chivalric And Spacious Venues
---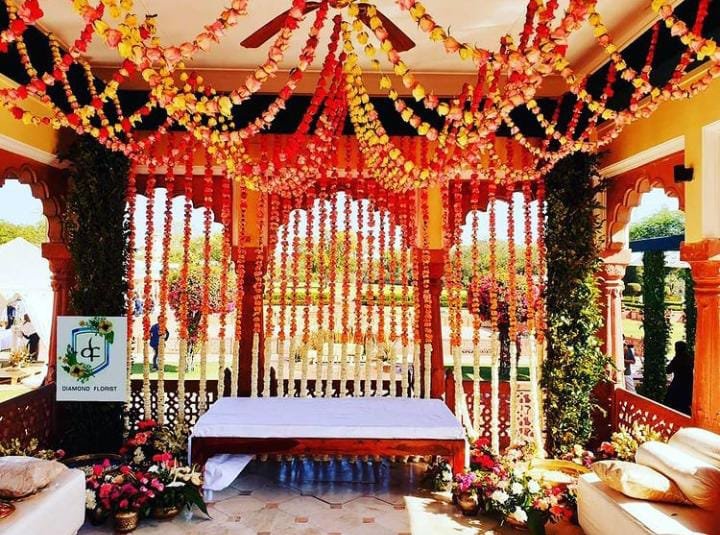 Jai Mahal Palace maintains to offer you paramount amenities. It offers you an expansive and astounding wedding venue to host your impeccable events with ease. With every facility in detail right at your service, this ancient earthly treasure of assets is debatably considered as one of the best in the industry to provide your modified venue requirements. It helps you to recreate every event and make them unique from the previous one. Hence you will get to enjoy distinct ceremonies in a sophisticated way.
They are waiting to present a hospitable and modified service backed by accomplished, expert and technological support, making your wedding venue a dream come true for the wedding merriment.
Event Spaces
---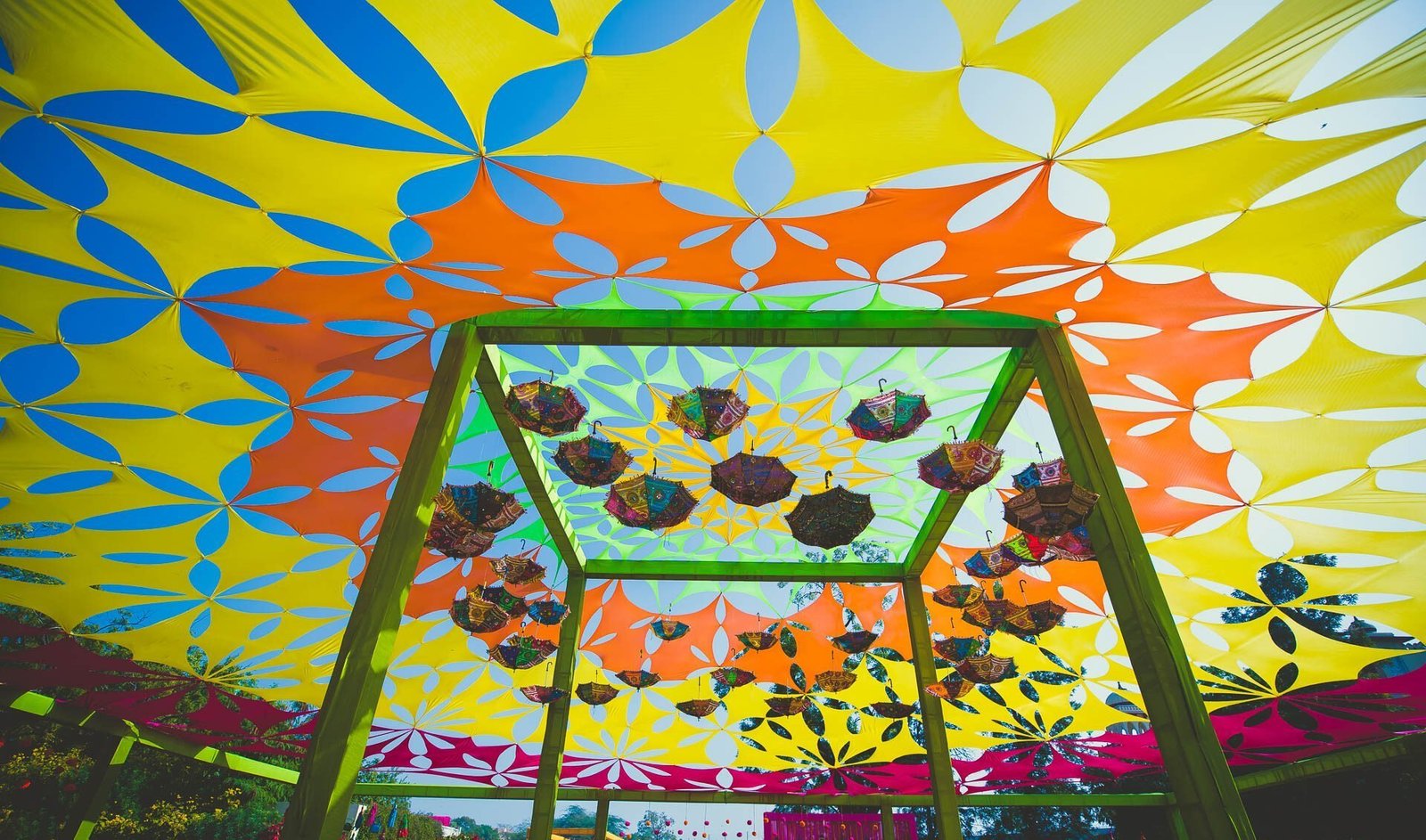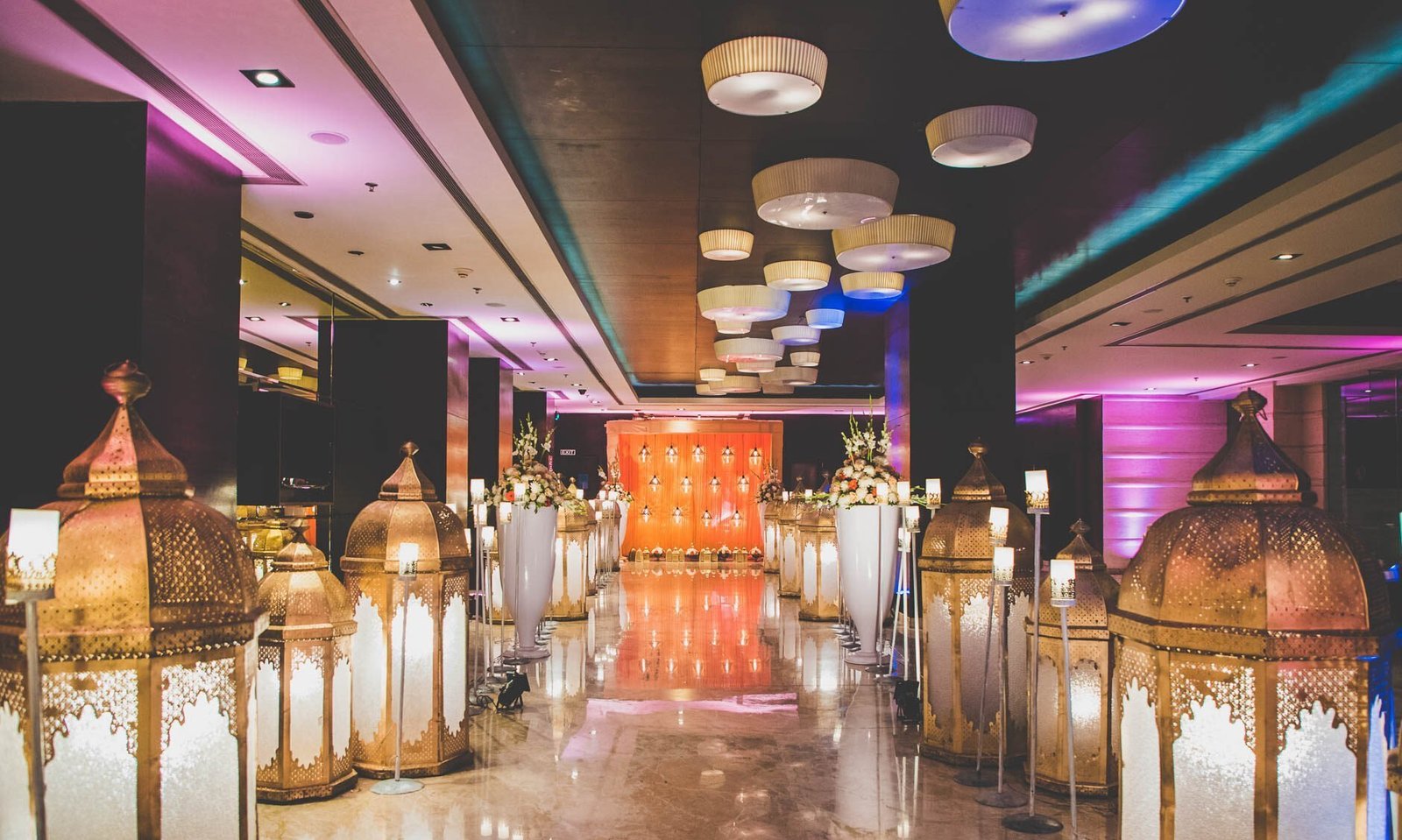 Ramit Batra Photography
With a seating facility for 100 guests and space for 150 hovering guests. The indoor Banquet Hall is truly an impeccable spot for your intimate pre-wedding events like engagement and other festivities. While Jai Mahal offers splendid outdoor lawns with lush landscapes to hold your stunning wedding.
Palace Lawn
The largest of the event spaces with lush landscapes and picturesque gardens surrounding it. A big fat wedding space to hold your grand wedding gala. With a maximum capacity of 3000, this expansive area brings forth your dream of a luxury wedding.
Fountain Lawn
A picturesque event space with a maximum capacity of 500 guests is ideal for holding night wedding events like Mehendi or wedding reception.
Poolside Lawn
Daytime functions can be splendid with this poolside lawn. Imagine the yellow draperies around this resplendent place for your haldi. It is really a treat for eyes view. The maximum capacity of this lush landscape is 500. Enjoy your wedding in Jai Mahal Palace Jaipur in these splendid lush lawns with your dear and near.
Darbar Hall
A grand and luxury indoor venue to host any kind of wedding or pre-wedding events in a spectacular way. This venue holds up to 150 guests in seating style. It is adorned with traditional decors and ideal for daytime celebrations.
Celebration Lawn
An intimate outdoor venue that perfectly holds your secluded wedding events with a maximum capacity of 100 in seating and 150 in hovering style.
Lotus Pond
A spectacular event space with an adorable pond by the lush landscape is truly something right out of the fairy tale. The capacity of this picturesque event space is around 100 in seating style. Your starlit receptions or wedding can be more splendid by the fountain that rises from this pond.
Silver Oak
Weddings need planning even at the last moment. Hence, this is the best place to decide and plan the wedding with close family members. Though it is for conferences you still can use it for party planning
Every wedding venue in Jai Mahal is unique and is best to hold your multiple wedding events with vibrancy and elegance.
Premium Services
---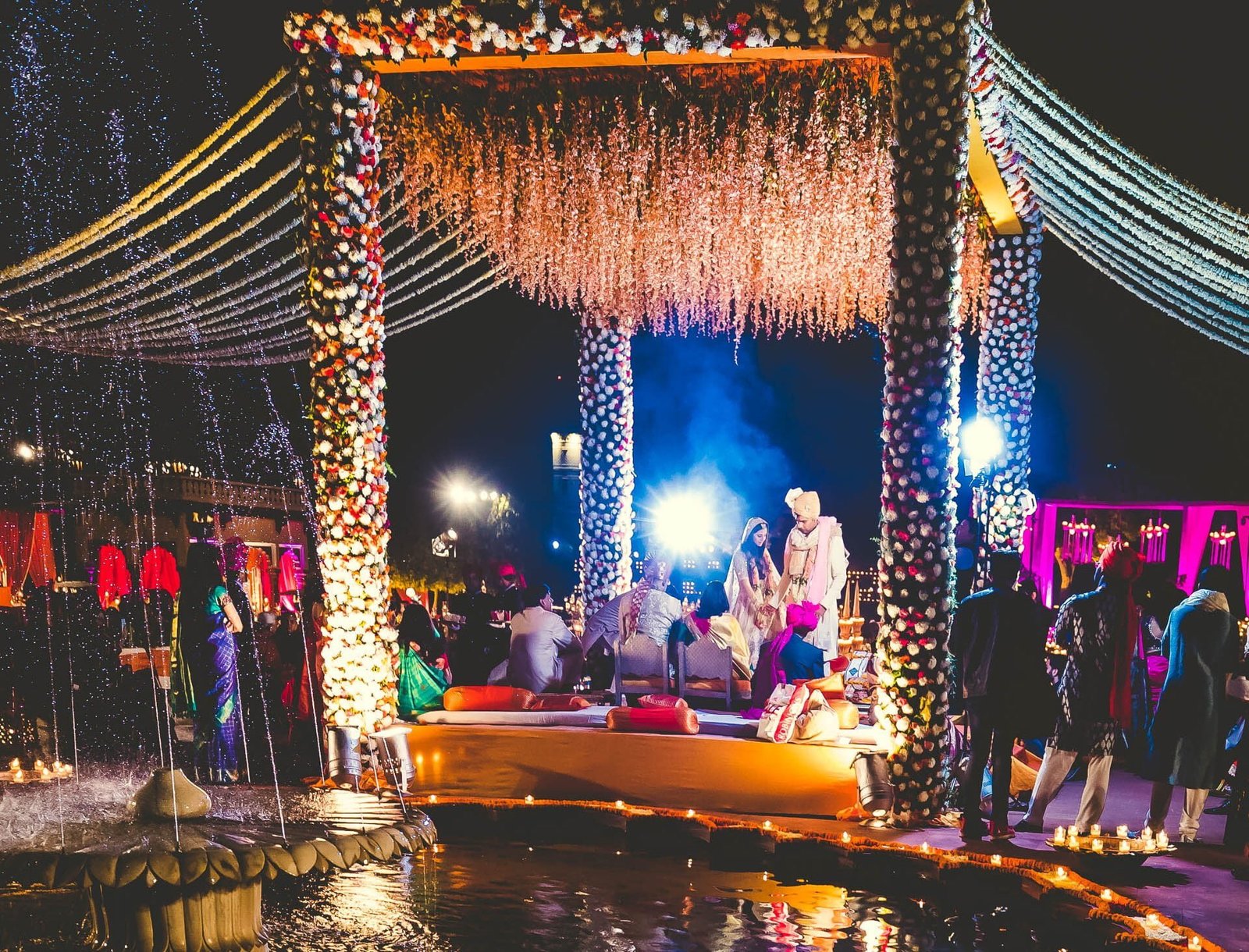 Wish listing the wedding venue, offers additional amenities such as Wedding Food & Beverages, Wedding Decorators, Lightings, DJ at the wedding party, Wedding Photographers and Videographers, etc. Taj Jai Mahal Palace brings forth a plethora of offers for wedding clients. They are keen on providing their clients with the best possible venues, Delectable delicacies, parking lot, guest accommodation, etc.
Event planners
---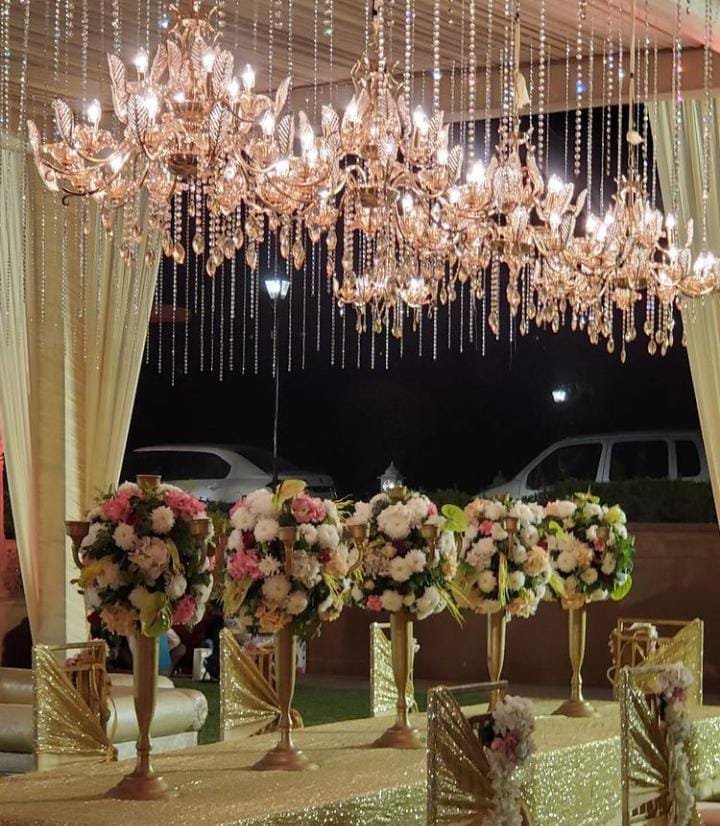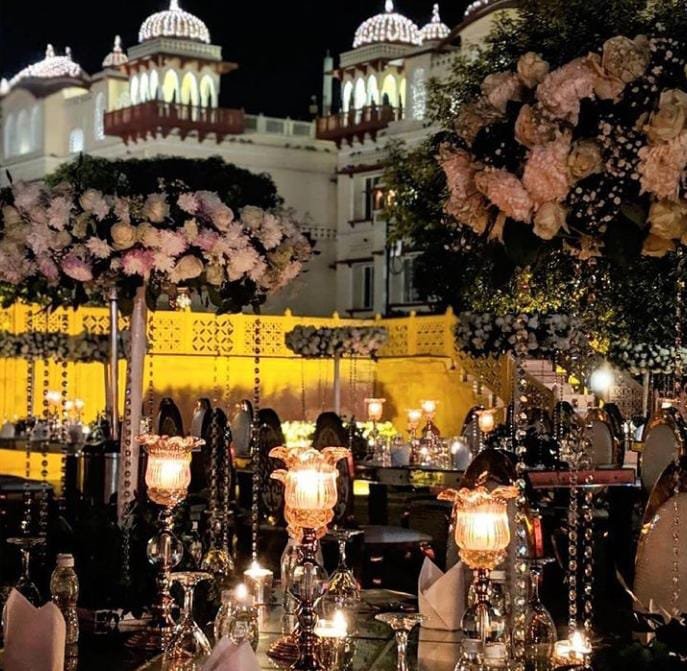 The chief thing to decide is who will look after the arrangements! Booking your wedding venues, for a destination wedding, is the biggest part of the concern. But with an experienced wedding planner, The workload has become much easier and flexible. So the first thing that should be on the top of your to-do list especially if you are preparing to tie the knot during the demanding wedding season is to get in touch with a wedding planner. Blissful Plans most warm-heartedly serve you with everything you need.
Menu
Every Indian really need a good appetite. Be it a wedding or any such event. Hence, Jai Mahal Palace makes sure that your lovable guests truly meet their tastes and preferences. Whatever you prefer is ready on Your table!
Jai Mahal hotel Jaipur offers you some appetizing vegetarian and non-vegetarian cuisine from across the country for the wedding guests to enjoy. Select among some really good and delicious dishes and savor every bite. The celebratory menu that Jai Mahal Palace offers is really an embellishment to be felt. Also, enjoy the refreshing welcoming drinks and relishing beverages served just for you.
Limitations
Always delve into the boundaries that the venue could perhaps have given the confined laws and policy. These include sound restraint policies, outdoor decoration limits, and alcohol-serving strategy, and parking limitations to name a small number.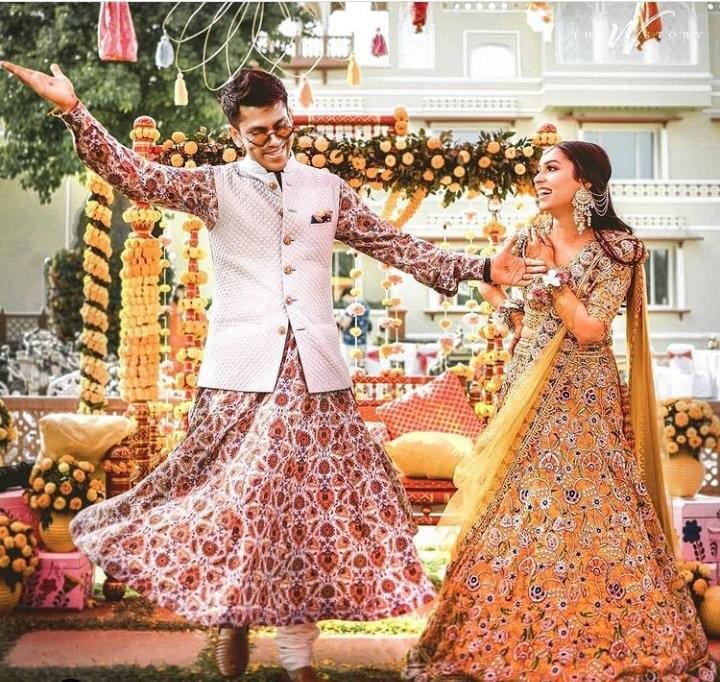 A wedding is truly heavenly and must take place in a venue with a resemblance to the very idea of heaven. With its stunning caldera, grand chandeliers, and warm-hearted hospitality Jai Mahal hotel Jaipur is an impeccable event venue for your grand wedding indeed. Therefore, make your Royal Wedding a reality in this architectural masterpiece amid the warm deserts, and aesthetic views of Jaipur. 
We, Blissful Plans are truly happy to bring about a wedding that you wished for. Our experienced team will create the best out of your interests. Hence, we take care of all your wishes and desires and adorn you with the most beautiful experience of your life. We at Blissful plans can help you choose the best wedding venues according to your dream for your wedding, favorite locations, and plan.
Please follow and like us: