Happiness is realizing that weddings are the most priceless possession one can behold. The happiness, the joy, the sense of being together, almost everything you dream of come together indeed. Hence, get ready to overlook the ideas of a big fat Indian wedding.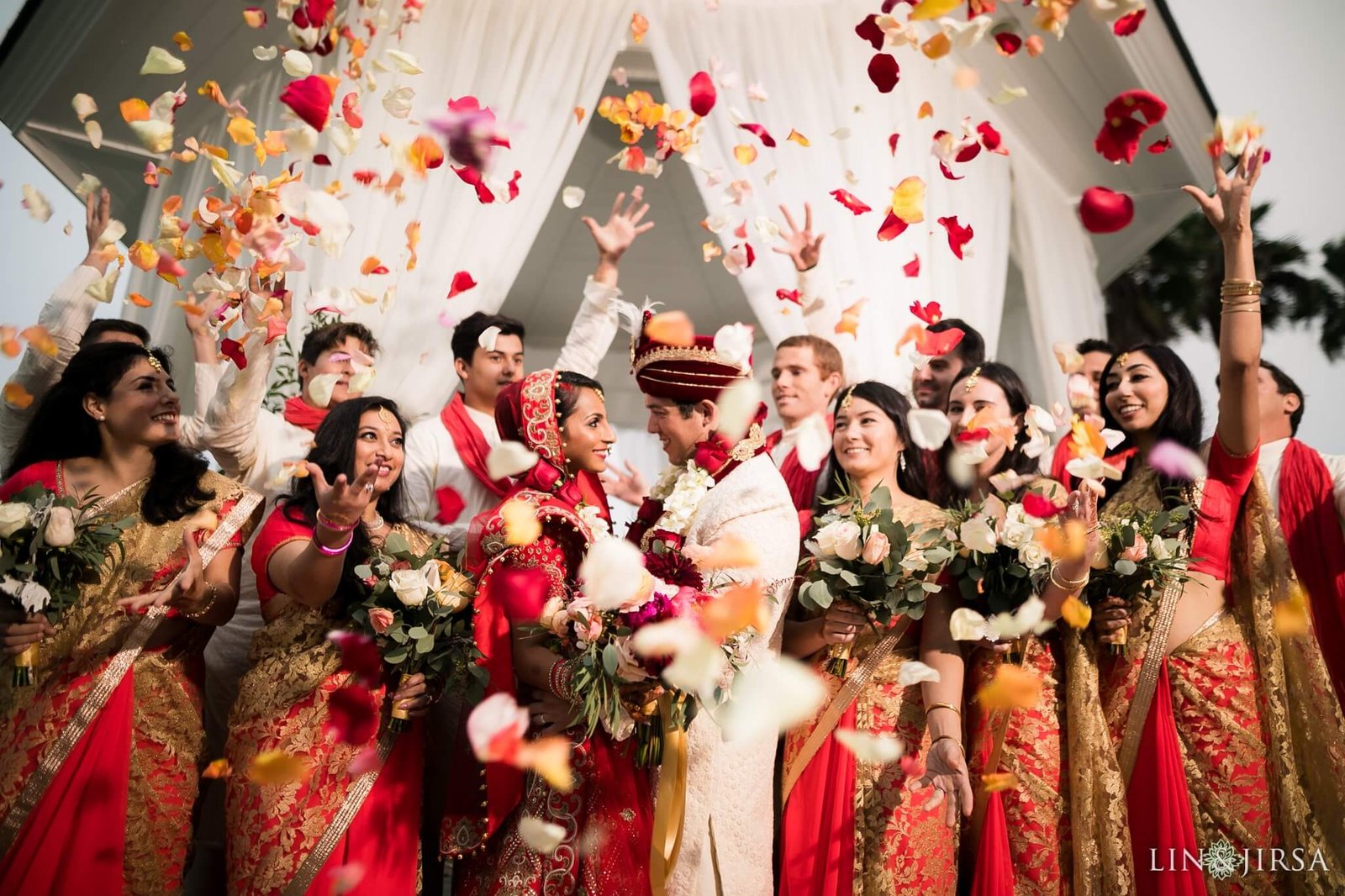 So, think about it the most memorable day of your life should be a normal one or should a big one?
Of course, we need a wedding as royal as that of a king's, as dreamy as that of a fairy-tale. Yes! We need a big fat wedding.
The Big Fat Indian Wedding
---
Indians are always into showing their pride and happiness when coming to the most beautiful event in one's life.
Even the exceedingly small things are done most beautifully. Money is never a limiting factor for these luxurious weddings.
Right from the very beginning of the decision of wedding, one begins to plan for their big day in a very perfect way.
From invitations to Bharat, everything is done luxuriously. Most Indian weddings are a blend of traditionality and modernity.
Planning A Perfect Big Fat Indian Wedding
---
Every big fat wedding is properly planned and executed accordingly. So your wedding needs to plan according to a suitable timeline.
It should include all your needs and ideas. It should include time, date and venue, information, and details about event planners, vendors, musicians, stylists. Be in contact with everyone.
Wedding Destination – Splendid Locations for Your Flawless Day
---
Soon after the decision of marriage Indians look for ravishingly gorgeous venues to conduct their big day.
The big fat Indian weddings we see usually happens at a dream destination in India or across the globe.
Anywhere in the world, people chose a destination that can match their theme wedding and select a convenient venue there.
India is a diverse country; it has the magic to offer anything that we seek. Whether A big fat wedding surrounding the scenic beauty of snow and mountains or a luxurious one around greenery or beside the sea. Almost every dream wedding destination is present.
Big fat Indian weddings are also trending across the globe. Be it the exquisite sand beaches in Thailand or the vibrant sceneries of Mauritius, or a luxurious wedding in Dubai.
The venues to hold these opulent weddings are also plenty in India and abroad.
Some of the best wedding destination to host your wedding in India ;
Udaipur
Jaipur
Andaman and Nicobar Islands
Kerala
Agra
Rishikesh
Mussoorie
Goa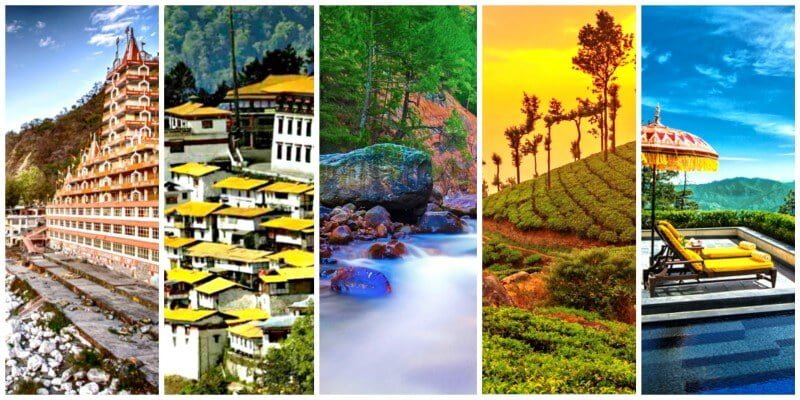 The best wedding destination for your big fat wedding outside India;
Dubai
Thailand
Mauritius
Bali
Sri Lanka
Malaysia
London
Italy
Indians show extravaganza even for choosing a destination for their wedding.
Choosing accurate wedding venues also very important to host your wedding perfectly. Some of the best-known wedding venues across India are JW Marriott hotel Jaipur, The Leela Palace Udaipur, ITC Grand Bharat Gurugram, Park Hyatt Goa, Suryagarh Palace, Jaisalmer, and much more.
The most expensive and luxurious wedding venues outside of India are Le Meridien Dubai hotel, Sofitel Mauritius L'Imperial Resort, and Spa Mauritius, The Palayana Hua Hin Thailand.
Wedding Themes
---
Themed weddings are all part of a big fat wedding,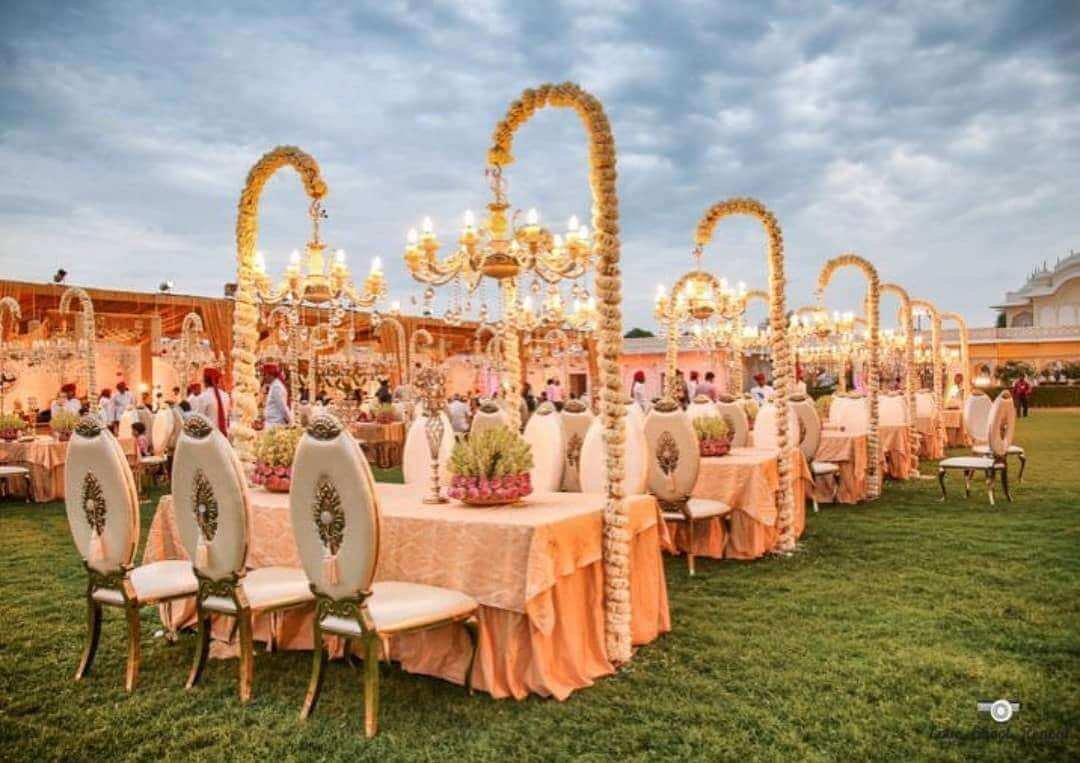 Are you a person who loves fairy-tale? Then be a cinderella at your own wedding, so the idea is a plan your wedding according to the most beautiful theme that touches your heart.
some ideas for a theme wedding are
Beachside wedding under the open sky and sandy shore.
Fairy-tale wedding, theme according to a character or a story.
Royal wedding, be the king and queen of your big day.
Eco-friendly weddings
Invitations
---
Hurry! let everyone know about your big day.
Weddings truly become a celebration with our loved ones. Therefore in big fat Indian weddings, the family takes proper care in warm-heartedly welcoming the guests.
They show a miniature version of the wedding through the invitation you send. How grand and majestic is the invitation, grander and more royal will be the wedding.
There are different ways to invite your guests. Invitation cards have a wide range of sophisticated varieties and types.
Some of the unique types of wedding invitations trending for big fat weddings are.
E- invitations
Acrylic wedding cards
Pop-up invitation cards
Eco-friendly wedding cards
Puzzle invitation cards
etc…
Most Indian fat weddings prefer a wedding card embedded in precious elements and décor and is send to guests along with small gifts to enlighten the guests.
However, Weddings are all about trends and e-invitation is the new trendsetter. So sending e-invites is also a form of showing the modernity in big weddings.
Relishing Cuisine and Drinks
---
Yummy foods are the best way to impress the guests, isn't it?
What adds more joy to wedding ceremonies is the delicious food served. Savoring every bite of cuisines we have is an experience out of the world.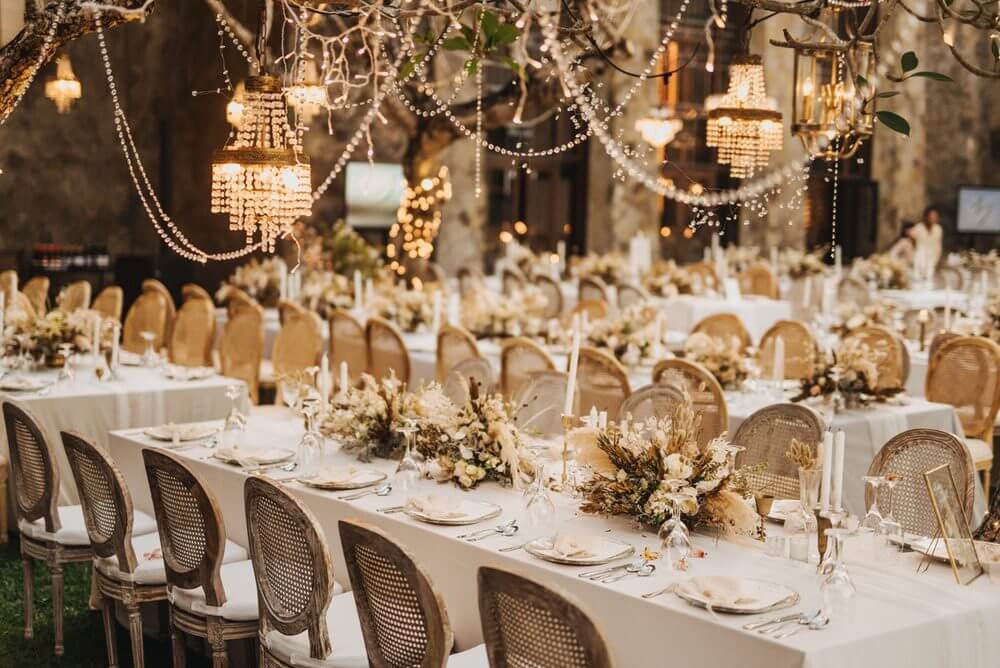 Indians have a way of showing their pride and affection in the food they serve. At weddings, they never diverge from this law.
You will get to see all varieties of gourmet and a diverse menu including all Indian, traditional, regional, oriental, and every kind of international cuisines in big fat weddings.
Right from welcome drinks, starters to the main course, you will have an exceptionally good appetite.
Drinks are also no less than foods. A wide variety of sophisticated beverages will keep you hydrated and boosted and will keep you ready for any celebrations…
Gorgeous Attires and Matching accessories
---
Wow, you are looking stunning in your dream bridal outfit!
Every individual has a dream wedding attire. They have to look the most beautiful among others and should feel confident to face everyone, after all, you are the center of attraction.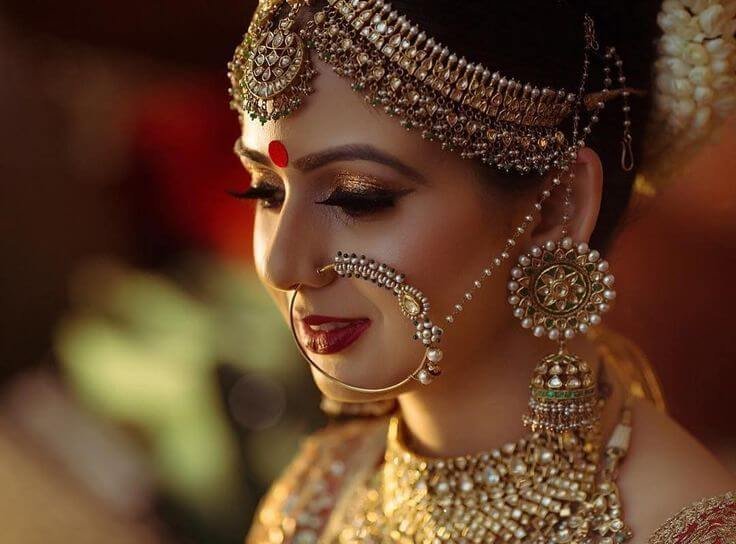 Spending on your dream suit is never a spendthrift. You must look gorgeous and that is your final motto.
Not only the outfits of bride and groom but of everyone should be taken care of in a big fat wedding. Everyone should sparkle like the stars in the sky.
Ornaments and accessories add more beauty. Diamonds, pearls, and golds are always a stunning treat.
Music, Dance, and Celebrations
---
Celebrations reach the zenith when they are accompanied by music and dance.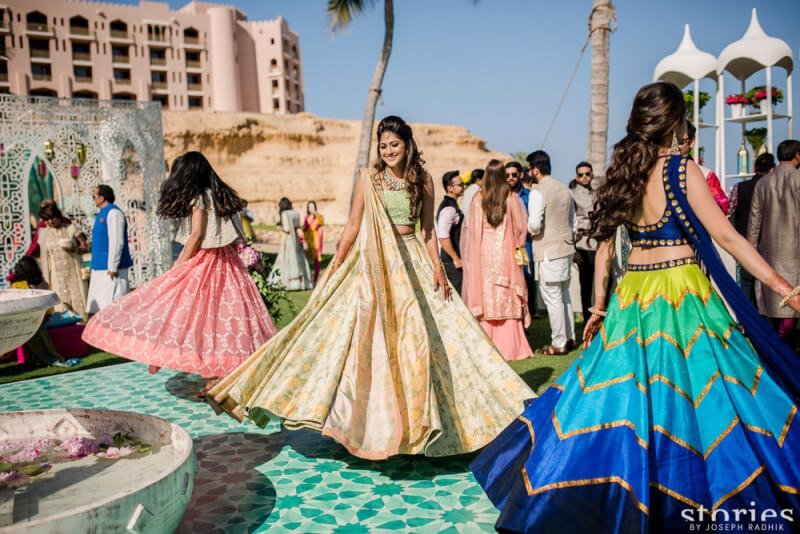 Luxurious Indian weddings are always blended with a combination of party songs and synchronized dances. There is also a trend of ball dances in a huge and luxurious ballroom exactly like that of fairy tales.
We're never bored to enjoy the music within and are always ready to dance within. Also, Most luxurious weddings welcome famous singers and dancers to perform.
Celebratory Events and Parties
---
Expensive weddings are not only about one day in India traditions overflow with celebrations. Engagements, sangeet, mehndi, haldi are also all of importance, and every celebration is held so gracefully.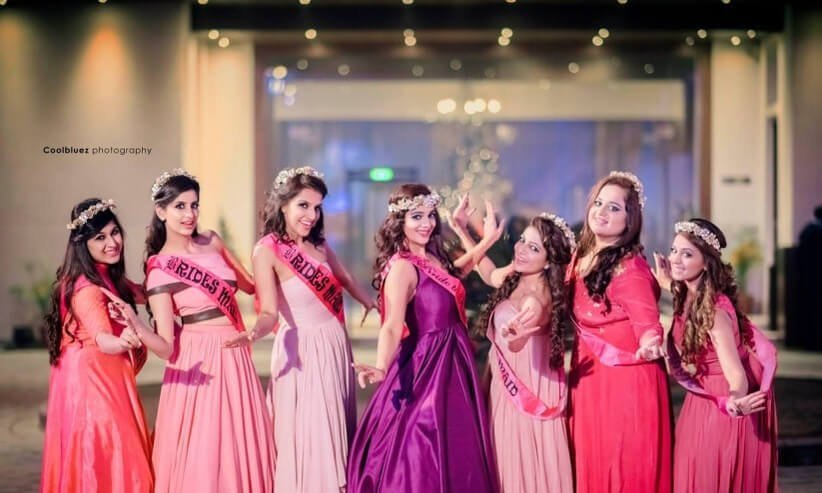 For instance, Setting color codes for each day, dancing, everything adds more colors to the existing joys. Bachelor and cocktail parties are a must to take this extravaganza to another level of happiness and joy.
Delectable Wedding Cakes
---
Last but not least is deciding on a huge, delicious cake for the big day. Big weddings are always combined with big and fantastic cakes with more than one tier obviously.
Hiring A Wedding Planner for your Big Fat Indian Wedding
Execution of ideas and dreams into action is not simple and sometimes is stressful. However, Luxurious weddings include many festivities and ceremonies, and these should be coordinated well.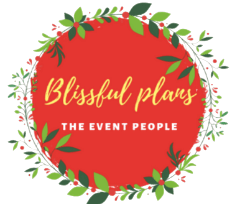 Here comes the role of wedding planners. They are a group of individuals with extraordinary and creative ideas, they accomplish and implement ideas and plan accordingly.
Big and opulent weddings are always carried out by wedding planning professionals in India as well. They watch out for every single detail and need of your wedding and make it an ideal one.
All they need is supervision, while you can relish each moment without any stress indeed.
Therefore, The Blissful Plan is an enterprise that takes care of all your needs and ideas and brings about the best creative ideas to life. We add a touch of love to every work we do. We give life and joy to big fat Indian weddings.
Indian Wedding Gallery
---
---
---