A Beach Wedding or Winter Wedding, which is a better idea?
When to marry and where to marry is a big decision to make. And very often couples get confused about the type of wedding they want. Every wedding has its aura and beauty. In this blog, we are going to discuss the pros and cons of a beach wedding and the pros and cons of a winter wedding. So that it will be helpful and easy for you to decide which type of wedding you want.
Beach Wedding or Winter Wedding ?
Let's talk about the beach wedding first. A beach wedding often fascinates couples as it looks more beautiful. In summertime beaches are the best place to get married. But there are other things too which you have to think about before deciding on a beach wedding.
And the same goes for the winter wedding. As we all know that winter is often supposed to be off season but there are plenty of reasons to get married in that season but for those good things there are some disadvantages too.
Indoor or Outdoor  
In a winter wedding, the venue is often limited to the indoor locations as we all know that in winter there is a possibility of snowfall and to ignore that situation we have to choose our wedding venue indoors.
At a beach side wedding, the venue for the wedding is located somewhere near any beach so it is always outdoors. You can not have a beach wedding indoors. For that, you have to go to a beach and book the venues around it.
Wanted Unwanted Guests
In a winter themed wedding, you can control the guest you want. As the wedding is arranged in an indoor location, you can ensure that no outsiders interfere in your wedding celebrations and that you get to ensure your privacy.
But at a beach wedding, you can not control the outsiders to not intrude your wedding. As an outdoor location, you can not control people to come to the beach and you will not be able to enjoy a great deal of privacy. Although, resorts may only allow restricted access to resort guests to the beach, it does not mean that they will be completely stopped from entering the wedding venue.
Decor
In the winter wedding, the decor for the venue will be very heavy as it is an indoor location and you have to make it look like a wedding venue. You need to decor the whole wedding hall and everything to make it look more beautiful and attractive.
At a beach destination wedding, you do not need very much decor to make the venue look beautiful. As the beach is already giving the venue a beautiful backdrop which is something you can not achieve through decors. Also, you have plenty of space to make your guests comfortable and enjoy the wedding.
 Weather Interference 
In a winter wedding, you do not have to worry more about the weather as you are in an indoor location and if there is snowfall then you can enjoy the beauty of the snowfall without any interference in the celebrations. However, the snowy route might become a tad bit dangerous to traverse.
At a beach wedding, you have to depend on mother nature as there is a possibility of high tides and unwanted rainfall. You have to be prepared for that situation and if that happens then you have to stop your wedding celebrations midway, or move indoors.
Affordability for Beach Wedding or Winter Wedding
Planning a wedding during a winter season which is off-season. So at that time clothes and other things including the venues for the wedding are available at an affordable price and you are likely to even get discount offers on your favorite brand of clothing at this time.
Planning a wedding at a beach is a big deal in itself. Venues near the beaches are costly and also if you are getting married during the times of summer at a beach then you will also have to buy the clothes and other things at a high price.
 Traveling
In a winter wedding, it is difficult for the guest to arrive at the venue as if the place you have chosen has snowfall then the transportation of that place will be stopped and the guest will not be able to make it your wedding. And if they have arrived then they will have very little time to attend your wedding.
But at a beach wedding, there will not be any problem for the guest to reach the wedding venue. They will be able to enjoy the marriage and the beauty of nature as well. They will have their beautiful moments also.
Honeymoon spot
If you are planning your wedding in winter in inside venue then you cannot enjoy the benefit of starting your honeymoon from the next day of your wedding. You have to wait for 2-3 days to start your honeymoon period
Whereas if you are planning a beach wedding then you can enjoy a benefit of starting your honeymoon period from the next day of the wedding only. if you want to start your honeymoon early, the beaches are a great way to go!. Beaches can be turning out as a great honeymoon spot.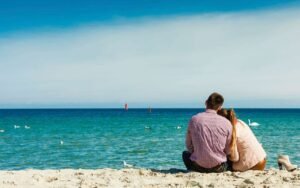 Animals, fauna and insects
While birds can be lovely creatures to capture in your photos, they will quickly become unwanted guests when you start choosing food for your guests. And don't forget the bugs – and more! Can create a great problem in a beach wedding
If you have planned a winter wedding and have booked a venue a hotel or resort then you don't have to worry about insects because hotel takes care of that problem
Noise
You don't see it in the photos, but outdoor weddings, especially beach weddings, can get quite loud. There is the sound of the waves, the waves crashing on the beach, the birds and maybe even other people on the beach can create a mess on your wedding day.
Whereas in winter wedding as the wedding is inside you don't have to worry about such noise
Tide
If you are planning to get married near the beach, you should be aware of the high tide. No one wants to go into the water to swim after the tide is gone!
Whereas in winter wedding as the wedding is inside you not at all have a problem of tide.
Theme
In a beach wedding there are tons of beach themes to choose from! There are fewer rules and restrictions when it comes to beach weddings. You can be creative and relaxed and let your personality shine.
In winter wedding, you only have a limited area of your venue and have fewer themes.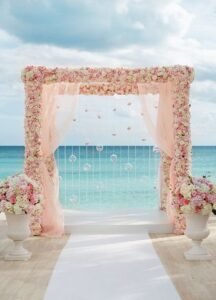 By looking at all the good things and drawbacks of both types of marriage we can say that Winter marriage will be better than the beach wedding. As in the winter wedding, we will be able to maintain our privacy and also the shopping will be more affordable for at that time. In a beach wedding, we will get a beautiful location but will also get some unwanted interference. So it is better to plan your wedding in winter and your honeymoon at any beach. In that way, you will be able to enjoy the beauty of both.
Which kind of wedding are you planning? let us know in the comment section. You can also contact us and know more about us at www.blissfulplans.com
Please follow and like us: